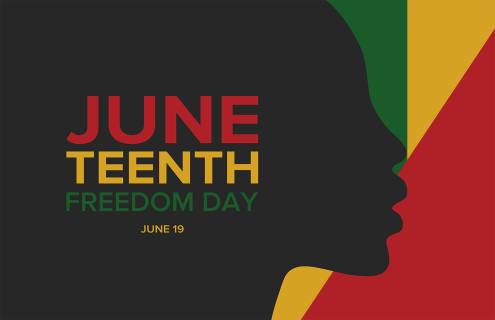 Juneteenth is a day to learn, listen and lean into Black culture.
Teresa Dean Malcolm, MD
Juneteenth, the oldest national commemoration of the ending of slavery in the United States, has been celebrated continuously by African Americans since 1865. On June 17, 2021, President Joe Biden and Vice President Kamala Harris signed into law a bill designating Juneteenth National Independence Day, the first federal holiday created since Martin Luther King, Jr. Day in 1983.
While this is a day of celebration, it's also recognized that there is much work left to do to support the Black community. Alisha Robinson, co-chair of Dartmouth Health's Black and Indigenous People of Color (BIPOC) Employee Resource Group (ERG), points out the many ways that Dartmouth Health has supported the Black community over the past year: the moment of silence for George Floyd, White Coats for Black Lives, forming the BIPOC ERG and hiring Teresa Dean Malcolm, MD, as the first vice president for Diversity, Equity, Inclusion and Belonging.
Malcolm shares that it is important to recognize the historical context, sacrifices and the obstacles that were overcome, but at the same time to recognize that there are still barriers—and there will be new barriers—that the Black community faces. Anais Ovalle, the co-chair of the BIPOC ERG shares "that this is a time that we should all be sensitive to each other's situations and work on healing together and not further polarizing this world."
"The change that we're trying to make is to bring about a more inclusive community, so that all voices are lifted up, recognized and acknowledged. Juneteenth is a day to learn, listen and lean into Black culture," says Malcolm. One suggestion she offers to learn about Juneteenth is to read the Pulitzer Prize-winning book "On Juneteenth" by American law professor, historian and Dartmouth graduate Annette Gordon-Reed, in the book she writes about what the day means to her and her family.
There are also other resources for learning about the history of Juneteenth. You can visit the National Museum of African American History and Culture in Washington, visit the History Channel website, learn about how to talk about race, or watch "The Origins and Importance of Juneteenth" (courtesy of Dartmouth College) by Dartmouth Historian Matthew Delmont, PhD.
If you're interested in participating in Juneteenth recognition events this coming weekend, here is a list of selected events being held throughout Vermont and New Hampshire. You can also visit your local resources—town papers, list service, public bulletin boards—for other events in your community.
In New Hampshire:
In Vermont:
About Dartmouth Health
Dartmouth Health, New Hampshire's only academic health system and the state's largest private employer, serves patients across northern New England. Dartmouth Health provides access to more than 2,000 providers in almost every area of medicine, delivering care at its flagship hospital, Dartmouth Hitchcock Medical Center (DHMC) in Lebanon, NH, as well as across its wide network of hospitals, clinics and care facilities. DHMC is consistently named the #1 hospital in New Hampshire by U.S. News & World Report, and recognized for high performance in numerous clinical specialties and procedures. Dartmouth Health includes its Dartmouth Cancer Center, one of only 51 National Cancer Institute-designated Comprehensive Cancer Centers in the nation, and the only such center in northern New England; Dartmouth Health Children's, including the Children's Hospital at Dartmouth Hitchcock Medical Center, the state's only children's hospital and clinic locations around the region; member hospitals in Lebanon, Keene and New London, NH, and Windsor, VT, and Visiting Nurse and Hospice for Vermont and New Hampshire; and more than 24 clinics that provide ambulatory services across New Hampshire and Vermont. Through its historical partnership with Dartmouth and the Geisel School of Medicine, Dartmouth Health trains nearly 400 medical residents and fellows annually, and performs cutting-edge research and clinical trials recognized across the globe with Geisel and the White River Junction VA Medical Center in White River Junction, VT. Dartmouth Health and its more than 13,000 employees are deeply committed to serving the healthcare needs of everyone in our communities, and to providing each of our patients with exceptional, personal care.