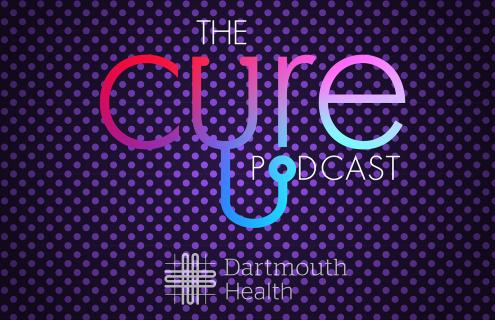 Just as many people felt the COVID-19 pandemic might finally be ending, it has reared its ugly head once again. As summer approaches and more people are forgoing mask-wearing, social distancing and other COVID mitigation strategies, communities across New Hampshire and the United States are seeing new surges of the coronavirus. Furthermore, in a recently published paper, Anthony Fauci, MD, director of the National Institute of Allergy and Infectious Diseases and one of the nation's leading COVID experts, and his co-authors stated that herd immunity against COVID is now an unattainable goal.
On the latest episode of Dartmouth Health's "The Cure Podcast," host Jessica L. Swain, MBA, MLT, CIC, system director of infection prevention for Dartmouth Health, spoke with Michael S. Calderwood, MD, MPH, chief quality officer at Dartmouth Hitchcock Medical Center, about where we are now with COVID-19. In the episode, Calderwood shares his insights on studies shared at the recently concluded Society of Healthcare Epidemiology annual conference.
Listen to episode 18 of "The Cure Podcast."
"I think we need to think of the interventions to battle this pandemic as a continuum. It's not black and white," Calderwood said. "We've learned to live with some risks, but we also understand that severe risks are preventable, and so we need to be able to give people choices that allow them not to make a choice that is either this or that, but to pick, and say, 'We're going to do this set of interventions, and we're going to accept some risk by not doing other interventions.'"
For more information from Dartmouth Health, visit our COVID-19 Vaccines, Testing, and Treatments page.
Subscribe to "The Cure" wherever you get your podcasts. Visit "The Cure Podcast's" webpage for all episodes.
About Dartmouth Health
Dartmouth Health, New Hampshire's only academic health system and the state's largest private employer, serves patients across northern New England. Dartmouth Health provides access to more than 2,000 providers in almost every area of medicine, delivering care at its flagship hospital, Dartmouth Hitchcock Medical Center (DHMC) in Lebanon, NH, as well as across its wide network of hospitals, clinics and care facilities. DHMC is consistently named the #1 hospital in New Hampshire by U.S. News & World Report, and recognized for high performance in numerous clinical specialties and procedures. Dartmouth Health includes its Dartmouth Cancer Center, one of only 51 National Cancer Institute-designated Comprehensive Cancer Centers in the nation, and the only such center in northern New England; Dartmouth Health Children's, including the Children's Hospital at Dartmouth Hitchcock Medical Center, the state's only children's hospital and clinic locations around the region; member hospitals in Lebanon, Keene and New London, NH, and Windsor, VT, and Visiting Nurse and Hospice for Vermont and New Hampshire; and more than 24 clinics that provide ambulatory services across New Hampshire and Vermont. Through its historical partnership with Dartmouth and the Geisel School of Medicine, Dartmouth Health trains nearly 400 medical residents and fellows annually, and performs cutting-edge research and clinical trials recognized across the globe with Geisel and the White River Junction VA Medical Center in White River Junction, VT. Dartmouth Health and its more than 13,000 employees are deeply committed to serving the healthcare needs of everyone in our communities, and to providing each of our patients with exceptional, personal care.