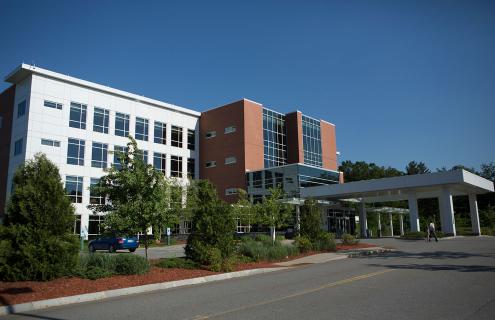 Dartmouth Health and the City of Nashua have entered into a 10-year payment in lieu of taxes (PILOT) agreement for its Dartmouth Hitchcock Clinics Nashua facility at 2300 Southwood Drive. This is the second such agreement for the Nashua clinic since its construction 10 years ago. Dartmouth Health is New Hampshire's only academic health system and a 501(c)(3) not-for-profit organization that provides $200 million in annual community benefits to the residents of New Hampshire.
PILOT arrangements are commonly established with nonprofit entities, such as hospitals, universities, churches and charities, as a method of providing regular payments to state or local governments in place of property taxes.
With the agreement, effective May 11, 2022, the City of Nashua re-affirms Dartmouth Health's tax-exempt status as a charitable nonprofit organization.
"We are grateful that the Gate City continues to be one of several communities statewide to recognize Dartmouth Health's status as a charitable non-profit organization and its contributions to the health and welfare of Nashua residents," Dartmouth Health Chief Legal Officer and General Counsel John Kacavas said. "This agreement codifies Nashua's ongoing recognition of that legal status, as well as our long-standing commitment to pay our fair share to the cities and towns where our facilities are located."
The PILOT deal will continue through tax year 2031, and Dartmouth Health will have the right to extend the agreement for an additional five years.
The five-story Nashua facility has a combined 140,000 square feet of finished space, and serves patients through primary care, specialty care (including orthopaedics, general surgery, cardiology, pediatrics, women's health and more), laboratory and imaging services, and cancer care through the Dartmouth Cancer Center.
In addition to the $200 million in annual free, subsidized or uncompensated healthcare services and community benefits provided to New Hampshire residents, Dartmouth Hitchcock Clinics Nashua is a proud community partner of the YMCA of Greater Nashua, Boys & Girls Club of Greater Nashua, Gateways Community Service, The Front Door Agency, The Greater Nashua Food Council, and the Greater Nashua Chamber of Commerce.
For the past two years, Dartmouth Health has provided COVID-19 Community Relief Fund grants to the United Way of Greater Nashua, intended to support the work of Grow Nashua and the Nashua Hunger Council.
About Dartmouth Health
Dartmouth Health, New Hampshire's only academic health system and the state's largest private employer, serves patients across northern New England. Dartmouth Health provides access to more than 2,000 providers in almost every area of medicine, delivering care at its flagship hospital, Dartmouth Hitchcock Medical Center (DHMC) in Lebanon, NH, as well as across its wide network of hospitals, clinics and care facilities. DHMC is consistently named the #1 hospital in New Hampshire by U.S. News & World Report, and recognized for high performance in numerous clinical specialties and procedures. Dartmouth Health includes its Dartmouth Cancer Center, one of only 51 National Cancer Institute-designated Comprehensive Cancer Centers in the nation, and the only such center in northern New England; Dartmouth Health Children's, including the Children's Hospital at Dartmouth Hitchcock Medical Center, the state's only children's hospital and clinic locations around the region; member hospitals in Lebanon, Keene and New London, NH, and Windsor, VT, and Visiting Nurse and Hospice for Vermont and New Hampshire; and more than 24 clinics that provide ambulatory services across New Hampshire and Vermont. Through its historical partnership with Dartmouth and the Geisel School of Medicine, Dartmouth Health trains nearly 400 medical residents and fellows annually, and performs cutting-edge research and clinical trials recognized across the globe with Geisel and the White River Junction VA Medical Center in White River Junction, VT. Dartmouth Health and its more than 13,000 employees are deeply committed to serving the healthcare needs of everyone in our communities, and to providing each of our patients with exceptional, personal care.