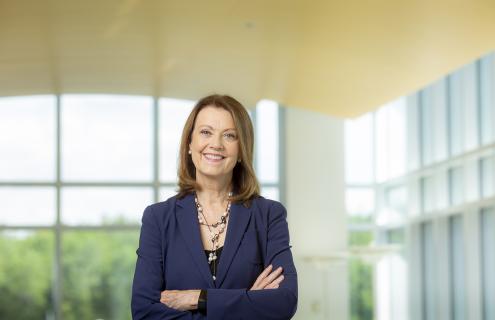 Joanne M. Conroy, MD, CEO and president of Dartmouth Health, has been named to the 2022 class of Modern Healthcare's 50 Most Influential Clinical Executives. The 50 Most Influential Clinical Executives award honors individuals in healthcare who, according to their peers and the senior editors of Modern Healthcare magazine, are paving the way to better health through their executive responsibility, leadership qualities, innovation, community service and achievements inside and outside of their respective organizations.
"I'm incredibly honored to be included in Modern Healthcare's 2022 class of 50 Most Influential Clinical Executives—not only to be among peers I know and respect but also to be selected by peers I know and respect," Conroy said. "We are living in arguably the most transformative period of this century, especially in healthcare. This year's class of top clinical executives is a true 'who's who' of healthcare leaders. These individuals have led and adapted through this period of intense change by relying on and listening to the people who staff their organizations. I'm truly humbled to be among this group."
In addition to Conroy, the Class of 2022 includes notable honorees, including the US Surgeon General and leaders of Mayo Clinic, Dana Farber, Cleveland Clinic, and others.
"Clinician leaders have shouldered a heavy load for healthcare organizations and the country at large throughout the past few years. We are proud to recognize those leaders who have risen to the occasion and then some," says Fawn Lopez, publisher of Modern Healthcare. "These 50 honorees have demonstrated leadership and innovation in a time of crisis and made a vital impact on the success of their organizations, the well-being of the healthcare workforce and the health of their patients and communities. We congratulate and thank them for their dedication to the advancement of healthcare."
Since joining Dartmouth Health in 2017, Conroy's leadership and commitment to improving access to and quality of healthcare in New Hampshire and northern New England and improving patient experience while saving the system money, has transformed the health system, resulting in improvements in all areas of operation. She has overseen significant positive changes across the health system, including the undertaking of two major expansion projects–the Ambulatory Surgery Center Manchester and the Patient Pavilion in Lebanon–and a strategic planning process that will guide the organization into the future. As part of this strategic plan, the system initiated a strategic effort to update its Dartmouth-Hitchcock Health brand identity in 2019, and on April 12, 2022, the system officially announced its new brand and name, Dartmouth Health.
Leading the state's largest academic health system through the COVID-19 pandemic has been a monumental and complex challenge. Throughout the pandemic, Conroy has led Dartmouth Health with integrity, authenticity and compassion. She considered the impact of decisions made by the health system on the broader community and worked collaboratively with individuals and organizations at the local, state and federal levels to ensure the safety and well-being of patients, staff and all residents of New Hampshire.
In 2013, Conroy co-founded Women of Impact (WOI) with a small group of executive-level women from diverse sectors of the healthcare industry. Since then, WOI has grown to more than 100 members who work to advance the role of women in healthcare leadership and to realign the healthcare system to meet the needs of all Americans, recognizing that the people who need care come from all walks of life. Conroy continues to be actively involved in WOI, and other initiatives to improve access to healthcare and encourage more women to pursue leadership roles.
Conroy earned her undergraduate degree in chemistry from Dartmouth. She received her medical degree from the Medical University of South Carolina, where she completed her residency in anesthesiology.
Conroy is board certified with the American Board of Anesthesiologists, attained a Certificate of Added Qualifications in Pain Management and is a diplomat with the American Academy of Pain Management. Prior to joining Dartmouth Health, Conroy served as CEO of Lahey Hospital and Medical Center in Burlington, Mass.
The 2022 Top 50 Clinical Executives honorees are profiled in the June 20 issue of Modern Healthcare magazine and online on the Modern Healthcare website (digital subscription required).
About Dartmouth Health
Dartmouth Health, New Hampshire's only academic health system and the state's largest private employer, serves patients across northern New England. Dartmouth Health provides access to more than 2,000 providers in almost every area of medicine, delivering care at its flagship hospital, Dartmouth Hitchcock Medical Center (DHMC) in Lebanon, NH, as well as across its wide network of hospitals, clinics and care facilities. DHMC is consistently named the #1 hospital in New Hampshire by U.S. News & World Report, and recognized for high performance in numerous clinical specialties and procedures. Dartmouth Health includes its Dartmouth Cancer Center, one of only 51 National Cancer Institute-designated Comprehensive Cancer Centers in the nation, and the only such center in northern New England; Dartmouth Health Children's, including the Children's Hospital at Dartmouth Hitchcock Medical Center, the state's only children's hospital and clinic locations around the region; member hospitals in Lebanon, Keene and New London, NH, and Windsor, VT, and Visiting Nurse and Hospice for Vermont and New Hampshire; and more than 24 clinics that provide ambulatory services across New Hampshire and Vermont. Through its historical partnership with Dartmouth and the Geisel School of Medicine, Dartmouth Health trains nearly 400 medical residents and fellows annually, and performs cutting-edge research and clinical trials recognized across the globe with Geisel and the White River Junction VA Medical Center in White River Junction, VT. Dartmouth Health and its more than 13,000 employees are deeply committed to serving the healthcare needs of everyone in our communities, and to providing each of our patients with exceptional, personal care.