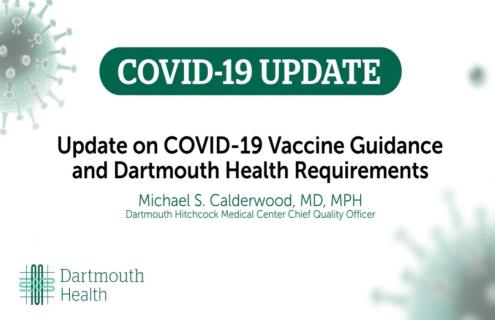 Dartmouth Health has released a new COVID-19 update video with Michael S. Calderwood, MD, MPH, chief quality officer at Dartmouth Hitchcock Medical Center. This video provides the latest information on COVID-19 data, vaccine guidance, and the new COVID-19 booster requirement for Dartmouth Health employees.
"We at Dartmouth Health have really been pushing to get all of our staff protected and understanding the importance of this, to the health and safety of our staff, our patients, and everyone in our healthcare system," Calderwood said. "We're now expanding the COVID-19 vaccine requirement to include a COVID-19 booster as a condition of employment. We are working to get everyone vaccinated and boosted to the maximum level by later this fall. And while we are only requiring documentation of one booster at this time, I continue to advocate individuals to follow the Centers for Disease Control and Prevention guidance to ensure that you are up-to-date and maximally protected."
*Editor's note: Producers and publishers have permission to use the YouTube file and content for publishing and distribution.
About Dartmouth Health
Dartmouth Health, New Hampshire's only academic health system and the state's largest private employer, serves patients across northern New England. Dartmouth Health provides access to more than 2,000 providers in almost every area of medicine, delivering care at its flagship hospital, Dartmouth Hitchcock Medical Center (DHMC) in Lebanon, NH, as well as across its wide network of hospitals, clinics and care facilities. DHMC is consistently named the #1 hospital in New Hampshire by U.S. News & World Report, and recognized for high performance in numerous clinical specialties and procedures. Dartmouth Health includes its Dartmouth Cancer Center, one of only 51 National Cancer Institute-designated Comprehensive Cancer Centers in the nation, and the only such center in northern New England; Dartmouth Health Children's, including the Children's Hospital at Dartmouth Hitchcock Medical Center, the state's only children's hospital and clinic locations around the region; member hospitals in Lebanon, Keene and New London, NH, and Windsor, VT, and Visiting Nurse and Hospice for Vermont and New Hampshire; and more than 24 clinics that provide ambulatory services across New Hampshire and Vermont. Through its historical partnership with Dartmouth and the Geisel School of Medicine, Dartmouth Health trains nearly 400 medical residents and fellows annually, and performs cutting-edge research and clinical trials recognized across the globe with Geisel and the White River Junction VA Medical Center in White River Junction, VT. Dartmouth Health and its more than 13,000 employees are deeply committed to serving the healthcare needs of everyone in our communities, and to providing each of our patients with exceptional, personal care.