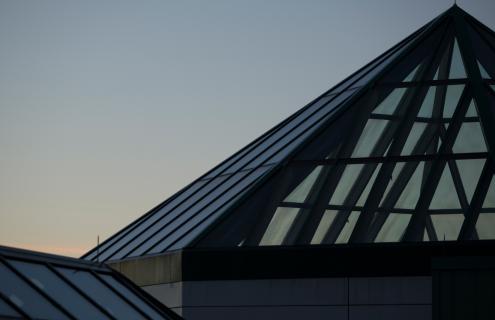 Dartmouth Health is supporting Good Neighbor Health Clinics, based in White River Junction, Vermont, for a new location in Lebanon, New Hampshire. Dartmouth Health donated $15,000 to Good Neighbor Health Clinics for renovations to the building that will house the Lebanon site, increasing access to Good Neighbor Health Clinics' safety net medical services for uninsured or under-insured community members.
Good Neighbor Health Clinics provides medical and dental care to more than 1,000 Upper Valley residents annually. The organization also offers a number of specialty clinics at its White River Junction location as well as in community settings in Vermont and New Hampshire. In the past year, Good Neighbor Health Clinics has introduced an LGTBQ+ Clinic and offers specialized medical care to those in need. Additional services and support includes transportation, access to vision care and services, and free fitness memberships.
"Above all else, Dartmouth Health is committed to improving the health and access to care of the patients and communities we serve," said Barbara Farnsworth, director of Community Health Partnerships at Dartmouth Health. "Good Neighbor Health Clinics is a true partner in this commitment and a vital asset in the Upper Valley to make sure there is high-quality, equitable care for all. We are proud to support their mission and work through this donation."
"We're so very grateful for the wonderful support from Dartmouth Health," said Dana Michalovic, executive director of Good Neighbor Health Clinics. "For more than 30 years, our mission has been to provide 'person-centered care,' and from our beginning, Dartmouth Health has been an ongoing supporter and advocate of our work. From charitable donations to volunteer service to numerous partnerships, they have long been an important part of our mission."
About Dartmouth Health
Dartmouth Health, New Hampshire's only academic health system and the state's largest private employer, serves patients across northern New England. Dartmouth Health provides access to more than 2,000 providers in almost every area of medicine, delivering care at its flagship hospital, Dartmouth Hitchcock Medical Center (DHMC) in Lebanon, NH, as well as across its wide network of hospitals, clinics and care facilities. DHMC is consistently named the #1 hospital in New Hampshire by U.S. News & World Report, and recognized for high performance in numerous clinical specialties and procedures. Dartmouth Health includes its Dartmouth Cancer Center, one of only 51 National Cancer Institute-designated Comprehensive Cancer Centers in the nation, and the only such center in northern New England; Dartmouth Health Children's, including the Children's Hospital at Dartmouth Hitchcock Medical Center, the state's only children's hospital and clinic locations around the region; member hospitals in Lebanon, Keene and New London, NH, and Windsor, VT, and Visiting Nurse and Hospice for Vermont and New Hampshire; and more than 24 clinics that provide ambulatory services across New Hampshire and Vermont. Through its historical partnership with Dartmouth and the Geisel School of Medicine, Dartmouth Health trains nearly 400 medical residents and fellows annually, and performs cutting-edge research and clinical trials recognized across the globe with Geisel and the White River Junction VA Medical Center in White River Junction, VT. Dartmouth Health and its more than 13,000 employees are deeply committed to serving the healthcare needs of everyone in our communities, and to providing each of our patients with exceptional, personal care.