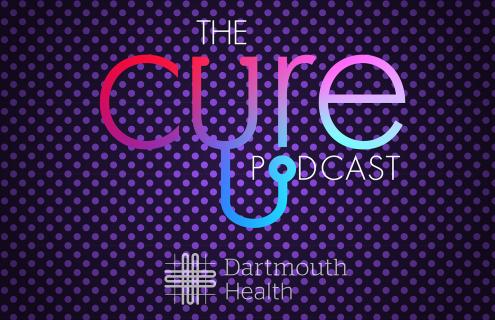 Government relations in a healthcare system play a largely misunderstood but critical role in the organization. In addition to advocating at the local, state and federal level for the best interests of patients, providers and the system overall, government relations are also important for improving political determinants of health. Looking at health through the lens of political determinants means analyzing how different ideological positions, institutions, processes, and interests affect health within different political systems and cultures and at different levels of governance.
In the latest episode of Dartmouth Health's "The Cure Podcast," hosts Jose R. Mercado, MD, regional medical director for inpatient quality at Dartmouth Hitchcock Medical Center, and Jessica L. Swain, MBA, MLT, CIC, director of infection prevention and control at Dartmouth Health, were joined by Matthew S. Houde, system vice president for government relations at Dartmouth Health, and Courtney Tanner, director of government relations at Dartmouth Health. Houde and Tanner provided an overview of the role of government relations in the system, political determinants of health, the 2022 executive and legislative activity, and how healthcare staff can engage in this advocacy space.
Listen to episode 22 of "The Cure Podcast."
"At the most basic level, what we do is advocate for policies that are beneficial for our patients, providers, and the system, and against those that would disadvantageous to our patients, providers, and the system," Houde said. "…To do that actual work, we engage with stakeholders, both internal and external, as well as directly with policymakers. We'll submit written testimony, we'll testify ourselves, we'll work with subject-matter experts, providers, administrators, and others to make sure that the message is communicated to the policymakers, and they're informed before and while they're making decisions."
"Over the last several years, the healthcare community has really started to gain a stronger understanding that health outcomes aren't driven fully by a patient's visit to the doctor's office, or even to the hospital," Tanner said. "We know that people's health outcomes are actually driven largely by the environments that they live in, work in, and their ability to access resources, or inability to access resources, whether that's transportation or childcare or a livable wage. And if we zoom out a little bit, we know that there are systemic structures that impact those social drivers, whether those are laws or rules. Those laws and rules can enable populations to access what they need or not."
Subscribe to "The Cure" wherever you get your podcasts. Visit "The Cure" webpage for all episodes.
About Dartmouth Health
Dartmouth Health, New Hampshire's only academic health system and the state's largest private employer, serves patients across northern New England. Dartmouth Health provides access to more than 2,000 providers in almost every area of medicine, delivering care at its flagship hospital, Dartmouth Hitchcock Medical Center (DHMC) in Lebanon, NH, as well as across its wide network of hospitals, clinics and care facilities. DHMC is consistently named the #1 hospital in New Hampshire by U.S. News & World Report, and recognized for high performance in numerous clinical specialties and procedures. Dartmouth Health includes its Dartmouth Cancer Center, one of only 51 National Cancer Institute-designated Comprehensive Cancer Centers in the nation, and the only such center in northern New England; Dartmouth Health Children's, including the Children's Hospital at Dartmouth Hitchcock Medical Center, the state's only children's hospital and clinic locations around the region; member hospitals in Lebanon, Keene and New London, NH, and Windsor, VT, and Visiting Nurse and Hospice for Vermont and New Hampshire; and more than 24 clinics that provide ambulatory services across New Hampshire and Vermont. Through its historical partnership with Dartmouth and the Geisel School of Medicine, Dartmouth Health trains nearly 400 medical residents and fellows annually, and performs cutting-edge research and clinical trials recognized across the globe with Geisel and the White River Junction VA Medical Center in White River Junction, VT. Dartmouth Health and its more than 13,000 employees are deeply committed to serving the healthcare needs of everyone in our communities, and to providing each of our patients with exceptional, personal care.