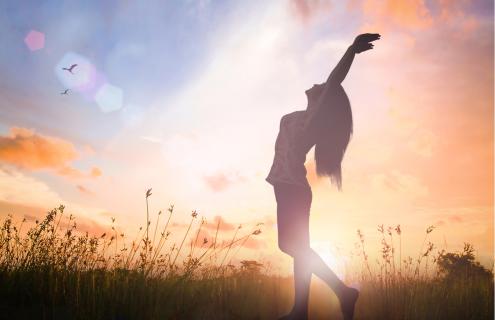 May is Mental Health Awareness Month, and Dartmouth Health and community partners throughout the state will mark it with various initiatives to raise awareness of this important topic. The highlight of Dartmouth Health's Mental Health Awareness Month participation is the announcement of a forthcoming book from Dartmouth Health Senior Director of External Affairs John T. Broderick Jr. Back Roads and Highways: My Journey to Discovery on Mental Health will detail Broderick's family history with mental health and his personal mission to educate young people and their families about the warning signs of mental health problems and impending crises.
"As the title of my book implies, my family and I took many uncertain roads to reach the place we are at today," said Broderick, who is a former chief justice of the New Hampshire Supreme Court. "We are fortunate to have come out the other end stronger and more educated about mental health, but other families are not so lucky. My work with Dartmouth Health to end the stigma surrounding mental health, speaking before tens of thousands of high school students around this country, has been among the most meaningful of my life. With Back Roads and Highways, I am thrilled at the opportunity to reach an even broader audience with my story and message of hope and recovery for families facing mental health crisis."
In tandem with the upcoming release of Broderick's book, this month, Dartmouth Health will launch a year-long effort to bring attention to the crisis unfolding in mental health for all ages and walks of life. Dartmouth Health will work collaboratively in a unique partnership with Seacoast Media Group and the New Hampshire Union Leader to feature interviews, research, and the challenging issues around treatment for mental health disorders. "Heads Up: A Year-Long Mental Health Awareness Journey" will include a series of monthly articles, supplemented by a webinar series with expert panelists. As part of this series, Broderick will be joined on in late May by William C. Torrey, MD, interim chair of the department of Psychiatry at Dartmouth Health, for a retrospective on Dartmouth Health's "Heads Up" webinar series, which has addressed mental health concerns during the COVID-19 pandemic.
"Mental health and substance use difficulties have an impact on all of our lives, yet outdated societal attitudes have made it hard for us to talk about our experiences. Mental Health Awareness Month invites us to communicate with each other," Torrey said. "This 12-month series, starting with a retrospective of Dartmouth Health's successful 'Heads Up' series, is designed to drive conversation and offer education. We are going to need to work together to transform society so that these illnesses are treated with the same urgency, respect, and seriousness of purpose as other common painful illnesses."
Dartmouth Health will partner with organizations including the National Alliance on Mental Health's (NAMI) New Hampshire chapter and Riverbend Community Mental Health to bring numerous events to the public raising awareness of mental health in the month of May. Events include:
May 4, 12 pm: A maternal mental health webinar presented by NAMI New Hampshire and hosted by Heather A. Martin, a medical assistant with Dartmouth Health Children's and maternal mental health advocate. Register today.
May 18, 12 pm: Dartmouth Health member Visiting Nurse and Hospice for Vermont and New Hampshire presents "Let's Talk – Mental and Spiritual Health for Patients and Caregivers During Hospice." Watch live on May 18.
May 25, 7 pm: Riverbend presents "This Is My Brave," a storytelling event about what it's like to live with a mental illness and the possibilities for success. Purchase tickets.
For a full list of Mental Health Awareness Month events from Dartmouth Health, visit the Dartmouth Health Events website.
About Dartmouth Health
Dartmouth Health, New Hampshire's only academic health system and the state's largest private employer, serves patients across northern New England. Dartmouth Health provides access to more than 2,000 providers in almost every area of medicine, delivering care at its flagship hospital, Dartmouth Hitchcock Medical Center (DHMC) in Lebanon, NH, as well as across its wide network of hospitals, clinics and care facilities. DHMC is consistently named the #1 hospital in New Hampshire by U.S. News & World Report, and recognized for high performance in numerous clinical specialties and procedures. Dartmouth Health includes its Dartmouth Cancer Center, one of only 51 National Cancer Institute-designated Comprehensive Cancer Centers in the nation, and the only such center in northern New England; Dartmouth Health Children's, including the Children's Hospital at Dartmouth Hitchcock Medical Center, the state's only children's hospital and clinic locations around the region; member hospitals in Lebanon, Keene and New London, NH, and Windsor, VT, and Visiting Nurse and Hospice for Vermont and New Hampshire; and more than 24 clinics that provide ambulatory services across New Hampshire and Vermont. Through its historical partnership with Dartmouth and the Geisel School of Medicine, Dartmouth Health trains nearly 400 medical residents and fellows annually, and performs cutting-edge research and clinical trials recognized across the globe with Geisel and the White River Junction VA Medical Center in White River Junction, VT. Dartmouth Health and its more than 13,000 employees are deeply committed to serving the healthcare needs of everyone in our communities, and to providing each of our patients with exceptional, personal care.