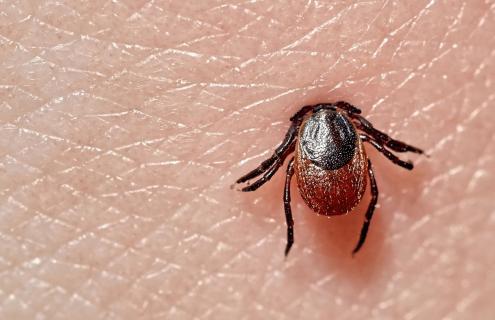 While a mild winter in northern New England can seem like a good thing at the time, it often has the unfortunate side effect of ticks returning earlier than usual. It's not even June and residents of New Hampshire and Vermont are already seeing deer ticks—which carry the bacteria which causes Lyme disease—in the wild, in their pets' fur and on themselves. A tick doesn't hurt when it bites, and deer ticks are so tiny that they can go unnoticed on the body until they become engorged, or not at all—unless the host develops Lyme symptoms.
"The classic Lyme disease symptom is an expanding, flat rash that often looks like a bullseye," said Jeffrey Parsonnet, MD, a physician in Infectious Disease and International Health at Dartmouth Health's academic medical center Dartmouth Hitchcock Medical Center (DHMC) and Dartmouth Hitchcock Clinics. "Other symptoms are flu-like—aches, stiffness, fatigue—and might develop five to seven days after receiving a bite. More advanced disease might cause swollen joints, infection of nerves responsible for heart rhythm regulation, or neurologic disorders like Bell's Palsy (partial face paralysis), pain in limbs or, rarely, brain infection."
While Lyme disease can be very serious, it can be prevented and treated. Parsonnet offers the following tips for keeping ticks at bay so you and your family can enjoy New England's beautiful summer season.
Stay covered: Prevention begins with keeping ticks off of your body. Wear long pants, socks and long sleeves when outdoors, and insect repellents containing DEET are highly effective.
Check yourself thoroughly: Ticks can attach anywhere, so check your entire body and your children as well. If you do find a tick, remove it with a pair of tweezers, trying to remove as much as possible, but the body will naturally reject bits left behind.
Remove ticks immediately: A tick needs about 36 hours to transmit the Lyme bacteria. If you find a tick that has been attached for more than 36 hours, a single, two-pill dose of the antibiotic doxycycline is highly effective at preventing Lyme disease.
There are times when a patient doesn't find a tick and never develops the tell-tale rash but experiences other Lyme disease symptoms. "In those cases, many physicians will treat for Lyme disease with a 14-to-21-day course of antibiotics," said Parsonnet. "There is a diagnostic blood test for Lyme, but it only turns positive a month or so after infection so it's not a useful test in the acute setting."
This summer might be a good one for ticks, but it doesn't have to be a bad one for people. "Remember to cover up, check for ticks and remove them immediately," Parsonnet said. "And, if you do get Lyme disease, treatment is highly effective at preventing late complications."
About Dartmouth Health
Dartmouth Health, New Hampshire's only academic health system and the state's largest private employer, serves patients across northern New England. Dartmouth Health provides access to more than 2,000 providers in almost every area of medicine, delivering care at its flagship hospital, Dartmouth Hitchcock Medical Center (DHMC) in Lebanon, NH, as well as across its wide network of hospitals, clinics and care facilities. DHMC is consistently named the #1 hospital in New Hampshire by U.S. News & World Report, and recognized for high performance in numerous clinical specialties and procedures. Dartmouth Health includes its Dartmouth Cancer Center, one of only 51 National Cancer Institute-designated Comprehensive Cancer Centers in the nation, and the only such center in northern New England; Dartmouth Health Children's, including the Children's Hospital at Dartmouth Hitchcock Medical Center, the state's only children's hospital and clinic locations around the region; member hospitals in Lebanon, Keene and New London, NH, and Windsor, VT, and Visiting Nurse and Hospice for Vermont and New Hampshire; and more than 24 clinics that provide ambulatory services across New Hampshire and Vermont. Through its historical partnership with Dartmouth and the Geisel School of Medicine, Dartmouth Health trains nearly 400 medical residents and fellows annually, and performs cutting-edge research and clinical trials recognized across the globe with Geisel and the White River Junction VA Medical Center in White River Junction, VT. Dartmouth Health and its more than 13,000 employees are deeply committed to serving the healthcare needs of everyone in our communities, and to providing each of our patients with exceptional, personal care.