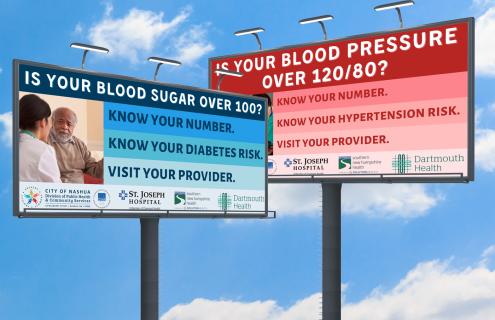 In an effort to increase public education and awareness about the importance of routine and preventive healthcare, Dartmouth Health has partnered with the City of Nashua Division of Public Health and Community Services, Southern New Hampshire Health and St. Joseph Hospital on a campaign centered on chronic disease. As part of the campaign, two billboards were created and are currently on display at 527 Daniel Webster Hwy., in Merrimack, NH, and 406 Elm St. in Milford, NH, focused on hypertension and diabetes.
Delaying medical care can lead to adverse health outcomes. In the beginning of the COVID-19 pandemic, many patients avoided recommended healthcare visits to follow stay-at-home orders and social distancing guidance. Many providers worry about their patients whose chronic health conditions may have worsened because they didn't seek routine care and others may have developed health issues that continue to be undiagnosed.
Chronic disease is one of the five priority areas for the 2022 Greater Nashua Community Health Improvement Plan. Community partners ranked the priority areas they believed were most important for the Greater Nashua region. Four criteria (burden, prevalence, resources, and impact) were used to determine the scale and magnitude of each health topic and the likelihood that interventions can lead to change. The main priorities under chronic disease include increasing prevention efforts for Type II diabetes, increasing control of hypertension, and increasing identification and treatment of depression for those with chronic disease.
The billboards in Milford and Merrimack will be on display through October. For more information, visit the 2020 Greater Nashua Community Health Assessment and 2022 Greater Nashua Community Health Improvement Plan.
About Dartmouth Health
Dartmouth Health, New Hampshire's only academic health system and the state's largest private employer, serves patients across northern New England. Dartmouth Health provides access to more than 2,000 providers in almost every area of medicine, delivering care at its flagship hospital, Dartmouth Hitchcock Medical Center (DHMC) in Lebanon, NH, as well as across its wide network of hospitals, clinics and care facilities. DHMC is consistently named the #1 hospital in New Hampshire by U.S. News & World Report, and recognized for high performance in numerous clinical specialties and procedures. Dartmouth Health includes its Dartmouth Cancer Center, one of only 51 National Cancer Institute-designated Comprehensive Cancer Centers in the nation, and the only such center in northern New England; Dartmouth Health Children's, including the Children's Hospital at Dartmouth Hitchcock Medical Center, the state's only children's hospital and clinic locations around the region; member hospitals in Lebanon, Keene and New London, NH, and Windsor, VT, and Visiting Nurse and Hospice for Vermont and New Hampshire; and more than 24 clinics that provide ambulatory services across New Hampshire and Vermont. Through its historical partnership with Dartmouth and the Geisel School of Medicine, Dartmouth Health trains nearly 400 medical residents and fellows annually, and performs cutting-edge research and clinical trials recognized across the globe with Geisel and the White River Junction VA Medical Center in White River Junction, VT. Dartmouth Health and its more than 13,000 employees are deeply committed to serving the healthcare needs of everyone in our communities, and to providing each of our patients with exceptional, personal care.