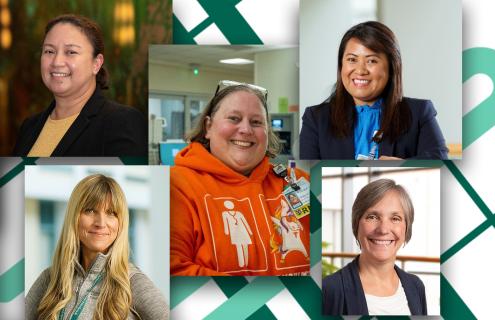 As the nation celebrates National Nurses Month in May, five nurses employed by Dartmouth Health have been honored for their work with Excellence in Nursing Awards from New Hampshire Magazine and the New Hampshire Nurses Association. These peer-nominated awards recognize the state's best nurses in 13 categories—those who go above and beyond to comfort, heal and educate.
Dartmouth Health winners, by award category, are:
Advanced Practice Nursing: Sandra J. McDonald, MSN, APRN, Dartmouth Hitchcock Medical Center (DHMC)
Front Line Nursing Leader: Ivy M. Park, BSN, RN, MEDSURG-BC, OCN, DHMC
Pediatric Nursing: Jennifer A. Orbeso, DNP, RN, DHMC
Psychiatric and Mental Health Nursing: Christina M. Favero, RN, DHMC
Senior Nursing Leader: Amy W. Matthews, DNP, RN, CENP, Cheshire Medical Center
Award winners will be featured in the June edition of New Hampshire Magazine and celebrated during the face-to-face 2022 Excellence in Nursing Awards Reception on May 19 in Manchester, NH, as part of National Nurses Month. DHMC and Clinics Chief Nursing Officer, Karen F. Clements, BSN, MSB, MHCDS, RN, FACHE, is the keynote speaker for the event.
"DHMC nurses are truly extraordinary. I am very proud to see four of our nurses receive this professional recognition from their peers," said Clements. "To have so many award winners after such a challenging year is a testament to the exceptionally high caliber of nursing professionals in our organization."
"At Cheshire, Amy has been key in messaging the transition to a regional referral center for nursing," said Cheshire's President and CEO Don Caruso, MD, MPH. "She has clearly enabled the common vision and communicated it. As a result, we are meeting our goal of taking patients from outside our primary and secondary catchment areas. This is happening with an engaged nursing staff."
Learn more about the Excellence in Nursing Awards.
Sandra J. McDonald, MSN, APRN
Sandra J. McDonald, MSN, APRN, of Contoocook, NH, is recognized for excellence in advanced practice nursing. As the team lead for Neurocritical Care advanced practice providers at DHMC in Lebanon, McDonald advocates for advancement in the workplace and lifts up her colleagues through her positive attitude and leadership by example. McDonald is actively involved in DHMC's Advanced Practice Provider fellowship program, providing didactic and clinical opportunities to critical care APP fellows and mentorship to Neurology APP fellows.
"We take care of people with complex neurological diseases and I find that incredibly interesting. But what gives me the greatest joy is the people: the patients, their families and friends, and my colleagues. We are given the honor of caring for people in their most vulnerable state and personalizing that for each patient is very important to me," said McDonald.
Ivy M. Park, BSN, RN, MEDSURG-BC, OCN
Ivy M. Park, BSN, RN, MEDSURG-BC, OCN, of Enfield, NH, is recognized for front line nursing leadership. Park is the Unit Nurse Manager for 1 West, Hematology Oncology Inpatient Unit, part of Dartmouth Cancer Center's Norris Cotton Cancer Center Pavilion in Lebanon.
"I do this work because it's an opportunity to make a difference in somebody's life. Our patients are motivated and passionate about healing and often have a renewed outlook on life. We save lives every day and I love the feeling of partnership that emerges with our patients. I think the compassionate part of being an oncology nurse is passed on from generation to generation. Whomever comes to 1 West will get excellent, compassionate care. We receive great feedback about our care from traveling nurses and ancillary staff who come to our floor. I am so lucky to be part of this team," says Park.
Jennifer A. Orbeso, DNP, RN
Jennifer A. Orbeso, DNP, RN, of Lebanon, NH, is recognized for excellence in pediatric nursing. Orbeso is a clinical nurse in the Neonatal Intensive Care Unit (NICU) at the Children's Hospital at Dartmouth Hitchcock Medical Center and the nursing diversity and inclusion specialist in the Office of Nursing Support. As a clinical nurse she is an advocate of primary nursing, which allows the nurse to care for infants and their families in an extended period of time while they are hospitalized. As the nursing diversity and inclusion specialist in the Office of Nursing Support, Orbeso works in partnership with different stakeholders to ensure diversity, equity, inclusion and belonging (DEIB) in DHMC and Clinic's workforce.
"The biggest misconception about my role as a Clinical Nurse is that working with neonates primarily involves changing diapers. I can tell you, there's so much happening during developmental diapering. It is a time where you cultivate trust, where you address neonatal pain and discomfort and much, much, more. In DEIB, I want people to know that it is not enough to articulate diversity and inclusion, my job as a specialist is to make sure there is a tangible understanding of the staff's value and to demonstrate it in our policy and priority programs," says Orbeso.
Christina M. Favero, RN
Christina M. Favero, RN, of North Walpole, NH, is recognized for excellence in psychiatric and mental health nursing. As a clinical nurse in the Emergency Department, Favero cares for high acuity psychiatric patients by providing crisis intervention for patients with suicidal ideation, anxiety, depression, substance use disorders, and other mental health diagnoses and conditions.
"I am most proud of the ability to use humor and therapeutic listening when working with patients. This facilitates trust and empowers patients to actively participate in their own care through self-efficacy and accountability," said Favero.
Amy W. Matthews, DNP, RN, CENP
Amy W. Matthews, DNP, RN, CENP, of Peterborough, NH, serves as chief nursing officer and vice president of Patient Care Services at Dartmouth Health member Cheshire Medical Center in Keene. She has been a registered nurse since 1985 and joined the Cheshire nursing staff in 2000. She currently serves on the executive team, and provides nursing leadership at Cheshire. She's passionate about keeping health care local and being actively engaged in the community. Matthews also serves on the New Hampshire Nurses Association and the Monadnock United Way Boards of Directors.
"I am grateful to serve a team striving for excellence that is characterized by compassion, respect and the best possible outcomes for our patients, our communities and each other," said Matthews.
About Dartmouth Health
Dartmouth Health, New Hampshire's only academic health system and the state's largest private employer, serves patients across northern New England. Dartmouth Health provides access to more than 2,000 providers in almost every area of medicine, delivering care at its flagship hospital, Dartmouth Hitchcock Medical Center (DHMC) in Lebanon, NH, as well as across its wide network of hospitals, clinics and care facilities. DHMC is consistently named the #1 hospital in New Hampshire by U.S. News & World Report, and recognized for high performance in numerous clinical specialties and procedures. Dartmouth Health includes its Dartmouth Cancer Center, one of only 51 National Cancer Institute-designated Comprehensive Cancer Centers in the nation, and the only such center in northern New England; Dartmouth Health Children's, including the Children's Hospital at Dartmouth Hitchcock Medical Center, the state's only children's hospital and clinic locations around the region; member hospitals in Lebanon, Keene and New London, NH, and Windsor, VT, and Visiting Nurse and Hospice for Vermont and New Hampshire; and more than 24 clinics that provide ambulatory services across New Hampshire and Vermont. Through its historical partnership with Dartmouth and the Geisel School of Medicine, Dartmouth Health trains nearly 400 medical residents and fellows annually, and performs cutting-edge research and clinical trials recognized across the globe with Geisel and the White River Junction VA Medical Center in White River Junction, VT. Dartmouth Health and its more than 13,000 employees are deeply committed to serving the healthcare needs of everyone in our communities, and to providing each of our patients with exceptional, personal care.