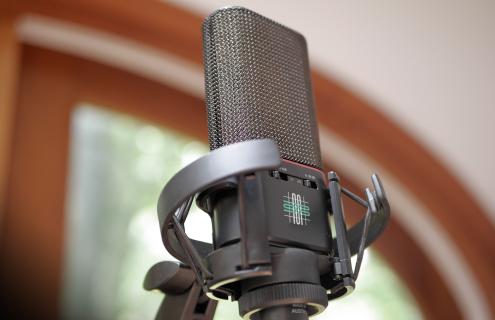 Joanne M. Conroy, MD, CEO and president of Dartmouth Health, was a recent guest on Cleveland Clinic's "Beyond Leadership" podcast. She joined host Brian Bolwell, MD, to discuss the importance of engaging with your team and stakeholders, fostering trust, and serving a greater purpose as a leader. Listen to the full podcast.
"I do have four leadership tenets that I think are really important. Number one, it's being authentic. It's just making sure that you're not manipulating or managing people, but you're authentically telling them how you feel about things, and that you're encouraging them to be authentic with you as well.
Another one is integrity. Delivering on what you promise that you're going to do. I'm great at deadlines. I meet all my deadlines. I encourage people that if they can't meet them, they need to let people know why and when they're going to be able to meet them.
The third thing is being 100% responsible for where you are. We're all struggling with a miserable first quarter of the pandemic of 2022. Don't spend a lot of time blaming everybody else. There have been things we couldn't control and there are things we could control, and that's why we are where we are. We need to own it and be 100% responsible. I also use that in terms of your career choices with a lot of people that I mentor. Don't blame it on anybody else. We all make decisions.
And finally, being committed to something that's bigger than yourself. I have to say, my team, that's probably one of their strongest characteristics is they are totally committed to delivering incredibly high quality, really authentic care to the patients that we care for across New Hampshire and Vermont."
About Dartmouth Health
Dartmouth Health, New Hampshire's only academic health system and the state's largest private employer, serves patients across northern New England. Dartmouth Health provides access to more than 2,000 providers in almost every area of medicine, delivering care at its flagship hospital, Dartmouth Hitchcock Medical Center (DHMC) in Lebanon, NH, as well as across its wide network of hospitals, clinics and care facilities. DHMC is consistently named the #1 hospital in New Hampshire by U.S. News & World Report, and recognized for high performance in numerous clinical specialties and procedures. Dartmouth Health includes its Dartmouth Cancer Center, one of only 51 National Cancer Institute-designated Comprehensive Cancer Centers in the nation, and the only such center in northern New England; Dartmouth Health Children's, including the Children's Hospital at Dartmouth Hitchcock Medical Center, the state's only children's hospital and clinic locations around the region; member hospitals in Lebanon, Keene and New London, NH, and Windsor, VT, and Visiting Nurse and Hospice for Vermont and New Hampshire; and more than 24 clinics that provide ambulatory services across New Hampshire and Vermont. Through its historical partnership with Dartmouth and the Geisel School of Medicine, Dartmouth Health trains nearly 400 medical residents and fellows annually, and performs cutting-edge research and clinical trials recognized across the globe with Geisel and the White River Junction VA Medical Center in White River Junction, VT. Dartmouth Health and its more than 13,000 employees are deeply committed to serving the healthcare needs of everyone in our communities, and to providing each of our patients with exceptional, personal care.