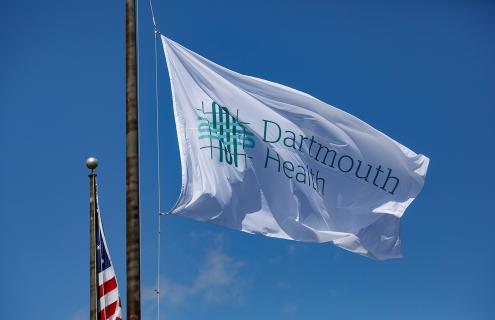 Dartmouth Health has been awarded three critical staffing contracts by the New Hampshire Department of Health and Human Services (DHHS) to provide mental health and medical care to the state's acute inpatient psychiatric patients at New Hampshire Hospital and other state facilities, as well as administrative expertise within the department. The Executive Council approved the contracts at a recent Governor and Council meeting.
Dartmouth Health was selected from among four bidders for New Hampshire Hospital, in response to a request for proposals issued by DHHS in July 2021. For more than 35 years the Department of Psychiatry has provided clinical leadership, psychiatric, general medical and psychological services at New Hampshire Hospital in Concord. With the new contract, it will continue this long tradition of serving New Hampshire's most acutely psychiatrically ill citizens. Under this contract, Dartmouth Health will also provide medical and psychiatric services at the planned New Hampshire Forensic Hospital in Concord and will continue to provide psychiatric services at Glencliff Home in Glencliff, NH.
"The Department of Psychiatry at Dartmouth Health is very pleased to continue to partner with the State to offer outstanding care and service to the citizens of New Hampshire," said William C. Torrey, MD, Interim Chair of Psychiatry at Dartmouth Health and the Raymond Sobel Professor of Psychiatry at Dartmouth's Geisel School of Medicine. "High-quality care for children, the elderly, people with autism and intellectual disabilities, and those needing our state's psychiatric intensive care unit, New Hampshire Hospital, really matters. Through these contracts Dartmouth Health provides the level and quality of care that people would want for themselves or their loved ones should they need these services. We are honored to continue to contribute to the health of New Hampshire's citizens."
An additional contract continues Dartmouth Health's clinical leadership and professional service to DHHS for children, youth and families, behavioral health, elderly and adult services, Medicaid services, and developmental services. The service contract includes providing a range of high-skill subspecialty expertise to New Hampshire residents. This also includes clinical and medical leadership and other clinicians at Sununu Youth Services Center, a medical director, statewide training services and policy analysis for the DHHS's Bureau of Behavioral Health, a medical director for its Elderly and Adult Services, and a medical director and consultation services for its Developmental Services.
Jeffrey Fetter, MD, Medical Director at New Hampshire Hospital, said the state's choice to once again contract with Dartmouth Health in a competitive bidding process is further evidence that the organization is the best positioned to provide this important service, particularly in a time when the healthcare industry is facing a shortage of psychiatric staff nationwide.
"We are able to attract skilled, motivated psychiatric providers who are eager to be part of our academic mission and eager to work with people who need their help the most – people with the most severe mental illness," said Fetter. "This long-standing partnership between our academic psychiatry department and the state hospital is a unique New Hampshire solution. It makes a lot of sense, and it works."
The principal contract to provide medical and psychiatric services to all three institutions is effective through June 30, 2026. A contract for neuropsychology services at New Hampshire Hospital and New Hampshire Forensic Hospital will last through June 30, 2023. And an additional contract to provide clinical and administrative services, including expert subspecialists, for DHHS is effective through June 30, 2025.
Approximately 2,500 individuals are served annually by Dartmouth Health staff at these institutions.
New Hampshire Forensic Hospital is a new planned 24-bed facility for treating acute mental illness for forensic patients to be located at 36 Clinton Street in Concord. DHHS anticipates it will open in state fiscal year 2024.
Glencliff Home is a long-term medical care facility for older adults with mental illness and those with developmental disabilities.
New Hampshire Hospital is a state-run facility that provides acute, inpatient psychiatric services. It was originally established in 1842.
About Dartmouth Health
Dartmouth Health, New Hampshire's only academic health system and the state's largest private employer, serves patients across northern New England. Dartmouth Health provides access to more than 2,000 providers in almost every area of medicine, delivering care at its flagship hospital, Dartmouth Hitchcock Medical Center (DHMC) in Lebanon, NH, as well as across its wide network of hospitals, clinics and care facilities. DHMC is consistently named the #1 hospital in New Hampshire by U.S. News & World Report, and recognized for high performance in numerous clinical specialties and procedures. Dartmouth Health includes its Dartmouth Cancer Center, one of only 51 National Cancer Institute-designated Comprehensive Cancer Centers in the nation, and the only such center in northern New England; Dartmouth Health Children's, including the Children's Hospital at Dartmouth Hitchcock Medical Center, the state's only children's hospital and clinic locations around the region; member hospitals in Lebanon, Keene and New London, NH, and Windsor, VT, and Visiting Nurse and Hospice for Vermont and New Hampshire; and more than 24 clinics that provide ambulatory services across New Hampshire and Vermont. Through its historical partnership with Dartmouth and the Geisel School of Medicine, Dartmouth Health trains nearly 400 medical residents and fellows annually, and performs cutting-edge research and clinical trials recognized across the globe with Geisel and the White River Junction VA Medical Center in White River Junction, VT. Dartmouth Health and its more than 13,000 employees are deeply committed to serving the healthcare needs of everyone in our communities, and to providing each of our patients with exceptional, personal care.