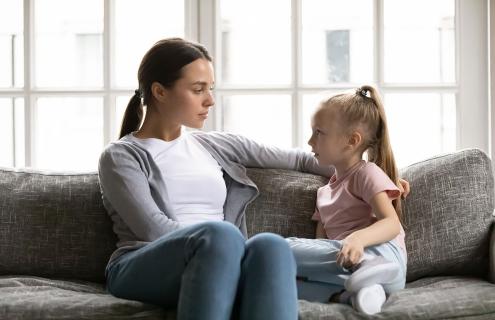 Once again, our nation is faced with having to make sense of, and cope with, recent mass shootings involving innocent people. For children and teens, it can be confusing and frightening seeing images of the events like the senseless shooting at Robb Elementary School in Uvalde, Texas. While we do our best to shelter children and teens from traumatic events, they have a great deal of access to information and see and hear what we may not want them to.
"Young people can get very creative about 'worst-case scenarios,' and their conclusions can be inaccurate, negative and often scary," said Ellen K. Sejkora, PhD, pediatric psychologist at Dartmouth Health Children's and assistant professor of Psychiatry at the Geisel School of Medicine, Dartmouth. "This is why it is so important to create a space for children to discuss their fears or thoughts and to engage in open dialogue and positive, problem-focused ways of coping."
Sejkora offers these practical steps to start conversations with school-age children age 7-13:
Make sure that you are emotionally ready to talk with them. Are you feeling too frightened or overwhelmed to have a calm conversation? If so, it might be best to spend some time coming to terms with your own experience first.
Use calm language to reassure your child and use words they understand, such as "upset," "scared," "worried," or "confused," to help them share their feelings. Speaking openly and calmly like this gives your child words to label their own emotional uncertainty and provides examples of some steps to help them cope.
Make time for a full conversation. Choose a time when there won't be interruptions, or when the conversation may need to end abruptly.
Present information that is appropriate for each child's developmental level. For children under eight, use facts and concrete language as much as possible.
Start by asking your child open-ended questions about what they have already seen or heard and what questions they have. If you don't know the answer, it's OK to tell your child that. Language like, "That's a great question, I'm not sure, but I'll see what I can find out" can validate the question and model appropriate ways to seek information.
Remind your child that there are many people in the world looking out for them and that there are people working to keep everyone safe.
"Many of us come into these stressful events with our own life experiences and possibly past trauma that can make it incredibly challenging for us to have a calm, thoughtful conversation," said Sejkora. "Labeling this for children and teens in a developmentally appropriate way can help create an emotionally rich learning experience. 'This is hard for me to talk about because I feel frustrated. How do you feel while we're talking about this?' is a great way to keep teaching children by modeling, even when we're struggling. If it gets to be too much, it's also OK to say, 'You know, I need a break because I need to think through this a little more, and it's making me very emotional. Could we try talking again after dinner?'"
Children and teens show their distress in different ways from adults, often through anger or irritability, tantrums, refusals, loss of appetite or difficulty sleeping. If you feel your child or teen is showing any of these signs, a loss of interest in their usual hobbies, or seems much more attached to you more than usual, there may be something bigger going on. Always check in with your child or teen's pediatrician if you're worried about their mental health. It's also a great way to show that it is OK to talk about mental health and can help remind your child or teen that there are many adults in their lives who care.
About Dartmouth Health
Dartmouth Health, New Hampshire's only academic health system and the state's largest private employer, serves patients across northern New England. Dartmouth Health provides access to more than 2,000 providers in almost every area of medicine, delivering care at its flagship hospital, Dartmouth Hitchcock Medical Center (DHMC) in Lebanon, NH, as well as across its wide network of hospitals, clinics and care facilities. DHMC is consistently named the #1 hospital in New Hampshire by U.S. News & World Report, and recognized for high performance in numerous clinical specialties and procedures. Dartmouth Health includes its Dartmouth Cancer Center, one of only 51 National Cancer Institute-designated Comprehensive Cancer Centers in the nation, and the only such center in northern New England; Dartmouth Health Children's, including the Children's Hospital at Dartmouth Hitchcock Medical Center, the state's only children's hospital and clinic locations around the region; member hospitals in Lebanon, Keene and New London, NH, and Windsor, VT, and Visiting Nurse and Hospice for Vermont and New Hampshire; and more than 24 clinics that provide ambulatory services across New Hampshire and Vermont. Through its historical partnership with Dartmouth and the Geisel School of Medicine, Dartmouth Health trains nearly 400 medical residents and fellows annually, and performs cutting-edge research and clinical trials recognized across the globe with Geisel and the White River Junction VA Medical Center in White River Junction, VT. Dartmouth Health and its more than 13,000 employees are deeply committed to serving the healthcare needs of everyone in our communities, and to providing each of our patients with exceptional, personal care.