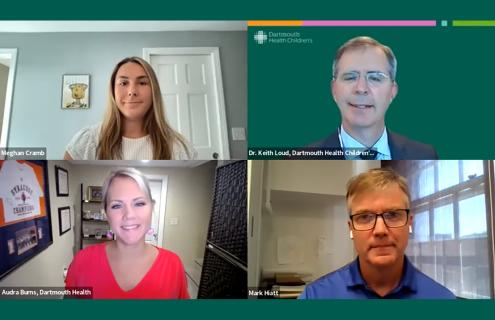 Dartmouth Health has published the latest webinar in its series, Heads Up: A Year-Long Mental Health Awareness Journey. This month, expert panelists discuss the topic of "Student-Athletes: What are their unique mental health stressors and how can we support them?" The video can be viewed at the Dartmouth Health YouTube page.
This segment features Meghan Cramb of Merrimack, New Hampshire, a graduate student-athlete and member of the Lynn University Women's Basketball team, Mark Hiatt, PhD, a staff psychologist and director of the Sport Psychology Program at Dartmouth College Health Services, and Keith J. Loud, MD, Dartmouth Health Children's physician-in-chief and a board-certified sports pediatrician. Together, they discuss the mental health of young athletes and the ways family, friends, coaches and teammates can support them. Whether it's dealing with the heavy burden of performing well, practicing and juggling academics, or the feelings of uncertainty and grief that emerge following a season-ending injury, the world of athletic excellence is still competing against the culture of "toughing it out" and scoring points.. The panel offers insights, tips and resources for young athletes and those who support and influence them.
"Adolescents will rate the discontinuation or the exclusion from sports participation as among the greatest losses they could experience, up there with the loss of a friend or family member to death. This is really a significant source of their identity," Loud said during the webinar discussion.
The panelists also discussed how transitioning to different grade levels or to collegiate sports can be emotionally difficult and how certain injuries like concussions can worsen symptoms. They offered suggestions for young athletes and their loved ones when facing a difficult transition or managing the stress to achieve their best performance.
In partnership with the New Hampshire Union Leader and the Seacoast Media Group, The Heads Up series is a mental health awareness campaign that provides online resources, offers fresh perspectives and highlights community events on mental health-related topics.
To learn more about the Heads Up Series, resources on mental health or to view past newspaper feature articles and webinars, visit our Mental Health web page.
About Dartmouth Health
Dartmouth Health, New Hampshire's only academic health system and the state's largest private employer, serves patients across northern New England. Dartmouth Health provides access to more than 2,000 providers in almost every area of medicine, delivering care at its flagship hospital, Dartmouth Hitchcock Medical Center (DHMC) in Lebanon, NH, as well as across its wide network of hospitals, clinics and care facilities. DHMC is consistently named the #1 hospital in New Hampshire by U.S. News & World Report, and recognized for high performance in numerous clinical specialties and procedures. Dartmouth Health includes its Dartmouth Cancer Center, one of only 51 National Cancer Institute-designated Comprehensive Cancer Centers in the nation, and the only such center in northern New England; Dartmouth Health Children's, including the Children's Hospital at Dartmouth Hitchcock Medical Center, the state's only children's hospital and clinic locations around the region; member hospitals in Lebanon, Keene and New London, NH, and Windsor, VT, and Visiting Nurse and Hospice for Vermont and New Hampshire; and more than 24 clinics that provide ambulatory services across New Hampshire and Vermont. Through its historical partnership with Dartmouth and the Geisel School of Medicine, Dartmouth Health trains nearly 400 medical residents and fellows annually, and performs cutting-edge research and clinical trials recognized across the globe with Geisel and the White River Junction VA Medical Center in White River Junction, VT. Dartmouth Health and its more than 13,000 employees are deeply committed to serving the healthcare needs of everyone in our communities, and to providing each of our patients with exceptional, personal care.