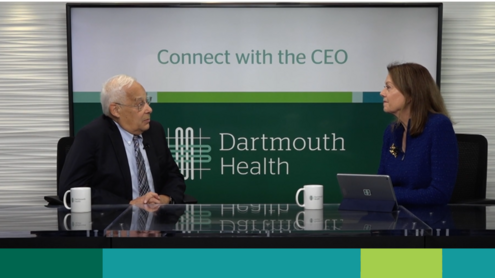 When we think about rural healthcare, the mountains don't separate us anymore. It's really the fabric of our communities that keep us together.
Joanne M. Conroy, MD
Don Berwick, MD, Senior Fellow at the Institute for Healthcare Improvement and former Centers for Medicare and Medicaid administrator, joins Dartmouth Health's CEO and president, Joanne M. Conroy, MD, to discuss the unique challenges rural hospitals face and possible solutions. Conroy and Berwick are passionate about health equity and sat down to record this conversation in honor of National Rural Health Day.
The conversation covers various topics, including equity in rural healthcare delivery, the influence of government policies, the perspectives a new generation of physicians brings, and the potential impacts of new technologies like artificial intelligence on health and healthcare.
Through their conversation, Berwick and Conroy highlight the importance of health equity in rural healthcare delivery and the need for a collaborative approach to address the unique challenges faced by rural hospitals.
"Healthcare systems all over the US—indeed, throughout most of the world—are struggling to reorient from healthcare alone to the production of health itself, including closing gaps in health equity," said Berwick.