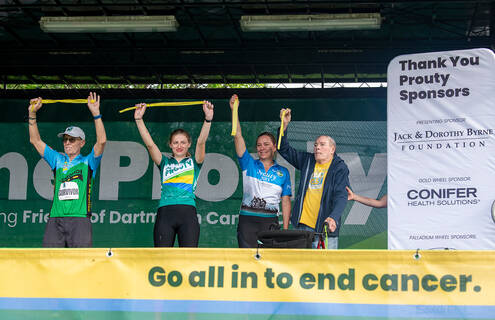 Our patients today, those to come, and those who care for and support them are directly touched by Prouty-sponsored funding.
Steven D. Leach, MD
A solid week of downpours and thunderstorms did not stop more than 3,500 cyclists, walkers and golfers and more than 750 volunteers from once again breaking records, raising an impressive $7.7 million at The Prouty—northern New England's largest family-friendly fundraising event.
For 42 years, rain or shine, people from all over the country have raised money for Dartmouth Cancer Center. The funds fuel cancer research, provide equipment for research labs and allow for vital patient and family support services such as massage, reiki, creative arts and support groups through Dartmouth Cancer Center's Complementary Care Program. Funds also support services such as travel assistance through the cancer center social workers. Some of last year's record-breaking total went toward increasing access to life-saving clinical trials.
This year, the ambitious $7 million goal was set, in part, with the intention of dedicating a portion of funds to support expansion of the new Dartmouth Cancer Center Food Pantry. A pilot program in 2022 provided 150 patients with almost 800 bags of food in the first 11 months. With 22 percent of patients struggling to afford healthy food, the need for expansion of the Food Pantry is critical.
"We have much to strive for, but also much to celebrate," said Steven D. Leach, MD, Director of Dartmouth Cancer Center, who has ridden the 2-day Prouty Ultimate bike route through New Hampshire and Vermont each year since becoming Director in 2017. "The Prouty makes so much possible at Dartmouth Cancer Center. It helps fund cancer research, patient support services and improved access to clinical trials. Our patients today, those to come, and those who care for and support them are directly touched by Prouty-sponsored funding."
An example of the impact that seed funding can make right here in our community is the Emerging Diagnostic and Investigative Technologies (EDIT) program directed by Gregory J. Tsongalis, PhD. Researcher Joshua J. Levy, PhD, and pathologist Louis J. Vaickus, MD, PhD, co-directors of the artificial intelligence (AI) pillar of EDIT, received a Prouty Pilot grant to use AI imaging technologies to come up with more accurate and lower-cost solutions to cancer staging challenges. Their project also provided an opportunity to incorporate EDIT to train regional high school students in AI through a virtual internship. These students are learning how to use innovative AI technologies and advance translational biomedical research through mentoring, tutorials and workshops. They have already achieved 20 first-author publications and two of the students have presented at international conferences.
The day started with an opening ceremony of collective accomplishments and inspiring stories that united the Prouty community together as one powerful, cancer-fighting force. In tribute during the ceremony, participants carried yellow ribbons bearing the names and messages in honor of loved ones for whom they were participating. At the end of their events, many participants fastened their yellow ribbons to the fence at the finish line.
The Prouty offers activities for everyone, from elite athletes to those just beginning. Jaclynn Rodriguez, Executive Director of the Friends of Dartmouth Cancer Center, who, with a team of community volunteers organizes The Prouty every year, spent her day with the crowds who turned out for the cause. "It is truly inspiring how our community comes together in a big way to support the patients and families at Dartmouth Cancer Center," said Rodriguez. "Sadly we had to cancel the rowing event due to the heavy rains earlier this week, as safety is top priority. Even still, our Prouty community persevered toward the ultimate finish line—a world without cancer."
Post-event donations are still welcome and encouraged. For a running total on the 42nd annual Prouty earnings for cancer research and patient services, please visit TheProuty.org.
About Dartmouth Health
Dartmouth Health, New Hampshire's only academic health system and the state's largest private employer, serves patients across northern New England. Dartmouth Health provides access to more than 2,000 providers in almost every area of medicine, delivering care at its flagship hospital, Dartmouth Hitchcock Medical Center (DHMC) in Lebanon, NH, as well as across its wide network of hospitals, clinics and care facilities. DHMC is consistently named the #1 hospital in New Hampshire by U.S. News & World Report, and recognized for high performance in numerous clinical specialties and procedures. Dartmouth Health includes Dartmouth Cancer Center, one of only 54 National Cancer Institute-designated Comprehensive Cancer Centers in the nation, and the only such center in northern New England; Dartmouth Health Children's, which includes Children's Hospital at Dartmouth Hitchcock Medical Center, the state's only children's hospital, and multiple clinic locations around the region; member hospitals in Lebanon, Keene and New London, NH, and Bennington and Windsor, VT; Visiting Nurse and Hospice for Vermont and New Hampshire; and more than 24 clinics that provide ambulatory services across New Hampshire and Vermont. Through its historical partnership with Dartmouth and the Geisel School of Medicine, Dartmouth Health trains nearly 400 medical residents and fellows annually, and performs cutting-edge research and clinical trials recognized across the globe with Geisel and the White River Junction VA Medical Center in White River Junction, VT. Dartmouth Health and its more than 13,000 employees are deeply committed to serving the healthcare needs of everyone in our communities, and to providing each of our patients with exceptional, personal care.