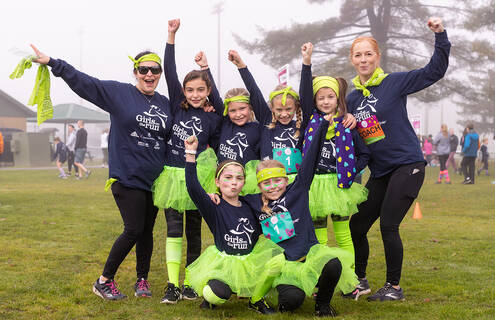 Registration opens on Monday, August 7, for Girls on the Run New Hampshire's 2023 fall season. Dartmouth Health has partnered with Girls on the Run in support of their mission to not only inspire girls to take up running, but to be healthy, strong and confident.
With chapters around the state, Girls on the Run inspires girls of all abilities to recognize their individual strengths, while building a sense of connection in a team setting. Volunteer coaches facilitate lessons that blend physical activity with life skill development to enable girls to adapt to whatever comes their way. At the end of the season, on November 18, the team completes a 5K in Concord, along with other teams from around New Hampshire, providing a tangible sense of accomplishment and setting a confident mindset into motion.
"As the name implies, running is a part of the Girls on the Run program, but our primary focus is empowerment," said Jen Hubbell, executive director of Girls on the Run New Hampshire. "Girls are taught how to integrate physical activity into their daily lives in a fun, empowering, and social environment, while also building the courage to unleash their inner star power. The joy and learning that evolves as the girls share ideas and learn new skills makes each and every participant that much more confident and caring. To have Dartmouth Health step up as our Premier Partner is a tremendous milestone. It will further our council's ability to serve even more girls across all 10 New Hampshire counties, having served over 20,000 participants since 2001."
A national nonprofit organization, Girls on the Run's researched-based curriculum is structured around understanding ourselves, valuing relationships and teamwork, and recognizing how we can shape the world at large. Participants gain critical life skills that strengthen their potential at a time when societal pressures and conflicting messages about how to feel and act can cause doubt and uncertainty.
Registration for the Girls on the Run fall season is open from August 7 to September 17. To register and for more information, visit the Girls on the Run New Hampshire website.
About Dartmouth Health
Dartmouth Health, New Hampshire's only academic health system and the state's largest private employer, serves patients across northern New England. Dartmouth Health provides access to more than 2,000 providers in almost every area of medicine, delivering care at its flagship hospital, Dartmouth Hitchcock Medical Center (DHMC) in Lebanon, NH, as well as across its wide network of hospitals, clinics and care facilities. DHMC is consistently named the #1 hospital in New Hampshire by U.S. News & World Report, and recognized for high performance in numerous clinical specialties and procedures. Dartmouth Health includes Dartmouth Cancer Center, one of only 54 National Cancer Institute-designated Comprehensive Cancer Centers in the nation, and the only such center in northern New England; Dartmouth Health Children's, which includes Children's Hospital at Dartmouth Hitchcock Medical Center, the state's only children's hospital, and multiple clinic locations around the region; member hospitals in Lebanon, Keene and New London, NH, and Bennington and Windsor, VT; Visiting Nurse and Hospice for Vermont and New Hampshire; and more than 24 clinics that provide ambulatory services across New Hampshire and Vermont. Through its historical partnership with Dartmouth and the Geisel School of Medicine, Dartmouth Health trains nearly 400 medical residents and fellows annually, and performs cutting-edge research and clinical trials recognized across the globe with Geisel and the White River Junction VA Medical Center in White River Junction, VT. Dartmouth Health and its more than 13,000 employees are deeply committed to serving the healthcare needs of everyone in our communities, and to providing each of our patients with exceptional, personal care.