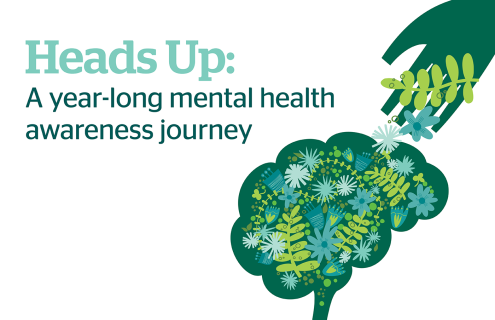 Every month, Dartmouth Health expert panelists and partners at the New Hampshire Union Leader and Seacoast Online have been focusing on different groups of people experiencing unique challenges to their mental health as part of a year-long effort to raise awareness of the issues and dispel the myths that lead to stigma. This month, we look at how mental health has, for better or worse, shaped our modern criminal justice system.
Few segments of society are as intertwined by trauma and mental illness than law enforcement officers and people charged, convicted, and incarcerated for crimes. Mental illness affects behavior in a cycle of trauma that, left untreated, sometimes leads to tragedy. This further erodes the health of the public safety officials who witness those tragic outcomes while in the line of duty.
"Today, law enforcement and mental health find themselves in a difficult juxtaposition," said David Goldstein, PhD, behavioral scientist and Chief of Police for the City of Franklin, New Hampshire. "Prisons and jails were never designed to function as mental health institutions. And yet, today they do. Law enforcement officers, while no strangers to mental health problems, were never intended to be therapists."
Meanwhile, stigma against the mentally ill can have damaging effects that manifest in both the lawmaking and judicial processes.
Former New Hampshire Supreme Court Chief Justice and Dartmouth Health External Affairs Senior Director John Broderick said, "We need to first change the culture before we can hope to redraw the system." As chronicled in his recently released book, Back Roads and Highways: My Journey to Discovery on Mental Health, that's exactly what Broderick has tried to do for the past six years, in large part by speaking with young people across the state.
"What we need to do is not make the court system the first resort for mental health problems and not make police departments the first contact point for mental health," Broderick said. "The state prison here and in other states is often the leading provider of mental health services. And that makes no sense to me."
Broderick often hears stories from parents who recall a police officer telling them, "If your child is arrested, then maybe we can help." But this is not equitable access to healthcare, Broderick said—imagine an arrest was a prerequisite for a teenager's access to diabetes treatment—and the further a young person goes into the criminal justice system, the harder it is to get out.
"The majority of youth in the New Hampshire juvenile justice system have extensive histories of trauma, including abuse and neglect," said Samantha Morin, PhD, Dartmouth Health's Lead Child Forensic Psychologist and Director of Clinical Services at the Sununu Youth Services Center in Manchester. "The state is a leader in implementing positive youth development models and reforming juvenile probation and secured treatment. Still, our system as a whole would benefit greatly from more movement in the direction of trauma-informed models of care."
Though mental health treatment is generally available through community mental health centers, and some counties and districts offer a Mental Health Court diversion program, part of the larger problem is a relative lack of available providers, inpatient beds and resources for mental health treatment for the general public. Broderick said most judges around the state have told him if they had more options besides incarceration they would use them.
"If you said, 'I'll give you $5 million dollars, what will you spend it on?' I would say, 'mental health, mental health, mental health,'" he said.
Broderick said it's in our financial interest and it is morally right to invest in mental health services.
Goldstein agrees.
"While members of law enforcement stand ready to work with those experiencing mental health issues and, acknowledging the fact that law enforcement is presently engaged in mitigating the problems through training, education and a shift in thinking, it should not fall to law enforcement alone to solve this societal issue," Goldstein said.
Morin, Goldstein and other panelists explore the relationships between mental health and the criminal justice system in a Heads Up webinar hosted by Dartmouth Health. It can be viewed online on our Heads Up: A Year-long Mental Health Awareness Journey web page.