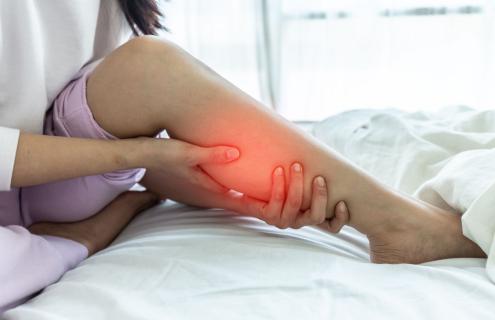 September marks both National Vascular Disease Awareness Month and Peripheral Artery Disease (PAD) Awareness Month. PAD is the most common form of vascular disease (a condition of the blood vessels), affecting more than 200 million people worldwide, and is often mischaracterized as mere pain or cramping in the legs. PAD is the narrowing of blood vessels in the legs and is caused by atherosclerosis, or the hardening of arteries, that reduces blood flow to the legs. In the most severe cases, people can feel constant foot pain and develop gangrene—open sores that don't heal—which may lead to limb loss. People with PAD are at a higher risk for heart disease, heart attack and stroke.
"PAD is a serious condition, but the good news is that lives can be saved when PAD is recognized and treated effectively," said Jocelyn M. Beach, MD, a vascular surgeon who specializes in PAD at Dartmouth Hitchcock Medical Center, a member of Dartmouth Health and New Hampshire's only academic medical center. Dartmouth Health recommends the following guidelines for reducing your risk of PAD, knowing the signs, and what to do if you think you have PAD symptoms.
Age matters: PAD mostly affects people in their 60s and older. In the United States, 20% of people over age 80 have PAD.
Lifestyle matters, too: While nothing can stop the aging process, there are other risk factors for PAD that can be controlled. These include:

Quitting smoking
Controlling diabetes
Managing high blood pressure and high cholesterol

Watch out for leg pain: Leg pain, especially while walking, can be a sign of PAD, and you should let your primary care provider know if you're experiencing this. However, more than half of people with PAD have no symptoms.
Protect your feet: Patients with PAD have more difficulty healing wounds or ulcers on their feet and legs. This is more difficult in patients with both PAD and diabetes. Any wound on the foot that does not heal should be evaluated for PAD. Good foot care and monitoring can help prevent and identify potential problems before wounds develop.
PAD is treatable: Once diagnosed, most people with PAD are treated with medication—usually baby aspirin and statins (medicine that lowers cholesterol). This also helps lower the risk of heart attack and stroke. Providers also work with patients to manage other risk factors, including diabetes. Patients who require intervention can benefit from a range of procedures including minimally invasive endovascular procedures using wires and catheters to deliver balloons or stents through a small puncture in the artery. More invasive bypass surgery is sometimes required for advanced disease.
"It's important for people to understand the signs and risks of PAD," Beach said. "Unrecognized, PAD can lead to major health consequences. In addition to leg problems, patients with PAD are also at risk for heart attacks and stroke. It's my hope this PAD Awareness Month that we can increase public knowledge about PAD, empower people with information, and help them manage and reduce their risk factors for PAD."
About Dartmouth Health
Dartmouth Health, New Hampshire's only academic health system and the state's largest private employer, serves patients across northern New England. Dartmouth Health provides access to more than 2,000 providers in almost every area of medicine, delivering care at its flagship hospital, Dartmouth Hitchcock Medical Center (DHMC) in Lebanon, NH, as well as across its wide network of hospitals, clinics and care facilities. DHMC is consistently named the #1 hospital in New Hampshire by U.S. News & World Report, and recognized for high performance in numerous clinical specialties and procedures. Dartmouth Health includes Dartmouth Cancer Center, one of only 56 National Cancer Institute-designated Comprehensive Cancer Centers in the nation, and the only such center in northern New England; Dartmouth Health Children's, which includes Children's Hospital at Dartmouth Hitchcock Medical Center, the state's only children's hospital, and multiple clinic locations around the region; member hospitals in Lebanon, Keene and New London, NH, and Bennington and Windsor, VT; Visiting Nurse and Hospice for Vermont and New Hampshire; and more than 24 clinics that provide ambulatory services across New Hampshire and Vermont. Through its historical partnership with Dartmouth and the Geisel School of Medicine, Dartmouth Health trains nearly 400 medical residents and fellows annually, and performs cutting-edge research and clinical trials recognized across the globe with Geisel and the White River Junction VA Medical Center in White River Junction, VT. Dartmouth Health and its more than 13,000 employees are deeply committed to serving the healthcare needs of everyone in our communities, and to providing each of our patients with exceptional, personal care.