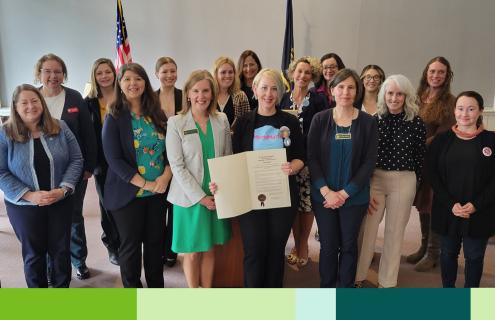 Maternal Mental Health Day is recognized worldwide on May 3 and draws attention to essential mental health concerns for mothers and families. In New Hampshire, access to necessary support for mothers is often lacking, as it is the only state in the northeast that hasn't expanded postpartum healthcare coverage for low-income pregnant people.
On May 3, Dartmouth Health, along with New Futures, MomsRising, the New Hampshire Medical Society, New Hampshire MomCaucus, and the New Hampshire Wellness and Primary Prevention Council, hosted a press conference at the Legislative Office Building in Concord to recognize Maternal Mental Health Day, and discuss New Hampshire Senate Bill 175. Dubbed the "MOMnibus" bill, SB175 would provide Medicaid coverage to mothers who qualify, and received overwhelming bipartisan support, unanimously passing the Senate 24-0. It is pending incorporation into the state's budget.
Among the speakers was Heather A. Martin, RMA, a medical assistant and maternal mental health advocate for Dartmouth Health Children's. Following the death of her sister by suicide brought on by postpartum psychosis 14 years ago this month, Martin has turned her pain to purpose by working to prevent other mothers and families to face the same tragic outcomes her sister did. Martin was responsible for the implementation of a mental health screening process for mothers of newborns at Dartmouth Health Children's Manchester clinic.
"Maternal mental health disorders, like postpartum depression, are the number-one complication of childbirth, so it's only fitting to dedicate a day to spreading awareness," said Martin, who led the charge for Maternal Mental Health Awareness Day to be proclaimed in New Hampshire by Gov. Chris Sununu (R-NH). "What we hear from our mothers every day here in our state is that they need our help. We need to break the stigma in asking for help. We can help our moms by having more access to mental health treatment, community resources and dedicated peer support groups. I am hopeful we can get there if we work together with our communities. The awareness day proclamation and the passing of the MOMnibus bill will help us get there."
"In New Hampshire, one in three births are covered by Medicaid," said Maria D. Padin, MD, a practicing obstetrician-gynecologist and chief medical officer of Dartmouth Hitchcock Clinics in southern New Hampshire. "Passing SB 175 will signal to all mothers in New Hampshire that we care about their health and we support them as mothers, as working women, and community members."
A full video of the press conference is available upon request.
About Dartmouth Health
Dartmouth Health, New Hampshire's only academic health system and the state's largest private employer, serves patients across northern New England. Dartmouth Health provides access to more than 2,000 providers in almost every area of medicine, delivering care at its flagship hospital, Dartmouth Hitchcock Medical Center (DHMC) in Lebanon, NH, as well as across its wide network of hospitals, clinics and care facilities. DHMC is consistently named the #1 hospital in New Hampshire by U.S. News & World Report, and recognized for high performance in numerous clinical specialties and procedures. Dartmouth Health includes Dartmouth Cancer Center, one of only 56 National Cancer Institute-designated Comprehensive Cancer Centers in the nation, and the only such center in northern New England; Dartmouth Health Children's, which includes Children's Hospital at Dartmouth Hitchcock Medical Center, the state's only children's hospital, and multiple clinic locations around the region; member hospitals in Lebanon, Keene and New London, NH, and Bennington and Windsor, VT; Visiting Nurse and Hospice for Vermont and New Hampshire; and more than 24 clinics that provide ambulatory services across New Hampshire and Vermont. Through its historical partnership with Dartmouth and the Geisel School of Medicine, Dartmouth Health trains nearly 400 medical residents and fellows annually, and performs cutting-edge research and clinical trials recognized across the globe with Geisel and the White River Junction VA Medical Center in White River Junction, VT. Dartmouth Health and its more than 13,000 employees are deeply committed to serving the healthcare needs of everyone in our communities, and to providing each of our patients with exceptional, personal care.