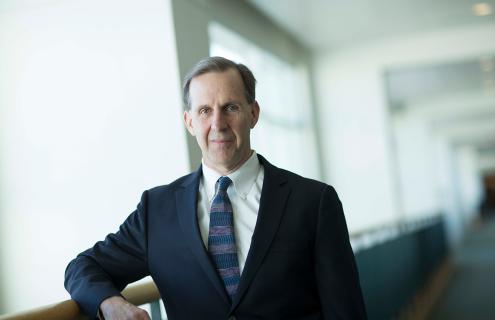 May is Mental Health Awareness Month, a time when all of us in the behavioral health field take the opportunity to share our knowledge and understanding of mental health disorders and to engage our communities more deeply in our shared task of addressing the need for timely high-quality mental health and substance use disorder care.
None of us want to develop or to have a loved one develop any psychiatric disorder, let alone one that is severe enough to require the level of care only available at a hospital. Medical and surgical intensive care units are able to attract and retain outstanding physicians. But psychiatric intensive care sites like state-run psychiatric hospitals struggle to attract and retain the most talented mental health providers. New Hampshire, though, has been an exception.
For more than 30 years, Dartmouth Health's Department of Psychiatry has recruited and supported outstanding clinicians to New Hampshire Hospital in Concord. Those dedicated care providers are attracted by the opportunity to work with equally dedicated and talented state employees, from senior hospital leaders to nurses, social workers and mental health workers. They are also attracted by the chance to train New Hampshire's future mental health workforce—psychiatrists, psychiatric nurse practitioners, and psychologists—and engage in mission-driven work, supporting the recovery of people who live with severe psychiatric illnesses.
The benefits of the partnership between Dartmouth Health and the state extend well beyond New Hampshire Hospital. Dartmouth Health provides talented clinical leadership to the state's Department of Health and Human Services, the Bureau of Behavioral Health, the Sununu Youth Services Center, the Bureau of Elderly and Adult Services, the Bureau of Developmental Services, and the Glencliff Home for the elderly. We provide expert training in evidence-based practices for children and adults, develop infrastructure for the care of people with a first episode of psychosis, and run one of the state's Doorways programs for the care of people seeking help for substance use disorders. In all these activities, we build new knowledge and spark the interest of students in using their professional lives in public service care.
Let's celebrate the decades of thoughtful work by state leaders and Department of Psychiatry faculty and administrators who have joined together over the years to quietly build the strong programs that exist today. Quality does not happen by accident—it takes sustained dedicated effort.
Mental Health Awareness Month provides an opportunity to celebrate what is going well in New Hampshire and also to turn towards the grave challenges that remain. Now is the time for all of New Hampshire's citizens, public servants, insurance companies, employers, philanthropists and healthcare providers to put our shoulders to the wheel to make it possible to gain timely access to high-quality care for mental health and substance use disorders.
The people of New Hampshire—our families, our friends, and our communities—deserve nothing less.
William C. Torrey, MD
Chair of Psychiatry at Dartmouth Health and Geisel School of Medicine at Dartmouth
About Dartmouth Health
Dartmouth Health, New Hampshire's only academic health system and the state's largest private employer, serves patients across northern New England. Dartmouth Health provides access to more than 2,000 providers in almost every area of medicine, delivering care at its flagship hospital, Dartmouth Hitchcock Medical Center (DHMC) in Lebanon, NH, as well as across its wide network of hospitals, clinics and care facilities. DHMC is consistently named the #1 hospital in New Hampshire by U.S. News & World Report, and recognized for high performance in numerous clinical specialties and procedures. Dartmouth Health includes Dartmouth Cancer Center, one of only 56 National Cancer Institute-designated Comprehensive Cancer Centers in the nation, and the only such center in northern New England; Dartmouth Health Children's, which includes Children's Hospital at Dartmouth Hitchcock Medical Center, the state's only children's hospital, and multiple clinic locations around the region; member hospitals in Lebanon, Keene and New London, NH, and Bennington and Windsor, VT; Visiting Nurse and Hospice for Vermont and New Hampshire; and more than 24 clinics that provide ambulatory services across New Hampshire and Vermont. Through its historical partnership with Dartmouth and the Geisel School of Medicine, Dartmouth Health trains nearly 400 medical residents and fellows annually, and performs cutting-edge research and clinical trials recognized across the globe with Geisel and the White River Junction VA Medical Center in White River Junction, VT. Dartmouth Health and its more than 13,000 employees are deeply committed to serving the healthcare needs of everyone in our communities, and to providing each of our patients with exceptional, personal care.