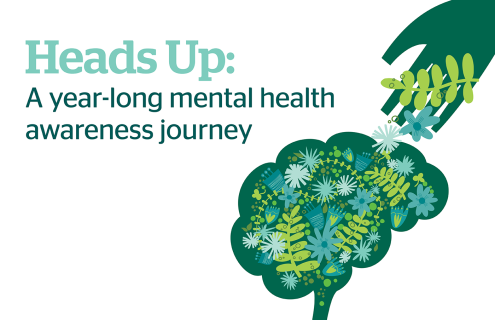 Every month, Dartmouth Health expert panelists and partners at the New Hampshire Union Leader and Seacoast Online have been focusing on different groups of people experiencing unique challenges to their mental health as part of a year-long effort to raise awareness of the issues and dispel the myths that lead to stigma. This month, we look at how our military service members face unique and common mental health challenges.
Prolonged separation from friends and family, direct exposure to combat, serious injury and disability, losing a sense of purpose after leaving the military; these are a few of the experiences that can erode mental health during and after military service, according to Evan Bick, PsyD, a psychologist at Dartmouth Health, and a U.S. Army veteran who served in Iraq 2008 to 2009.
Bick said veterans and family members should be on the lookout for changes in behavior or reactions to events and circumstances. An increase in anger and irritability, sleeping too much or not enough (insomnia), racing thoughts, or changes in alcohol or drug use can all point to possible post-traumatic stress disorder (PTSD).
"When we think about PTSD, the problem in essence is that returning veterans are applying skills that are essential in combat, but not to everyday life," Bick said.
Hypervigilance and quick reflexes can be life-saving skills in hostile areas, but normal stimuli at home, like a sound or a situation, can trigger a fight-or-flight panic response that is disproportionate to the danger. In a very real way, there is logic to the mind's response. It just hasn't caught up to reality.
"I want to emphasize that PTSD and being a veteran do not necessarily go hand-in-hand. PTSD describes a set of reactions or a set of symptoms that not everyone exposed to trauma will experience," Bick said.
And PTSD is something anyone, even nonservicemembers, can be diagnosed with, since trauma comes in all forms, he said.
Carey Russ, the Deputy Chief of Mental Health at the White River Junction VA Medical Center in White River Junction, Vermont, said pivoting to civilian life can be a difficult adjustment, especially after an intense military tour. And when it is not apparent to potential employers how one's military skills may translate to open jobs, it's easy to become discouraged.
"One of the things I hear most from veterans about transitioning from military life to civilian life is the question, 'What is my purpose now?'" Russ said. "Many veterans go from having an enormous level of responsibility for equipment, operations and human lives, to wondering why they keep hearing they aren't qualified for the civilian jobs they are applying for."
Naturally, veterans can process this discouragement and frustration as a form of grief and become depressed.
"They are no longer in fast-paced, high-pressure situations making rapid decisions, and days and nights can feel long. This can lead to deep feelings of sadness and loss," Russ said. "We know veterans are more likely to struggle with depression, substance use, and risk of suicide at this transitional time."
Traditionally, military culture has made seeking help for mental illness difficult. Many servicemembers are unlikely to report pain in their knee, let alone disclose depression and anxiety, Bick said. But over the years, this 'power through it' mindset has improved. Mental fitness is now discussed openly as part of military training, he said.
Still, work remains to dismantle the longstanding stigma around mental illness in the military. Bick also said it's important to extend resources to family members of active-duty military, including members of the National Guard, and veterans.
And while much focus is paid to the difficulties that military service can cause for some, it is also important to account for its benefits. Bick said military service provides structure, positive relationships, opportunities for character development and a shared purpose. And many veterans credit their military experience to helping them to make a positive transition into their private sector careers.
But for those who are struggling, Bick said they need to know they are not "weak," as the voice of stigma often whispers, and that there are resources available to help.
Russ said the VA Medical Centers in White River Junction, and Manchester, New Hampshire, both have robust mental health teams, with providers who specialize in treating veterans
Bick and other panelists explore the unique and common mental health challenges our veterans and military members face in a Heads Up webinar hosted by Dartmouth Health. It can be viewed online on our Heads Up: A Year-long Mental Health Awareness Journey web page.