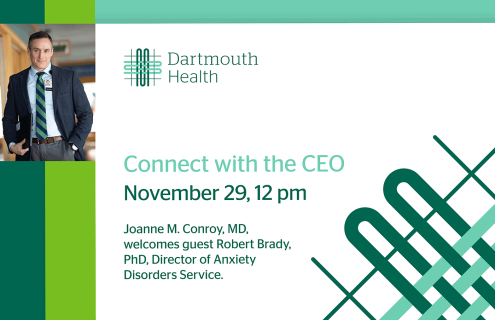 Upcoming Dartmouth Health "Connect with the CEO" to address "holiday blues," seasonal affective disorder
Dartmouth Health will host its next "Connect with the CEO" live segment on Tuesday, November 29, at 12 pm, featuring Robert E. Brady, PhD, director of Anxiety Disorders Service at Dartmouth Health. Dartmouth Health CEO and president Joanne M. Conroy, MD, and Brady will be discussing the "holiday blues" and seasonal affective disorder (SAD).
To watch the segment live, visit the Dartmouth Health Facebook page. The chat function on the live video will be open and viewers who are logged into Facebook will be able to submit questions via the chat. For those unable to watch live at noon, an archived version will be available later on Facebook or Dartmouth Health's YouTube channel. Questions may be submitted in advance to social@hitchcock.org.