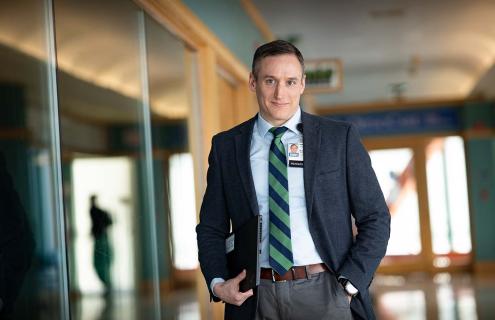 The next "Connect with the CEO" will address anxiety and depression associated with the holiday season and the winter months.
As winter approaches, many people find themselves struggling. The holiday season can be difficult for people dealing with loss, loneliness, and anxiety over how stressful this time of year can be. For others, it goes beyond just the "holiday blues"—seasonal affective disorder, or SAD, in winter is marked by depression brought on by cold weather, limited time outdoors, extended periods of darkness, and isolation.
In Dartmouth Health's next "Connect with the CEO" live segment on Tuesday, November 29, at 12 pm, CEO and president Joanne M. Conroy, MD, will be joined by Robert E. Brady, PhD, director of Anxiety Disorders Service at Dartmouth Health, for a conversation about holiday blues and SAD. Conroy and Brady will discuss the most common causes of anxiety and depression this time of year, how the COVID-19 pandemic has exacerbated these feelings for many people, techniques and resources for managing holiday blues and SAD, and how to support a loved one who may be struggling.
"We in northern New England know just how harsh winter can be—not just in terms of weather, but on our mental health as well," Brady said. "And while the holiday season is a joyful time for many, it is often a hard time for others. The collective challenges and losses during the pandemic that people are still grappling with can make the holidays all the more difficult. I look forward to talking to Dr. Conroy about this topic, and hopefully helping people feel less alone in their struggles and provide tools to cope."
To watch the segment live, visit the Dartmouth Health Facebook page at noon. The chat function on the live video will be open and viewers who are logged into Facebook will be able to submit questions via the chat. For those unable to watch live at noon, an archived version will be available later on Facebook or Dartmouth Health's YouTube channel. Questions may be submitted in advance to social@hitchcock.org.
About Dartmouth Health
Dartmouth Health, New Hampshire's only academic health system and the state's largest private employer, serves patients across northern New England. Dartmouth Health provides access to more than 2,000 providers in almost every area of medicine, delivering care at its flagship hospital, Dartmouth Hitchcock Medical Center (DHMC) in Lebanon, NH, as well as across its wide network of hospitals, clinics and care facilities. DHMC is consistently named the #1 hospital in New Hampshire by U.S. News & World Report, and recognized for high performance in numerous clinical specialties and procedures. Dartmouth Health includes Dartmouth Cancer Center, one of only 56 National Cancer Institute-designated Comprehensive Cancer Centers in the nation, and the only such center in northern New England; Dartmouth Health Children's, which includes Children's Hospital at Dartmouth Hitchcock Medical Center, the state's only children's hospital, and multiple clinic locations around the region; member hospitals in Lebanon, Keene and New London, NH, and Bennington and Windsor, VT; Visiting Nurse and Hospice for Vermont and New Hampshire; and more than 24 clinics that provide ambulatory services across New Hampshire and Vermont. Through its historical partnership with Dartmouth and the Geisel School of Medicine, Dartmouth Health trains nearly 400 medical residents and fellows annually, and performs cutting-edge research and clinical trials recognized across the globe with Geisel and the White River Junction VA Medical Center in White River Junction, VT. Dartmouth Health and its more than 13,000 employees are deeply committed to serving the healthcare needs of everyone in our communities, and to providing each of our patients with exceptional, personal care.