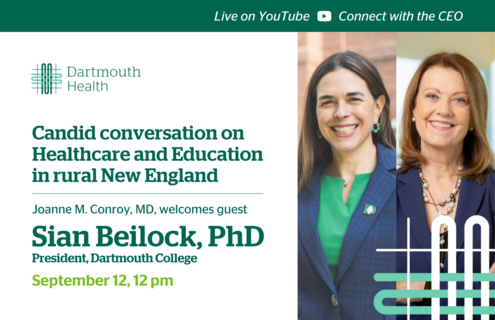 Dartmouth Health's CEO and president, Joanne M. Conroy, MD, will be joined in her next "Connect with the CEO" live segment on Tuesday, September 12, at 12 pm by Dartmouth's first-ever elected female president, Sian Leah Beilock, PhD, a cognitive scientist who is internationally known for her research into performance anxiety.
Dartmouth College, which will inaugurate Beilock later this month, is home to one of the oldest and most prestigious medical schools in the United States, the Geisel School of Medicine. Dartmouth Health, which enjoys a robust and vital partnership with this Ivy League institution as our academic partner, takes groundbreaking research performed at Dartmouth and translates it into cutting-edge medical breakthroughs that improve the health and lives of people around the world.
The 19th president of Dartmouth, Beilock is a critically acclaimed author whose research has been featured in a wide array of media outlets, and her 2017 TED Talk has been viewed more than 2.5 million times.
Beilock is committed to improving the culture surrounding mental health within the Dartmouth community. During their conversation, Conroy and Beilock will address a number of topics, including: Beilock's research and focus on mental health; her historic presidency at Dartmouth; their shared passion for elevating women in leadership roles; the upcoming panel discussion later this month at Dartmouth between Beilock, U.S. Surgeon General Vivek Murthy, and all six of his living predecessors on solutions to the national mental health crisis; and strengthening the historic relationship between the college and Dartmouth Health.
"I'm looking forward to my discussion with Joanne, not just as a peer, but as a partner," Beilock said. "The history between our two institutions goes back generations, and I'm excited to explore future possibilities for our collaboration."
To watch the segment live, visit the Dartmouth Health YouTube channel at noon. The chat function on the live video will be open and viewers who are logged into YouTube will be able to submit questions via the chat. For those unable to watch live at noon, an archived version will be available later on YouTube. Questions may be submitted in advance to social@hitchcock.org.
About Dartmouth Health
Dartmouth Health, New Hampshire's only academic health system and the state's largest private employer, serves patients across northern New England. Dartmouth Health provides access to more than 2,000 providers in almost every area of medicine, delivering care at its flagship hospital, Dartmouth Hitchcock Medical Center (DHMC) in Lebanon, NH, as well as across its wide network of hospitals, clinics and care facilities. DHMC is consistently named the #1 hospital in New Hampshire by U.S. News & World Report, and recognized for high performance in numerous clinical specialties and procedures. Dartmouth Health includes Dartmouth Cancer Center, one of only 54 National Cancer Institute-designated Comprehensive Cancer Centers in the nation, and the only such center in northern New England; Dartmouth Health Children's, which includes Children's Hospital at Dartmouth Hitchcock Medical Center, the state's only children's hospital, and multiple clinic locations around the region; member hospitals in Lebanon, Keene and New London, NH, and Bennington and Windsor, VT; Visiting Nurse and Hospice for Vermont and New Hampshire; and more than 24 clinics that provide ambulatory services across New Hampshire and Vermont. Through its historical partnership with Dartmouth and the Geisel School of Medicine, Dartmouth Health trains nearly 400 medical residents and fellows annually, and performs cutting-edge research and clinical trials recognized across the globe with Geisel and the White River Junction VA Medical Center in White River Junction, VT. Dartmouth Health and its more than 13,000 employees are deeply committed to serving the healthcare needs of everyone in our communities, and to providing each of our patients with exceptional, personal care.