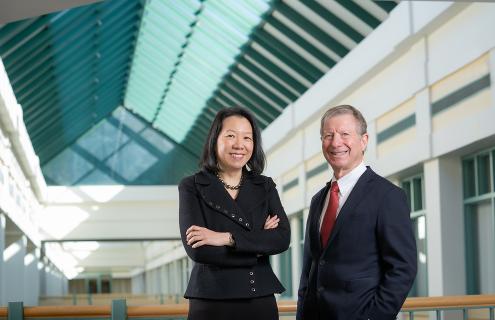 Investigators at Dartmouth Health have received a grant from the National Institutes of Health, as part of the Centers of Biomedical Research Excellence (COBRE) program. The grant, totaling $11,560,812 over five years, will fund a new Center for Rural Health Care Delivery Science and support faculty to conduct research that will advance the understanding of healthcare delivery in a rural setting.
"This COBRE award is a milestone achievement for the research enterprise at Dartmouth Health," said Steven L. Bernstein, MD, chief research officer at Dartmouth Health's Dartmouth Hitchcock Medical Center (DHMC) and senior associate dean for clinical and translational research at the Geisel School of Medicine at Dartmouth. "It will allow us to identify approaches to improve the health and healthcare of residents of northern New England and other rural regions of the United States. The Center will also catalyze the careers of many promising junior investigators at DHMC, and burnish our national reputation as a healthcare system with a robust, productive research program."
The Center for Rural Health Care Delivery Science will be led by Sandra L. Wong, MD, MS, chair of surgery at DHMC and the William N. and Bessie Allyn Professor of Surgery at Geisel, and Mark A. Creager, MD, emeritus director of the Heart and Vascular Center at DHMC and the Anna G. Huber Professor of Medicine at Geisel. The Center includes one administrative and two scientific cores, which will support individual research projects by junior faculty.
Administrative and Mentoring Core, to support the overall operation of the Center for Rural Health Care Delivery Science.
Statistics, Informatics, and Qualitative Methods Core, to promote and support the development of unique datasets, innovative statistical modeling, and the expansion of informatics and analytics capacity at DHMC.
Community Engagement and Outreach Core, to promote research partnerships with community stakeholders in rural populations as a part of the Center for Rural Health Care Delivery Science with the primary aim of addressing specific challenges associated with healthcare in northern New England.
"Dartmouth Health is one of the most rural academic health systems in the U.S.," Creager said. "We are grateful for the funding to establish a Center for Rural Health Care Delivery Science to develop a multidisciplinary research program and provide infrastructure to support the development of a critical mass of clinician-investigators who focus on the study of healthcare in rural communities. The Center will enable us to conduct innovative and compelling research that will lead to improved healthcare for our patients and others living in rural communities."
About Dartmouth Health
Dartmouth Health, New Hampshire's only academic health system and the state's largest private employer, serves patients across northern New England. Dartmouth Health provides access to more than 2,000 providers in almost every area of medicine, delivering care at its flagship hospital, Dartmouth Hitchcock Medical Center (DHMC) in Lebanon, NH, as well as across its wide network of hospitals, clinics and care facilities. DHMC is consistently named the #1 hospital in New Hampshire by U.S. News & World Report, and recognized for high performance in numerous clinical specialties and procedures. Dartmouth Health includes Dartmouth Cancer Center, one of only 54 National Cancer Institute-designated Comprehensive Cancer Centers in the nation, and the only such center in northern New England; Dartmouth Health Children's, which includes Children's Hospital at Dartmouth Hitchcock Medical Center, the state's only children's hospital, and multiple clinic locations around the region; member hospitals in Lebanon, Keene and New London, NH, and Bennington and Windsor, VT; Visiting Nurse and Hospice for Vermont and New Hampshire; and more than 24 clinics that provide ambulatory services across New Hampshire and Vermont. Through its historical partnership with Dartmouth and the Geisel School of Medicine, Dartmouth Health trains nearly 400 medical residents and fellows annually, and performs cutting-edge research and clinical trials recognized across the globe with Geisel and the White River Junction VA Medical Center in White River Junction, VT. Dartmouth Health and its more than 13,000 employees are deeply committed to serving the healthcare needs of everyone in our communities, and to providing each of our patients with exceptional, personal care.