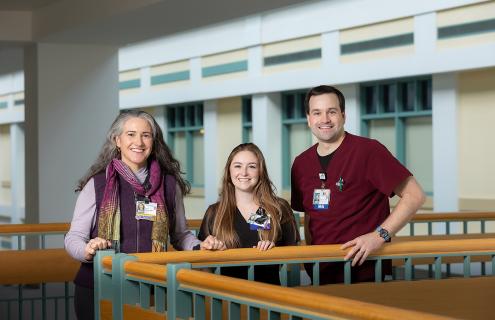 Three Dartmouth Health employees received awards from the New Hampshire Department of Health and Human Services' New Hampshire Immunization Program (NHIP). The NHIP is a vaccine resource for healthcare providers, schools, childcare providers, families, and the general public. The awards were presented at the 2022 Annual Immunization Conference, where the theme was "Preventing Misinformation in the Digital Age."
Daniel P. Hollander, MA II, a medical assistant with Dartmouth Health Children's, received the Excellence in Immunization Award. This award is presented to an individual who has demonstrated outstanding work in pediatric immunization through educational, strategic and process improvement efforts.
"Winning this award humbled me," Hollander said. "I have truly found a home working in pediatrics. I know that the work I'm doing is important, and being honored like this only further signifies that I'm doing the work I was meant to do. Getting vaccines protects us—and those around us—from getting serious illnesses. The children don't always understand this, but it hopefully gives them some perspective on why they are getting these shots."
Jasmin J. Ward, MA II, a medical assistant in primary care at Dartmouth Hitchcock Clinics Heater Road, received the annual Tricia McGuire Memorial Award. The Tricia McGuire Memorial Award is presented to an individual who has made exceptional contributions in the area of immunization. Qualities include, but are not limited to, passion, creativity, and commitment to patient education; quality improvement strategies focused on improving vaccine delivery efficiencies and increasing vaccination coverage rates; and an individual that regularly goes above and beyond routine expectations.
"This award means a lot to me and my efforts supporting vaccination," said Ward. "I am passionate about making the vaccination process a positive experience for the pediatric population and their families. Knowing that I am helping protect children against disease makes me feel at ease. I will forever be committed to this work."
Susanne E. Tanski, MD, MPH, section chief and vice chair of general pediatrics at Dartmouth Health Children's, received the Social Media in Vaccine Education Award. This award is presented to an individual who has demonstrated outstanding work in pediatric vaccine education through the use of social media.
"It is an honor to be the recipient of this award," said Tanski, who believes that using social media is a necessary means to combat misinformation and provide a trusted source of information. "Vaccines keep us healthier, and they save lives. They prepare our immune system to prevent illnesses entirely or keep us from getting as sick compared to if we had no protection. This has huge benefits for individuals, families and our communities. Keep yourself and your loved ones healthy—get vaccinated."
About Dartmouth Health
Dartmouth Health, New Hampshire's only academic health system and the state's largest private employer, serves patients across northern New England. Dartmouth Health provides access to more than 2,000 providers in almost every area of medicine, delivering care at its flagship hospital, Dartmouth Hitchcock Medical Center (DHMC) in Lebanon, NH, as well as across its wide network of hospitals, clinics and care facilities. DHMC is consistently named the #1 hospital in New Hampshire by U.S. News & World Report, and recognized for high performance in numerous clinical specialties and procedures. Dartmouth Health includes Dartmouth Cancer Center, one of only 56 National Cancer Institute-designated Comprehensive Cancer Centers in the nation, and the only such center in northern New England; Dartmouth Health Children's, which includes Children's Hospital at Dartmouth Hitchcock Medical Center, the state's only children's hospital, and multiple clinic locations around the region; member hospitals in Lebanon, Keene and New London, NH, and Bennington and Windsor, VT; Visiting Nurse and Hospice for Vermont and New Hampshire; and more than 24 clinics that provide ambulatory services across New Hampshire and Vermont. Through its historical partnership with Dartmouth and the Geisel School of Medicine, Dartmouth Health trains nearly 400 medical residents and fellows annually, and performs cutting-edge research and clinical trials recognized across the globe with Geisel and the White River Junction VA Medical Center in White River Junction, VT. Dartmouth Health and its more than 13,000 employees are deeply committed to serving the healthcare needs of everyone in our communities, and to providing each of our patients with exceptional, personal care.