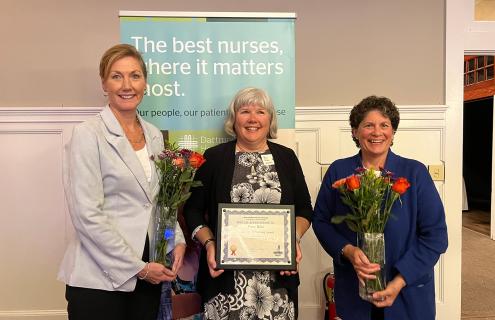 Four nurses employed by Dartmouth Health were honored for their contributions to the field of nursing in the Granite State at the New Hampshire Nurses Association (NHNA) 2022 Annual Meeting and Awards Program, on October 20 in Manchester. Recipients of the awards were selected based on nominations submitted to the NHNA Commission on Nursing Practice and approved by the Board of Directors, and demonstrate the NHNA core values of caring, integrity, excellence, and diversity, inclusivity and belonging.
The following Dartmouth Health nurses were awarded:
Karen F. Clements, BSN, MSB, MHCDS, RN, FACHE, chief nursing officer at Dartmouth Hitchcock Medical Center (DHMC) and Clinics, was inducted into the NHNA Hall of Fame. The Hall of Fame recognizes the distinguished, lifelong commitment and leadership of New Hampshire nurses for the benefit of the nursing profession and the delivery of healthcare in New Hampshire.

"As an administrative leader and chief nursing officer, Karen has been successful in leading our organization through the pandemic," said Debra P. Hastings, PhD, RN, NPD-BS, director of Nursing Professional Development at Dartmouth Health. "Under her leadership and with her support, nurses at the point of care have ensured optimal care outcomes for patients in their care."

"Karen believes in the profession of nursing and she truly cares," said Carol A. Townsend, MSN, RN, CNML, director of Ambulatory Nursing at Dartmouth Hitchcock Clinics. "She has been there for me and many others when we needed her, even when we didn't realize we did. She's the kind of nurse you want caring for you at your bedside, but also making those critical changes in leadership that positively affect your life. I believe I am a better nurse leader because of her strength and encouragement."
Sally Patton, MSN, RN, who recently retired as chief nursing officer at Dartmouth Health member New London Hospital, was also inducted into the Hall of Fame. Patton had previously worked as a nurse leader at DHMC.

"Sally understands, deep in the marrow of her bones, what it is to be a nurse: the joys, the heartaches, the intensity, the pressures and the obligations," said Susan A. Reeves, EdD, RN, CENP, chief nursing executive at Dartmouth Health. "More importantly, Sally's first and undeniable obligation has always been as the patient's and family's advocate. Sally is one of the great figures in our New Hampshire nursing ranks. With her retirement comes the end of an era."
Pamela J. Rice, BSN, RN-PCNB, a clinical nurse in pediatric specialties at Children's Hospital at Dartmouth Hitchcock Medical Center (CHaD) and chair of Nursing Professional Governance for DHMC and Clinics, was honored with the Champion of Nursing Award. The award recognizes an individual who has had a positive impact on the profession of nursing, has demonstrated characteristics and/or practices that support individual nurses or the nursing profession, and shown leadership and involvement in the nursing community.

"Pam demonstrates leadership within the nursing community and works diligently to create opportunities for nurses across all settings," said Nicole A. Tadlock, MAE, BSN, RN-BC, pediatric clinic nurse manager at CHaD. "In addition to her council work, she is a diligent advocate for the culture of nursing in her local clinical work area and has a passion for recognizing the accomplishments of others. She leads our community by example and we are eternally grateful for her contributions."
Katherine I. Dos Santos, RN, a clinical nurse in the intensive care nursery at CHaD, was given the Rising Star Award, which honors a nurse who has been in the field less than five years. Rising Stars have demonstrated significant potential as a leader and nursing advocate.

"From her very first day, Katherine has demonstrated enthusiasm, a commitment for learning, and dedication to the care of infants and families," said Lori E. Wood, BSN, RNC-NIC, associate nurse manager at CHaD. "It will be exciting to watch Katherine as she continues to grow in her nursing career."
About Dartmouth Health
Dartmouth Health, New Hampshire's only academic health system and the state's largest private employer, serves patients across northern New England. Dartmouth Health provides access to more than 2,000 providers in almost every area of medicine, delivering care at its flagship hospital, Dartmouth Hitchcock Medical Center (DHMC) in Lebanon, NH, as well as across its wide network of hospitals, clinics and care facilities. DHMC is consistently named the #1 hospital in New Hampshire by U.S. News & World Report, and recognized for high performance in numerous clinical specialties and procedures. Dartmouth Health includes Dartmouth Cancer Center, one of only 56 National Cancer Institute-designated Comprehensive Cancer Centers in the nation, and the only such center in northern New England; Dartmouth Health Children's, which includes Children's Hospital at Dartmouth Hitchcock Medical Center, the state's only children's hospital, and multiple clinic locations around the region; member hospitals in Lebanon, Keene and New London, NH, and Bennington and Windsor, VT; Visiting Nurse and Hospice for Vermont and New Hampshire; and more than 24 clinics that provide ambulatory services across New Hampshire and Vermont. Through its historical partnership with Dartmouth and the Geisel School of Medicine, Dartmouth Health trains nearly 400 medical residents and fellows annually, and performs cutting-edge research and clinical trials recognized across the globe with Geisel and the White River Junction VA Medical Center in White River Junction, VT. Dartmouth Health and its more than 13,000 employees are deeply committed to serving the healthcare needs of everyone in our communities, and to providing each of our patients with exceptional, personal care.