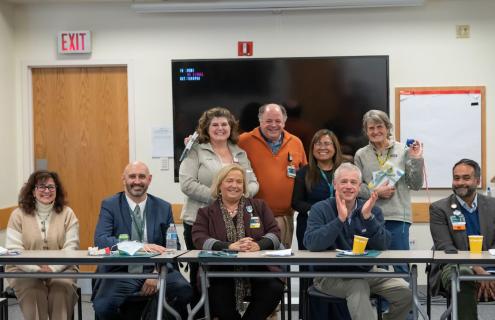 In their daily work caring for patients, nurses are innovators, change-makers, problem solvers, engineers, and more. Their experience in "front line" healthcare settings gives nurses an outstanding ability to identify unique issues that exist in a hospital and possible solutions to solve them.
Dartmouth Health recently hosted a two-day event dedicated to the contributions of nursing to creating healthcare change and empowering the distinctive voices of nurses in making that change. The first-ever Nursing Innovation Hackathon brought together registered nurses, nurse practitioners, medical assistants, licensed nursing assistants and licensed practical nurses from around Dartmouth Health to pitch innovations for solving the problems they encounter on a daily basis.
"This first Hackathon was a pilot to see what would happen when we put nurses in a room, gave them the tools for design thinking, and empowered them to think out of the box," said Briana L. White, DNP, RN, CPN, CCRN-K, CNL, manager of clinical quality and care management at Dartmouth Health's Visiting Nurse and Hospice for Vermont and New Hampshire, who organized the Hackathon. "What came out of it was exciting and inspiring. There were innovative solutions, empowered teams, new collaborations, and a shared energy to transform healthcare."
The Hackathon was held on January 26 and 27 at Dartmouth Health's Dartmouth Hitchcock Medical Center (DHMC). Described as "Shark Tank for nurses," participants were divided into five teams to learn about design thinking, how to pitch a problem, the future of artificial intelligence (AI), and how to move ideas forward to reality. Each team then pitched their innovative solutions to a team of judges made up of nurses from DHMC, Dartmouth Health and the Dartmouth Institute for Health Policy & Clinical Practice's Levy Incubator, the Magnuson Center for Entrepreneurship at Dartmouth, and Massachusetts General Hospital.
The winning team created a "Go-Getter" strap, which helps to get two wheelchairs as opposed to one to help expedite discharges. Their prize included books on nursing innovation and a six-month mentorship with nursing innovation experts to advise the team on bringing their proposed improvement to life.
Second place went to a team that designed a "Throughput Fairy," which assists in reducing length of stay by a patient in one unit through a system that tracks patient flow and movement, and fires alerts for needed collaboration to improve communication through case management. The third prize-winning team pitched the HEART Project, a peer-to-peer support program aimed at connecting nurses. The program nurses and assists in advancing professional advancements promote well-being, and is an avenue to exchange ideas.
"Nurses are the backbone of our healthcare system. The creativity that they demonstrate every day to solve problems is perhaps as valuable to their patients and colleagues as are their clinical skills," said Susan A. Reeves, EdD, RN, chief nursing executive of Dartmouth Health and executive vice president of DHMC. "The nursing professionals who took part in our first Hackathon, and the innovations they developed, are prime examples of how nurses have the power to transform healthcare."
All 12 Hackathon participants received a one-year membership to SONSIEL (Society of Nurse Scientists Innovators, Entrepreneurs and Leaders).
About Dartmouth Health
Dartmouth Health, New Hampshire's only academic health system and the state's largest private employer, serves patients across northern New England. Dartmouth Health provides access to more than 2,000 providers in almost every area of medicine, delivering care at its flagship hospital, Dartmouth Hitchcock Medical Center (DHMC) in Lebanon, NH, as well as across its wide network of hospitals, clinics and care facilities. DHMC is consistently named the #1 hospital in New Hampshire by U.S. News & World Report, and recognized for high performance in numerous clinical specialties and procedures. Dartmouth Health includes Dartmouth Cancer Center, one of only 54 National Cancer Institute-designated Comprehensive Cancer Centers in the nation, and the only such center in northern New England; Dartmouth Health Children's, which includes Children's Hospital at Dartmouth Hitchcock Medical Center, the state's only children's hospital, and multiple clinic locations around the region; member hospitals in Lebanon, Keene and New London, NH, and Bennington and Windsor, VT; Visiting Nurse and Hospice for Vermont and New Hampshire; and more than 24 clinics that provide ambulatory services across New Hampshire and Vermont. Through its historical partnership with Dartmouth and the Geisel School of Medicine, Dartmouth Health trains nearly 400 medical residents and fellows annually, and performs cutting-edge research and clinical trials recognized across the globe with Geisel and the White River Junction VA Medical Center in White River Junction, VT. Dartmouth Health and its more than 13,000 employees are deeply committed to serving the healthcare needs of everyone in our communities, and to providing each of our patients with exceptional, personal care.