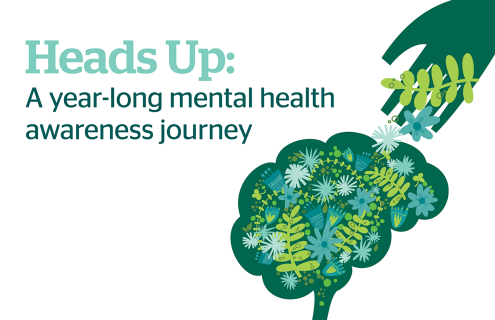 Every month, as part of a year-long effort to raise awareness of the issues and dispel the myths that lead to stigma, Dartmouth Health expert panelists and partners at the New Hampshire Union Leader and Seacoast Media Group have been focusing on different groups of people experiencing unique challenges to their mental health. This month, we look at how some employers are helping employees who are struggling with a range of mental health issues, from stress and anxiety to substance use disorders and other psychiatric diagnoses.
There are some resources working people can turn to when they are experiencing a mental health crisis, either in their state, region or local communities. First among these is the national Suicide and Crisis Hotline, 988.
Another way people may seek help for ongoing mental health challenges is to see if their employer offers an Employee Assistance Program (EAP), according to Stephen Cole, PhD, the lead clinical psychologist and manager for the Dartmouth Health Employee Assistance Program.
"EAPs offer mental health and other support services as a benefit to employees," Cole said. "Such programs may be internal within a workplace, external, or a hybrid of both. While internal EAPs have always offered in-person access to employees, most EAPs have adapted to COVID-19 by also offering virtual appointment options."
Cole said programs vary in terms of the number of free, confidential visits offered by employers, but they are generally staffed by licensed mental health clinicians who can provide short-term therapy, "work-life services" such as access to brief legal consultation, help with finances or chronic pain, consultations with managers and their teams as well as help with referrals for additional services when appropriate.
Employees may also consult with their EAP about a variety of mental health concerns, such as anxiety, depression, or substance misuse, as well as relationship and/or family issues, interpersonal issues at work, or other career concerns, Cole said.
It may seem counterintuitive to approach an employer about these kinds of struggles, but Luke Archibald, MD, an addiction psychiatrist and the director of addiction services at Dartmouth Hitchcock Medical Center in Lebanon, New Hampshire, said those types of situations should be treated no differently than if an employee has a physical health problem that is affecting their work.
"Traditionally there's been too much stigma around these kinds of things," Archibald said. "But to run a business or to be an employer, you need to expect employees will have problems and should be prepared to help them respond to those. Helping people when they have problems is an investment that can benefit the business in the long run by fostering employee goodwill and loyalty."
Archibald said mental health issues are exceedingly common, and he recommends employers keep an eye out for changes in behavior or mood, beyond the normal fluctuations in mood, if it seems the employee isn't getting enough sleep or anything out of the norm for the individual's personality and work habits
"Everybody has mood fluctuations. Mood can go up, go down, people can be sad or happy. Everyone has some amount of anxiety. Anxiety is adaptive and helpful. If we didn't have anxiety we wouldn't take care of the basic things we need to take care of," Archibald said. "But when it leads to a functional decline and people aren't able to go about their usual day, it becomes more problematic."
But broaching this subject with employees must be done carefully. Rusty Fowler, the global benefits leader for Hypertherm, a manufacturer with facilities in Lebanon and Hanover, New Hampshire, said it all starts with creating an environment and company culture where employees can feel safe talking about difficulties with their mental health, all of which starts with leadership and training.
"Hypertherm has learned how important culture is in supporting our associates through difficult and challenging times," Fowler said. "Creating a culture of trust, where a person knows they have resources available to help them through the toughest of situations, makes a person realize they are not alone and can get help whenever needed."
If you or a loved one is experiencing a mental health crisis or thoughts of suicide, please call the national Suicide and Crisis hotline at 988.
Archibald, Cole and Fowler explore the resources available for mental health in the workplace as panelists in a Heads Up webinar hosted by Dartmouth Health. It can be viewed online on our Heads Up: A Year-long Mental Health Awareness Journey web page.