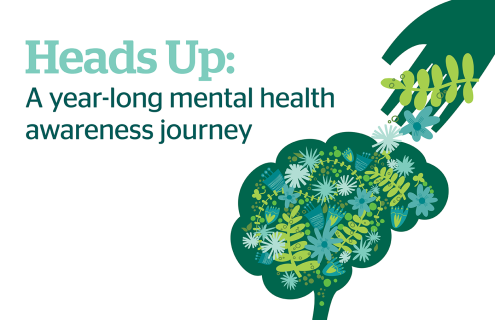 Dartmouth Health has published the latest webinar in its series "Heads Up: A Year-Long Mental Health Awareness Journey." This month, expert panelists discuss the topic "mental health in the workplace." The video can be viewed at the Dartmouth Health YouTube channel.
This segment features John T. Broderick, Jr., senior director of external affairs at Dartmouth Health, and former Chief Justice of the New Hampshire Supreme Court; Barbara Van Dahlen, PhD, CEO of WeBe Life, child psychologist, founder of the Campaign to Change Direction and the Five Signs, former executive director of PREVENTS, a presidential task force focused on creating a national response to suicide; and Julie Balaban, MD, FAPA, DFAACAP, section chief of child and adolescent psychiatry at Dartmouth Health Children's. Together, they discuss the origins, evolution and impact of two public health initiatives: the Five Signs and REACT.
Van Dahlen and the national organization she founded, Give an Hour, launched the Campaign to Change Direction in 2015 and first introduced the "Five Signs" of emotional suffering, which was a public awareness campaign that spread globally. The Five Signs encouraged people to ask if they or their loved ones were not feeling themselves, feeling withdrawn, feeling agitated, feeling hopeless or not caring for themselves.
A longtime mental health advocate, Broderick discovered the program and introduced it to New Hampshire.
"Dr. Barbara Van Dahlen refocused my entire life. I don't say that lightly. She's an amazing person," Broderick said. "And her Five Signs were so handy and understandable; her goal was to make it as common and understood as the common signs for heart attack or stroke. I thought that was genius then. I think it's genius today."
Broderick also discussed how the Five Signs inspired him to help develop the REACT program, which was an awareness campaign geared towards what to do after signs of emotional suffering are identified. The acronym stands for five steps: "Recognize" the signs of emotional suffering, "Express" concern and offer support, "Act" now, and talk to someone you trust, "Care" enough to follow through and follow up and "Text" the word "signs" to 741-741 or call 988, the National Suicide and Crisis Lifeline.
In partnership with the New Hampshire Union Leader and Seacoast Media Group, the Heads Up series is a mental health awareness campaign that provides online resources, offers fresh perspectives and highlights community events on mental health-related topics.
To learn more about Heads Up, resources on mental health or to view past newspaper feature articles and webinars, visit our Mental Health web page.
About Dartmouth Health
Dartmouth Health, New Hampshire's only academic health system and the state's largest private employer, serves patients across northern New England. Dartmouth Health provides access to more than 2,000 providers in almost every area of medicine, delivering care at its flagship hospital, Dartmouth Hitchcock Medical Center (DHMC) in Lebanon, NH, as well as across its wide network of hospitals, clinics and care facilities. DHMC is consistently named the #1 hospital in New Hampshire by U.S. News & World Report, and recognized for high performance in numerous clinical specialties and procedures. Dartmouth Health includes its Dartmouth Cancer Center, one of only 51 National Cancer Institute-designated Comprehensive Cancer Centers in the nation, and the only such center in northern New England; Dartmouth Health Children's, including the Children's Hospital at Dartmouth Hitchcock Medical Center, the state's only children's hospital and clinic locations around the region; member hospitals in Lebanon, Keene and New London, NH, and Windsor, VT, and Visiting Nurse and Hospice for Vermont and New Hampshire; and more than 24 clinics that provide ambulatory services across New Hampshire and Vermont. Through its historical partnership with Dartmouth and the Geisel School of Medicine, Dartmouth Health trains nearly 400 medical residents and fellows annually, and performs cutting-edge research and clinical trials recognized across the globe with Geisel and the White River Junction VA Medical Center in White River Junction, VT. Dartmouth Health and its more than 13,000 employees are deeply committed to serving the healthcare needs of everyone in our communities, and to providing each of our patients with exceptional, personal care.