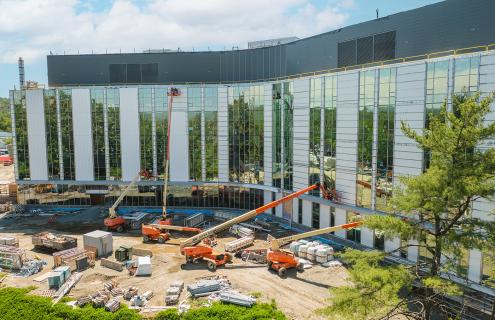 Heart and vascular health problems tend to increase with age. Situated on the border of two of the fastest-aging states in the nation—New Hampshire and Vermont—the need for comprehensive cardiovascular care in the Upper Valley and all around the region is critical. Residents of the Granite and Green Mountain states are fortunate to have the expertise of an academic medical system at their fingertips in Dartmouth Health, especially the Heart & Vascular Center at Dartmouth Hitchcock Medical Center (DHMC), but increasing capacity issues at DHMC is making it harder for cardiology providers to deliver care to their patients.
"Currently, we're constrained by space. Every day, we turn patients away who want—and need—to come to DHMC for their heart and vascular care," said David B. Min, MD, director of clinical cardiology at Dartmouth Health. Fortunately, the opening of DHMC's new Patient Pavilion this spring will provide a solution to many space concerns at the hospital, including for the Heart & Vascular Center.
Opening in May 2023, the Patient Pavilion will house Heart & Vascular on all of its Level 4 in the Patient Pavilion, Wings A and B, as well as Level 3, Wing B, for a total of 48 beds at DHMC. "It's a remarkable, beautiful space," said Min. "I've been in hospitals on four continents—in the newest facilities in Europe, the Middle East and Asia, in addition to hospitals all around North America. The new Patient Pavilion is truly state-of-the-art, incorporating cutting-edge technologies that will help us diagnose and treat patients faster. This will allow us to see more patients and open up our cardiovascular intensive care unit to accept even sicker patients."
The state-of-the-art rooms in the Patient Pavilion will give patients and their families more privacy, and space for loved ones to stay overnight. "The rooms also incorporate contemporary technology to help patients understand their condition as well as their treatment plan," Min said. "Integrated tablets with MyChart Bedside will increase the ability of patients and family members to communicate with the care teams. There will also be conference rooms where we can connect with patients and family members to have conversations about their care."
In addition, the expanded unit will feature wireless monitoring technology, which will give patients the freedom to move around and gain their strength back more quickly. Electronic signage both inside and outside of patient rooms will be updated in real time to alert the care team regarding changes in their condition.
"The Patient Pavilion represents a real advancement in heart and vascular care," Min said. "Dartmouth Health is known as one of the leading providers of heart and vascular care in the country. The opening of the new Patient Pavilion at DHMC will only add to that reputation."
About Dartmouth Health
Dartmouth Health, New Hampshire's only academic health system and the state's largest private employer, serves patients across northern New England. Dartmouth Health provides access to more than 2,000 providers in almost every area of medicine, delivering care at its flagship hospital, Dartmouth Hitchcock Medical Center (DHMC) in Lebanon, NH, as well as across its wide network of hospitals, clinics and care facilities. DHMC is consistently named the #1 hospital in New Hampshire by U.S. News & World Report, and recognized for high performance in numerous clinical specialties and procedures. Dartmouth Health includes Dartmouth Cancer Center, one of only 54 National Cancer Institute-designated Comprehensive Cancer Centers in the nation, and the only such center in northern New England; Dartmouth Health Children's, which includes Children's Hospital at Dartmouth Hitchcock Medical Center, the state's only children's hospital, and multiple clinic locations around the region; member hospitals in Lebanon, Keene and New London, NH, and Bennington and Windsor, VT; Visiting Nurse and Hospice for Vermont and New Hampshire; and more than 24 clinics that provide ambulatory services across New Hampshire and Vermont. Through its historical partnership with Dartmouth and the Geisel School of Medicine, Dartmouth Health trains nearly 400 medical residents and fellows annually, and performs cutting-edge research and clinical trials recognized across the globe with Geisel and the White River Junction VA Medical Center in White River Junction, VT. Dartmouth Health and its more than 13,000 employees are deeply committed to serving the healthcare needs of everyone in our communities, and to providing each of our patients with exceptional, personal care.