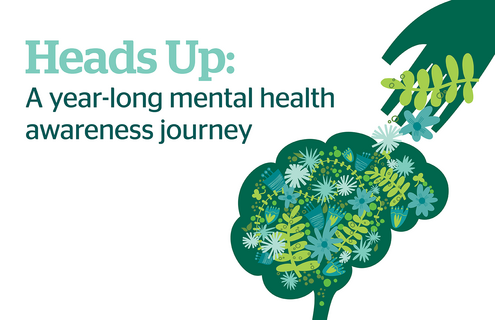 Every month, as part of a year-long effort to raise awareness of the issues and dispel the myths that lead to stigma, Dartmouth Health expert panelists and partners at the New Hampshire Union Leader and Seacoast Media Group have explored different topics around mental health. This month, as the series "Heads Up: A Year-Long Mental Health Awareness Journey" wraps up, we look back at the stories and webinar discussions that came out of it and take stock of the evolving conversation around mental health and the people affected by it.
When we set out on this journey in May 2022, we sought to mark Mental Health Awareness Month, but we also wanted to ensure the conversation didn't end in June. Mental health, and the stigma that surrounds it, is too big an issue to relegate to a single month. And when our newspaper partners agreed to collaborate, they developed some of the most robust reporting on mental health in New Hampshire in recent memory.
"There are big problems to be solved," said Union Leader President and Publisher Brendan McQuaid. "But a solution for many might be an individual solution. Many people can get help for the issues they experience. Hopefully our shared reporting illuminated that for many readers."
The idea for the series began with the formidable efforts of former New Hampshire Supreme Court Chief Justice John Broderick, now the Sr. Director of External Affairs at Dartmouth Health. Broderick has spoken to tens of thousands of people – primarily middle and high school students – over the past several years, sharing his personal story in an effort to change the conversation around mental health. His recently published book chronicles his experiences with multitudes of young people who have shared their own emotional pains. Ultimately, the chapters of Broderick's book, Back Roads and Highways: My Journey to Discovery on Mental Health, served as an initial blueprint for this series.
"I'm a firm believer, at this point, after seven years and writing this book that we need to start normalizing this discussion and ending the myths around mental health. It's not shameful. It's not a defect. It's a health issue," Broderick said. "And I also learned through people like Dr. Will Torrey, the chair of psychiatry at Dartmouth Health, that evidence-based treatment works. I don't think I realized that for most of my life; I realize it now."
The series covered youth mental health, the impacts of social media on teenagers, the stigma of mental illness in youth sports, the interplay between mental health and the criminal justice system, tips for parents and caregivers, the pitfalls of isolation and grief among older adults, mental health in the workplace, the relationship between substance use disorder and co-occurring mental illnesses, state and federal mental health policy and the mental health of veterans and active military, among other topics.
Seacoast Media Group Executive Editor Howard Altschiller said one of the stories that really stuck with him was the article about veterans, the unique and common struggles they face and the lack of support they receive.
"It really has been quite an education. Each story built momentum for the next one. The first time I called people, I had to explain what we were doing," Altschiller said. "And then, reaching out to people who don't normally speak to the media, like teenagers, parents, community members struggling with mental health challenges – I was able to refer them to the articles that we had already done, and they would say, 'Oh, OK, I would like to be a part of that.'"
Broderick, Torrey, Altschiller and McQuaid look back at the series and what they learned as panelists in the final Heads Up webinar hosted by Dartmouth Health. It can be viewed on our Heads Up: A Year-long Mental Health Awareness Journey page.