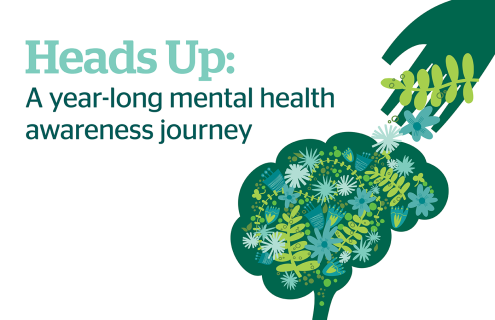 Every month, Dartmouth Health expert panelists and partners at the New Hampshire Union Leader and Seacoast Online have been focusing on different groups of people experiencing unique challenges to their mental health. This month, during Suicide Prevention Month, we're taking a step back to look at how we can be a part of the solution for the young people in our lives who are struggling.
First, if you or someone you know is in crisis and considering suicide, please call, or have them call, the new National Suicide Prevention Hotline, 988, for immediate support.
There's a lot we can do in our everyday lives to help young people who are struggling, and hopefully prevent their mental and emotional challenges from reaching a crisis point. Often, things simmer before they boil, as Rik Cornell, licensed therapist and VP of Public Relations at the Mental Health Center of Greater Manchester (MHCGM) says.
The first step is to destigmatize the conversation around mental health, said Cornell, who has treated many children over the years. People experience anxiety and depression as commonly as stomach aches or headaches, but left unattended, mental illnesses can worsen and cause other health concerns, and circumstances in people's lives can deteriorate as a result.
"The majority of the people who walk through the door are experiencing anxiety and depression. And it's really the same for children as it is for adults," Cornell said. "We encourage people to feel more comfortable talking about those issues. And that's really hard to do. Those are difficult conversations to have."
He said it's a good idea to create situations where conversations can happen naturally, such as family time at the dinner table with no devices, and for parents to spend one-on-one time with each child so the child knows it's their time with a caring parent or adult and they can confide something private they wouldn't otherwise in front of other family members.
"Those are such important things to do because they will breed these important conversations that won't otherwise happen," Cornell said.
Jeanna Still, Director of Child and Adolescent Services at MHCGM, said parents know their children best and recognize when things have changed such as sleeping patterns, moods, increased irritability and a loss of interest in hobbies or fun activities.
"Caregivers can support youth who experience depression and anxiety first by talking to their child about the noticed changes," Still said. "It is important to help youth learn what depression and anxiety feels like, since many kids do not understand, and to instill hope that things will get better."
Cornell said while younger children will express their feelings through their behaviors, teenagers are often willing to put their feelings into words. He said it's important to listen to them, validate their feelings and not try, too hard, to solve their problems. Often, he said, teens just need someone to vent to.
But we should always be vigilant for any clues pointing to self-harm or suicide ideation.
"Listening to youth is a key to understanding if they are feeling suicidal, since they will often talk about wanting to die to a loved one, friend, on social media or even by making a quick sarcastic statement in casual conversation," Still said.
Additional warning signs can manifest as general hopelessness, changes in appearance, searching the internet for ways to die, withdrawing from family and friends, or a declining academic performance.
"Talking to youth about suicide does not increase suicidal behavior, and it is recommended to ask direct questions when discussing suicide like, 'Are you thinking you want to die, or thinking of killing yourself and do you have a plan?'" Still said. "Avoid vague questions like, 'Are you thinking of harming yourself?' as the meaning is different."
Still said this allows parents to take action by calling Rapid Response NH (833-710-6477) or 988 for immediate support, if needed.
here's a role for other adults in the community as well, from teachers and guidance counselors to community organizations like the Boys & Girls Club of Manchester (BGCM). BGCM Chief Executive Officer Diane Fitzpatrick said the largest youth-serving agency in Manchester is uniquely positioned to provide critically needed social and emotional supports for youth.
"We are deeply committed to supporting the mental health needs of our youth," Fitzpatrick said. "In addition to offering more than 100 programs and activities designed to help young people develop essential life skills, enjoy childhood, and stay positively engaged, BGCM fosters a sense of belonging and a culture of connection."
Fitzpatrick and other panelists explore the ways parents and adults can support young people who are struggling in a recent Heads Up webinar hosted by Dartmouth Health. It can be viewed online It can be viewed online on our Heads Up: A Year-long Mental Health Awareness Journey web page.