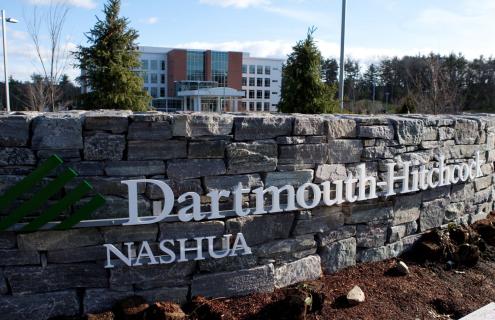 Following the success of similar programs in Lebanon and Bedford, a new Weight and Wellness Center recently opened at Dartmouth Hitchcock Clinics Nashua. The program helps patients with obesity improve their metabolic health (blood pressure, blood sugar and cholesterol) and quality of life through personalized care plans for weight loss.
"There has been a huge demand for this care," said Elliot D. Seagle, BSN, RN, a Surgical Services nurse with Dartmouth Hitchcock Clinics Nashua, who oversees staff training and hiring, along with patient service, for the new location. "About 40% of those waiting for appointments are from Nashua, and many of the current Manchester patients have been traveling from the Nashua area."
The Nashua Weight and Wellness Center is staffed by a multidisciplinary team, led by director Sarah H. Finn, MD, ABOM, and Tonya M. Binder, MSN, APRN, with support from a registered dietitian, medical assistant and clinical secretary, as well including a nurse exercise specialist and program psychologist based out of the Bedford program who assist in Nashua. The Weight and Wellness Center provides care based on research to patients, including medical weight loss with anti-obesity medications and/or bariatric surgery. If a patient's treatment decision includes surgery, the Nashua team works with the Bariatric Surgery Program at Dartmouth Hitchcock Clinics Manchester.
"The Weight and Wellness Center uses evidence-based treatments and shared decision-making with our patients," said Finn, who specializes in weight management. "Patients with obesity are likely to have experienced weight stigma. We like to teach patients that obesity is a disease. Less than 1% of patients nationally who have obesity are given the right treatment with anti-obesity medications and/or bariatric surgery. We try to empower our patients to try effective treatment and encourage anyone interested to learn more about our process."
Patients at the Nashua Weight and Wellness Center are eligible to take part in individual or group counseling to improve nutrition, movement, sleep and stress. They can also participate in free virtual weekly and monthly group classes that discuss behavior change, movement and nutrition. Monthly classes feature the team's providers cooking in their own kitchens to show patients how to cook meals.
The Nashua Weight and Wellness Center space was built for patient comfort—including accessible exam tables, scales, wheelchairs and doorways—to support positive treatment outcomes.
"Patient dignity is important, and we kept that in mind throughout the planning process for this space and program," explains Anu C. Patel, director of Divisional Operations at Dartmouth Hitchcock Clinics Nashua. "We're thrilled to provide patients quality care in their home community."
For more information about the Weight and Wellness Center at Dartmouth Hitchcock Clinics Nashua, call at 603-695-2870 or visit the Weight and Wellness Center website.
About Dartmouth Health
Dartmouth Health, New Hampshire's only academic health system and the state's largest private employer, serves patients across northern New England. Dartmouth Health provides access to more than 2,000 providers in almost every area of medicine, delivering care at its flagship hospital, Dartmouth Hitchcock Medical Center (DHMC) in Lebanon, NH, as well as across its wide network of hospitals, clinics and care facilities. DHMC is consistently named the #1 hospital in New Hampshire by U.S. News & World Report, and recognized for high performance in numerous clinical specialties and procedures. Dartmouth Health includes its Dartmouth Cancer Center, one of only 51 National Cancer Institute-designated Comprehensive Cancer Centers in the nation, and the only such center in northern New England; Dartmouth Health Children's, including the Children's Hospital at Dartmouth Hitchcock Medical Center, the state's only children's hospital and clinic locations around the region; member hospitals in Lebanon, Keene and New London, NH, and Windsor, VT, and Visiting Nurse and Hospice for Vermont and New Hampshire; and more than 24 clinics that provide ambulatory services across New Hampshire and Vermont. Through its historical partnership with Dartmouth and the Geisel School of Medicine, Dartmouth Health trains nearly 400 medical residents and fellows annually, and performs cutting-edge research and clinical trials recognized across the globe with Geisel and the White River Junction VA Medical Center in White River Junction, VT. Dartmouth Health and its more than 13,000 employees are deeply committed to serving the healthcare needs of everyone in our communities, and to providing each of our patients with exceptional, personal care.