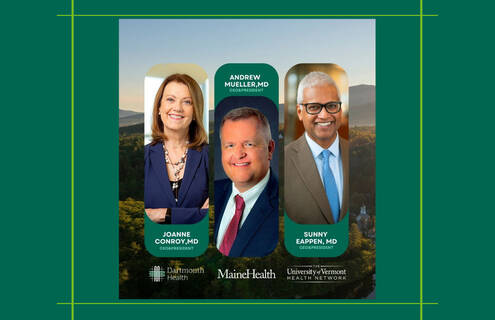 By Joanne M. Conroy, MD; Sunny Eappen, MD, MBA; and Andrew T. Mueller, MD
About 70 percent of US hospitals lost money in 2022, with healthcare providers and systems continuing to be hammered by increasing labor costs, inflation, supply chain interruptions, market turbulence and other factors.
In rural America, especially here in northern New England and northern New York, the current healthcare landscape is especially difficult to navigate on behalf of the communities we serve. Of the top five reasons people die in America—heart disease and stroke, pulmonary disease, car accidents, firearms, and cancer—mortality rates for all of them are higher in rural areas.
In addition, our region does not have a traditional structure of state-run public health departments. In Maine and New Hampshire, counties have no such infrastructure at all. Instead, our health systems are the safety net providers for our states while also providing public health support.
As leaders of the region's three academic health systems, we are joining together to highlight the challenges facing rural healthcare the innovations that give us hope, and what we need to preserve and improve access to care now and in the future.
Who we are as a region:
We're small – The total population of the three New England states—just under 3.5 million—is less than the Boston metropolitan area.
We're aging – Maine, New Hampshire and Vermont are the three oldest states in the nation.
We're geographically varied – From rural Northern New York and Vermont's Northeast Kingdom, to the busy southern tier of New Hampshire, up to quiet Presque Isle in Maine, the differences in environment and infrastructure are striking.
We're sick – Maine, New Hampshire and Vermont were in the top 15 states for opioid overdose death rates in 2019, with rates increasing since. We also have high numbers of adults reporting serious mental illness.
Academic health systems are anchor institutions in the regions we serve. We provide specialty and sub-specialty patient care while educating and training the next generation of providers and medical researchers. We're also each of our states' largest private employers, creating jobs that pay competitively and stimulate our economies.
As non-profit organizations, we're not beholden to shareholders. Our narrow margins are invested right back into our people, buildings, equipment and programs. In recent years, unacceptably low rates of public payer reimbursement, and the hodge-podge system of negotiating reimbursement rates with individual commercial payers, have led to shrinking margins that have caused all of us to reassess important projects and attempt to get back on track financially.
If we are impacted to the point that we have to reduce services, the people who depend on us may not be able to access care when and where they need it, which will ripple into our communities economically and socially.
The American healthcare system was suffering long before COVID-19. But the pandemic amplified and multiplied the challenges. Based on what we are now seeing, especially in rural hospitals and health systems like ours, the worst may be yet to come.
It doesn't have to be this way.
We do see a bright light in the face of this turmoil: an opportunity to make truly positive lasting change while we chart a path forward. It starts with innovation. We must:
Get creative with the way we deploy our talented workforces, allowing our physicians, nurses, and all of our staff to work at their highest level.
Harness rapidly developing technologies, advancing telehealth to make scheduling appointments and getting answers easier for patients and providers.
Lead the way as diverse, equitable and vibrant organizations, not only reflecting the communities we serve, but also creating exceptionally welcoming work environments.
Continue to shift our care models to emphasize prevention, mental health, primary care, and treating chronic illnesses.
These are just a few of the ways we can preserve and improve access to healthcare in our region—but we cannot do all this alone. We need our local, state and federal leaders to help make changes that:
Ensure government and commercial payers reimburse us at levels that fully reflect the cost and complexity of the high-quality care we provide.
Modernize the way we train the next generation of providers, getting more of them in the pipeline early, and helping them finance their educations.
Help our talented employees find housing, so we can recruit and retain them.
Despite the challenges we're facing, we're optimistic about what rural healthcare could look like in our four-state region – but only if we get the support we need from local, state and federal governments, insurers, and other stakeholders.
Our patients expect – and deserve – nothing less.
Joanne M. Conroy, MD, is CEO and President of Dartmouth Health, based in Lebanon, New Hampshire
Sunny Eappen, MD, MBA, is President and CEO of the University of Vermont Health Network, based in Burlington, Vermont
Andrew T. Mueller, MD, is Chief Executive Officer of MaineHealth, based in Portland, Maine
Editor's note: Drs. Conroy, Eappen and Mueller participated in a "CEO Roundtable" on May 22, addressing many of the issues addressed in this piece. See the full one-hour conversation.
About Dartmouth Health
Dartmouth Health, New Hampshire's only academic health system and the state's largest private employer, serves patients across northern New England. Dartmouth Health provides access to more than 2,000 providers in almost every area of medicine, delivering care at its flagship hospital, Dartmouth Hitchcock Medical Center (DHMC) in Lebanon, NH, as well as across its wide network of hospitals, clinics and care facilities. DHMC is consistently named the #1 hospital in New Hampshire by U.S. News & World Report, and recognized for high performance in numerous clinical specialties and procedures. Dartmouth Health includes Dartmouth Cancer Center, one of only 54 National Cancer Institute-designated Comprehensive Cancer Centers in the nation, and the only such center in northern New England; Dartmouth Health Children's, which includes Children's Hospital at Dartmouth Hitchcock Medical Center, the state's only children's hospital, and multiple clinic locations around the region; member hospitals in Lebanon, Keene and New London, NH, and Bennington and Windsor, VT; Visiting Nurse and Hospice for Vermont and New Hampshire; and more than 24 clinics that provide ambulatory services across New Hampshire and Vermont. Through its historical partnership with Dartmouth and the Geisel School of Medicine, Dartmouth Health trains nearly 400 medical residents and fellows annually, and performs cutting-edge research and clinical trials recognized across the globe with Geisel and the White River Junction VA Medical Center in White River Junction, VT. Dartmouth Health and its more than 13,000 employees are deeply committed to serving the healthcare needs of everyone in our communities, and to providing each of our patients with exceptional, personal care.