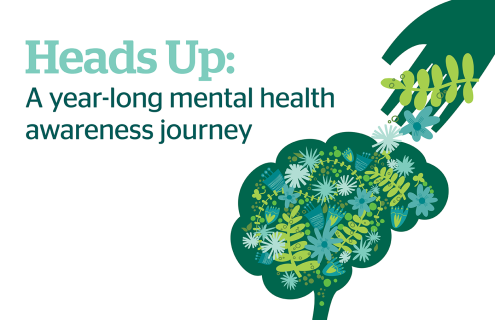 If children don't feel heard, they will withdraw further inward.
This month, Dartmouth Health continues its year-long mental health awareness series, Heads Up, by focusing on youth mental health. We're asking: "what are our children saying, and are we listening?"
As part of his ongoing effort to undo cultural stigmas around mental illness, Dartmouth Health Senior Director of External Affairs and former New Hampshire Supreme Court Chief Justice John Broderick speaks to–and listens to–thousands of young people in school gyms and auditoriums, a deeply emotional experience he chronicles in his new book: Back Roads and Highways: My Journey to Discovery on Mental Health.
The sad truth that Broderick has learned while touring across the state and hearing from the young people is, that for many of those youths, he was the first adult who listened to their personal stories of inner turmoil, sadness, anxiety and isolation. For some, he was the first to tell them it was OK to ask for help.
Teens like Natalie McLaughlin-Ray, 16, a sophomore at The Academy for Science and Design in Nashua, knows what it's like to try to confide in others only to be met with casual dismissiveness, a lack of compassion and interest or limited emotional bandwidth. But sometimes, for McLaughlin-Ray, the barriers she encounters are within.
"High school has been hard for me. I haven't really been able to find other peers that I can talk to... and confide in," McLaughlin-Ray said. "I think it's anxiety. I get scared a lot when I try to talk to people, because I always think that they won't like me for the way that I look, or my jokes won't be funny to them. Stuff like that."
The past few years have only made things harder on young people, she said.
"It's definitely worse now than it used to be. And I blame COVID for that," McLaughlin-Ray said. "We were stuck inside for so long with no people to interact with."
Generally, she thinks it's better to try to express one's feelings, rather than to bottle them up, even if there isn't a receptive audience. But when a young person is frequently unheard, they might self-isolate and their anxiety, depression or whatever ails them could worsen. Often busy adults who are dealing with their own issues may find it easier to write-off what a child says to them, McLaughlin-Ray said.
"I think that it really depends on who is listening. There are some parents, some teachers, some peers who try to do their best to listen, but unless they've gone through something similar or the same experience, it's hard for them to grasp what you're going through or how you're feeling in that moment," she said. "It's easier to say, 'Oh you just saw that on the internet,' or 'That's just your phone putting that in your head.'"
Still, she said it makes a world of difference when someone takes the time to hear what a young person is struggling to communicate about their feelings.
"When people are trying to open up to you, and you can kind of sense that they're a little bit anxious when talking to you, like stuttering, or having trouble keeping eye contact, or being cheesy... usually those are indicators that, hey, this is someone who really needs to get something off their chest," said McLaughlin-Ray. "What they're saying to you could be really important."
McLaughlin-Ray participated in a recent Heads Up webinar hosted by Dartmouth Health on the topic of Youth Mental Health. It can be viewed on the Heads Up: A Year-long Mental Health Awareness Journey web page.