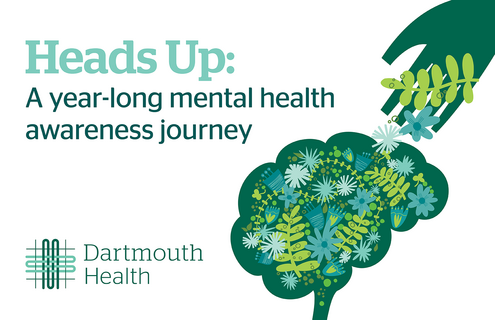 Dartmouth Health has published the latest webinar in its series, "Heads Up: A Year-Long Mental Health Awareness Journey." This month, expert panelists discuss the topic "Heads Up, A Year-Long Mental Health Awareness Journey: Looking Back and Looking Forward." The video can be viewed on the Dartmouth Health YouTube channel.
This segment of the "Heads Up" webinar series features John Broderick Jr., senior director of external affairs for Dartmouth Health, former Chief Justice of the New Hampshire Supreme Court, and author of Back Roads and Highways: My Journey to Discovery on Mental Health; Brendan McQuaid, president and publisher of the New Hampshire Union Leader; Howard Altschiller, executive editor of Seacoast Media Group, which publishes the Portsmouth Herald and Foster's Daily Democrat; and William C. Torrey, MD, chair of the Department of Psychiatry at Dartmouth Health and the Raymond Sobel Professor at the Geisel School of Medicine at Dartmouth. Together, they look back at the "Heads Up: A Year-Long Mental Health Awareness Journey" series and discuss what they learned along the way. The webinar series is moderated by Dartmouth Health senior media relations manager Audra Burns.
The idea for the series began with the formidable efforts of Broderick, who has spoken to tens of thousands of people—primarily middle and high school students—over the past several years, sharing his personal story in an effort to change the conversation around mental health. His recently published book chronicles his experiences with multitudes of young people who have shared their own emotional pains. Ultimately, the chapters of Broderick's book, Back Roads and Highways: My Journey to Discovery on Mental Health, served as an initial blueprint for this series.
"I'm a firm believer, at this point, after seven years and writing this book, that we need to start normalizing this discussion and ending the myths around mental health. It's not shameful. It's not a defect. It's a health issue," Broderick said. "And I also learned through people like Dr. Will Torrey, the chair of psychiatry at Dartmouth Health, that evidence-based treatment works. I don't think I realized that for most of my life; I realize it now."
The panelists also discussed the topics that stood out to them, what the newspaper publishers, editors and reports learned from the process of reporting on mental health in New Hampshire and the response from the community.
In partnership with the Union Leader and Seacoast Media Group, the "Heads Up" series is a mental health awareness campaign that provides online resources, offers fresh perspectives and highlights community events on mental health-related topics.
The series covered youth mental health, the impacts of social media on teenagers, the stigma of mental illness in youth sports, the interplay between mental health and the criminal justice system, tips for parents and caregivers, the pitfalls of isolation and grief among older adults, mental health in the workplace, the relationship between substance use disorder and co-occurring mental illnesses, state and federal mental health policy and the mental health of veterans and active military, among other topics.
To learn more about the "Heads Up" series, resources on mental health or to view past newspaper feature articles and webinars, visit our Mental Health web page.
About Dartmouth Health
Dartmouth Health, New Hampshire's only academic health system and the state's largest private employer, serves patients across northern New England. Dartmouth Health provides access to more than 2,000 providers in almost every area of medicine, delivering care at its flagship hospital, Dartmouth Hitchcock Medical Center (DHMC) in Lebanon, NH, as well as across its wide network of hospitals, clinics and care facilities. DHMC is consistently named the #1 hospital in New Hampshire by U.S. News & World Report, and recognized for high performance in numerous clinical specialties and procedures. Dartmouth Health includes its Dartmouth Cancer Center, one of only 51 National Cancer Institute-designated Comprehensive Cancer Centers in the nation, and the only such center in northern New England; Dartmouth Health Children's, including the Children's Hospital at Dartmouth Hitchcock Medical Center, the state's only children's hospital and clinic locations around the region; member hospitals in Lebanon, Keene and New London, NH, and Windsor, VT, and Visiting Nurse and Hospice for Vermont and New Hampshire; and more than 24 clinics that provide ambulatory services across New Hampshire and Vermont. Through its historical partnership with Dartmouth and the Geisel School of Medicine, Dartmouth Health trains nearly 400 medical residents and fellows annually, and performs cutting-edge research and clinical trials recognized across the globe with Geisel and the White River Junction VA Medical Center in White River Junction, VT. Dartmouth Health and its more than 13,000 employees are deeply committed to serving the healthcare needs of everyone in our communities, and to providing each of our patients with exceptional, personal care.