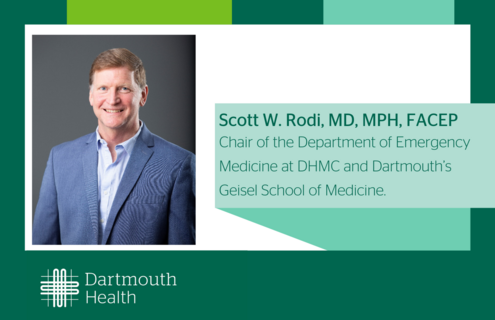 Scott W. Rodi, MD, MPH, FACEP, has been named Chair of the Department of Emergency Medicine at Dartmouth Health's Dartmouth Hitchcock Medical Center (DHMC) and Dartmouth's Geisel School of Medicine. Rodi's appointment follows a national search to fill this important role. He has served as interim chair since 2020.
As the clinical leader and department Chair, Rodi is responsible for the overall direction, operations, and management of the department, including the delivery of emergency medicine services, faculty development, graduate medical education, and providing telemedicine across Dartmouth Health's service area through the TeleED program. As an academic leader at Geisel, Rodi will be responsible for the department's educational functions, which include teaching and training medical students, and residents.
"Dr. Rodi successfully led the emergency department through some of the most challenging times in recent memory from navigating the earliest days of the COVID-19 pandemic to managing ongoing staffing shortages and unprecedented patient census numbers," said Edward J. Merrens, MD, chief clinical officer of Dartmouth Health. "His appointment to the role of emergency medicine chair is well-deserved and we look forward to his continued leadership in the department of emergency medicine.
"I am pleased that Dr. Rodi has taken on this important role," said Duane Compton, PhD, dean of the Geisel School of Medicine. "He provided key leadership in the formation of Emergency Medicine as a stand-alone department and has been a strong advocate for the department's academic mission. I look forward to working with him to advance the department's educational and research activities."
Rodi joined DHMC and Dartmouth in 2000. He attended medical school at the Weill Cornell Medical College in New York City, and holds a bachelor's in biology and master's of public health from Dartmouth College. He served as interim section chief for emergency medicine at DHMC from 2018 to 2020. Rodi has been in leadership roles within DHMC emergency medicine since 2005, including medical director and section chief for emergency medicine, medical director for TeleED, regional medical director for DHART, and founder and co-director of the Center for Rural Emergency Services and Trauma.
About Dartmouth Health
Dartmouth Health, New Hampshire's only academic health system and the state's largest private employer, serves patients across northern New England. Dartmouth Health provides access to more than 2,000 providers in almost every area of medicine, delivering care at its flagship hospital, Dartmouth Hitchcock Medical Center (DHMC) in Lebanon, NH, as well as across its wide network of hospitals, clinics and care facilities. DHMC is consistently named the #1 hospital in New Hampshire by U.S. News & World Report, and recognized for high performance in numerous clinical specialties and procedures. Dartmouth Health includes Dartmouth Cancer Center, one of only 56 National Cancer Institute-designated Comprehensive Cancer Centers in the nation, and the only such center in northern New England; Dartmouth Health Children's, which includes Children's Hospital at Dartmouth Hitchcock Medical Center, the state's only children's hospital, and multiple clinic locations around the region; member hospitals in Lebanon, Keene and New London, NH, and Bennington and Windsor, VT; Visiting Nurse and Hospice for Vermont and New Hampshire; and more than 24 clinics that provide ambulatory services across New Hampshire and Vermont. Through its historical partnership with Dartmouth and the Geisel School of Medicine, Dartmouth Health trains nearly 400 medical residents and fellows annually, and performs cutting-edge research and clinical trials recognized across the globe with Geisel and the White River Junction VA Medical Center in White River Junction, VT. Dartmouth Health and its more than 13,000 employees are deeply committed to serving the healthcare needs of everyone in our communities, and to providing each of our patients with exceptional, personal care.
About the Geisel School of Medicine at Dartmouth
The Geisel School of Medicine at Dartmouth, founded in 1797, strives to improve the lives of the communities we serve through excellence in learning, discovery, and healing. The nation's fourth-oldest medical school, the Geisel School of Medicine has been home to many firsts in medical education, research and practice, including the discovery of the mechanism for how light resets biological clocks, creating the first multispecialty intensive care unit, the first comprehensive examination of U.S. health care cost variations (The Dartmouth Atlas), and the first Center for Health Care Delivery Science, which launched in 2010. As one of America's top medical schools, Dartmouth's Geisel School of Medicine is committed to training new generations of physician leaders who will help solve our most vexing challenges in health care.