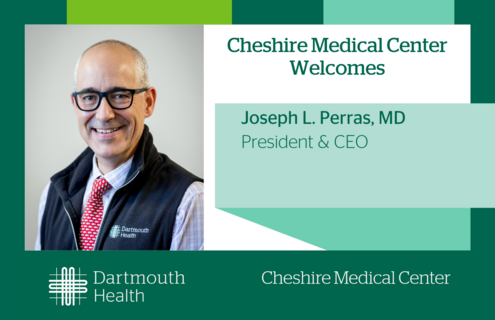 Cheshire Medical Center announced today that Joseph L. Perras, MD, has been named president and chief executive officer (CEO) of Cheshire Medical Center, a member of Dartmouth Health, effective August 7, 2023, after a 6-year tenure as CEO at Mt. Ascutney Hospital and Health Center (MAHHC), and also served as Chief Medical Officer from 2015 to present. As president and CEO, Perras will have overall responsibility for ensuring that the mission and strategic objectives of Cheshire Medical Center are achieved in an efficient, effective, and high-quality manner, consistent with the health needs of the hospital's service area and the strategic objectives of Dartmouth Health.
"After an extensive search, and on behalf of the Board of Trustees and the Search Committee, I am pleased to share that Dr. Perras will be leading Cheshire Medical Center as its next president and CEO," said Susan Abert, chairperson of Cheshire's Board of Trustees. "His decades of expertise and commitment to rural healthcare in this region of New England, compounded with his leadership within Dartmouth Health, will continue to strengthen our culture of excellence and advance the health and wellness of the Monadnock Region by delivering outstanding care and exceptional service to the people and communities Cheshire serves."
Perras' leadership will build on the solid foundation of talent, passion for purpose, quality care and patient safety, and shared values in service to the Monadnock Region ensuring Cheshire's unique and essential role extends well beyond its 130 years as a source of hope and healing for future generations.
"I'm thrilled to join the team at Cheshire and continue to grow within Dartmouth Health," Perras said. "These are challenging times for all healthcare organizations. I'm confident that by focusing on delivering the highest quality care in the safest possible environment for staff and patients we will best serve the healthcare needs of our communities. I know we have the team to do it. My wife and I look forward to becoming part of the Keene community and taking advantage of all it has to offer."
Perras has served as CEO and chief medical officer (CMO) at Dartmouth Health's Mt. Ascutney Hospital and Health Center (MAHHC) since 2017. He joined Mt. Ascutney Hospital in 2013 as director of Hospital Medicine and became CMO in February 2015. Before joining MAHHC, he practiced at Dartmouth Hitchcock Medical Center for 12 years, where he served on the staff of Internal Medicine and was a founding physician within the Hospital Medicine practice. While there, he held clinical leadership positions, including section chief of Hospital Medicine and Medical Director of Care Management. His clinical and academic interests include healthcare delivery reform in rural environments and building accountable communities for health.
"Dr. Perras joins Cheshire at an important time in their history, and his experience as a trusted and valued Dartmouth Health leader will be instrumental. Outside the academic medical center, Cheshire is our largest healthcare member," said Dartmouth Health CEO and President Joanne M. Conroy, MD. "Being part of Dartmouth Health enables Cheshire to provide services that far exceed those of a typical rural hospital, including extensive programs in primary care, cancer care, cardiology, orthopaedics, and public health. Cheshire's culture values the contribution of every staff member and volunteer. We are proud of the ability that Cheshire has in providing access to hundreds of highly trained specialists, and as we launch the Family Medicine Residency program, we will further the breadth of clinical and technical resources that Cheshire can deliver to the community."
Perras served as the vice chair of the Board of Managers for One Care Vermont, the accountable care organization that works to provide high-value care to thousands of Vermonters. Additionally, Perras served as a trustee for the Visiting Nurse and Hospice for Vermont and New Hampshire, where he chairs the Professional Advisory and Quality Committee and the Historic Homes of Runnemeade assisted living facility in Windsor, Vermont.
He is the chairperson of the American Hospital Association's Small or Rural Hospital Council, representing the interests of Mt. Ascutney Hospital and Health Center and other rural healthcare providers at the national level. He has also been appointed to the AHA's Institute of Diversity and Health Equity, working with health services organizations to advance healthcare equity and leadership opportunities for under-represented groups in healthcare management.
He completed his internship and internal medicine residency at the Beth Israel-Deaconess Medical Center in Boston, MA. He served 12 months as a chief medical resident and was an Instructor in Medicine at Harvard Medical School. Perras holds the academic appointment of assistant professor of medicine at the Geisel School of Medicine at Dartmouth. He received his undergraduate and medical degrees at The George Washington University in Washington, DC.
Perras succeeds Don Caruso, MD, MPH, who retired at the end of May after a career spanning three decades at Cheshire.
For more information about Cheshire Medical Center, visit the Cheshire Medical Center website.
About Cheshire Medical Center
Cheshire Medical Center (Cheshire) is a Dartmouth Health member providing the communities in the Greater Monadnock Region a continuum of care spanning primary care and specialty medicine, to surgical services and acute inpatient care. For more than 130 years, Cheshire has been a key contributor to the health and vitality of the Monadnock Region. As a not-for-profit community medical center, Cheshire is deeply committed to delivering excellent care in a safe and welcoming environment. Cheshire is dedicated to being a great neighbor and serves as an integral community resource. Cheshire is the area's largest healthcare provider and leading employer. Along with the services delivered on their Keene campus and satellite locations, the Medical Center partners with local organizations to provide vital services and programs throughout the region. To learn more, call 603-354-5400 or visit the Cheshire Medical Center website.
About Dartmouth Health
Dartmouth Health, New Hampshire's only academic health system and the state's largest private employer, serves patients across northern New England. Dartmouth Health provides access to more than 2,000 providers in almost every area of medicine, delivering care at its flagship hospital, Dartmouth Hitchcock Medical Center (DHMC) in Lebanon, NH, as well as across its wide network of hospitals, clinics and care facilities. DHMC is consistently named the #1 hospital in New Hampshire by U.S. News & World Report, and recognized for high performance in numerous clinical specialties and procedures. Dartmouth Health includes Dartmouth Cancer Center, one of only 54 National Cancer Institute-designated Comprehensive Cancer Centers in the nation, and the only such center in northern New England; Dartmouth Health Children's, which includes Children's Hospital at Dartmouth Hitchcock Medical Center, the state's only children's hospital, and multiple clinic locations around the region; member hospitals in Lebanon, Keene and New London, NH, and Bennington and Windsor, VT; Visiting Nurse and Hospice for Vermont and New Hampshire; and more than 24 clinics that provide ambulatory services across New Hampshire and Vermont. Through its historical partnership with Dartmouth and the Geisel School of Medicine, Dartmouth Health trains nearly 400 medical residents and fellows annually, and performs cutting-edge research and clinical trials recognized across the globe with Geisel and the White River Junction VA Medical Center in White River Junction, VT. Dartmouth Health and its more than 13,000 employees are deeply committed to serving the healthcare needs of everyone in our communities, and to providing each of our patients with exceptional, personal care.