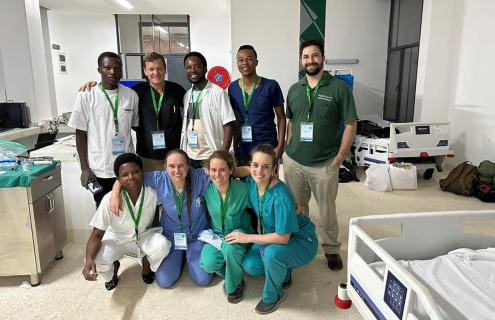 One in four adults around the world suffer from a gastrointestinal disorder (Journal of Gastroenterology, 2020). Patients in advanced economies like the United States benefit from endoscopy, a non-surgical procedure that allows physicians to examine portions of the gastrointestinal tract. In nations that lack endoscopic equipment and skills, disorders go undiagnosed and untreated, leading to severe illness or even death.
In a recent Voice of Africa interview, Vincent Dusabejambo, MD, reported that 30 percent of patients seen in the East African nation of Rwanda have gastrointestinal complaints. After visiting Dartmouth Health's Dartmouth Hitchcock Medical Center (DHMC) in 2015 to gain a better understanding of gastroenterology and endoscopy, Dusabejambo envisioned a program that would bring American providers to Rwanda to train their peers and deliver direct care.
The vision became reality in 2017 when the first Rwandan Endoscopy Week (REW) sent Dartmouth Health staff to Rwanda where they trained and delivered endoscopic care alongside Rwandan peers. The fifth Rwanda Endoscopy Week, which actually runs for two weeks, was held in October.
"Thirteen providers, endoscopic technicians, nurses, a biomedical engineer and a medical student from DHMC, New London Hospital and the Geisel School of Medicine at Dartmouth took part in this latest trip," said Steven P. Bensen, MD, a gastroenterologist and hepatologist at DHMC, who led the group. That group was part of a 50-person international team.
"In 2017 we performed about 250 procedures at four sites," said Bensen. "This year we helped our Rwandan partners consult with 900 patients at eight sites. The event keeps getting bigger."
For Kristin K. Sprenger, AET, a senior advanced endoscopy technician who works closely with Bensen at DHMC, October's REW was her fourth trip to Rwanda. "In Rwanda, I primarily help nurses with endoscopic equipment problem solving and maintenance," said Sprenger. "I also perform endoscopic retrograde cholangiopancreatography (ERCP), a complicated procedure that combines endoscopy and X-rays."
"Over the years, Dartmouth Health staff have gotten to know our Rwandan peers, learn how each other works and form close relationships," said Sprenger. "Nurses there have become more and more eager to learn, especially how to troubleshoot equipment issues."
Equipment set up and maintenance is DHMC biomedical electrical technician Joseph R. Romine's department. Months before making his first trip to Rwanda in October, Romine was collecting and setting up equipment. "I spent the first few days of REW in the operating room," said Romine. "Rwanda uses 220 volt power and we brought equipment that plugs into 110 volt power, so there were a lot of blown fuses."
"I quickly learned how equipment would work best for Rwandan doctors and surgeons," said Romine. "Using WhatsApp and email, I was able to provide remote support to all eight locations that saw patients."
Through their work, Dartmouth Health and Rwandan staff were able to diagnose and indicate treatment for hundreds of patients. "Of the patients who benefit from endoscopic procedures during REW, more than 60 percent were found to have renal, intestinal or stomach problems," said Dusambejambo.
While Rwandan patients got the care they need, the Dartmouth Health team received a heavy dose of gratification and perspective. "It's a great feeling to know you're helping a community that really needs help," said Romine. "And, it's important to broaden your perspective and realize how good we have it compared to many people in the world."
Dartmouth Health participants in the October 2022 Rwanda Endoscopy Week included:
From DHMC: Bensen; Sprenger; Caroline M. Watson, an endoscopy technician; Romine; Elizabeth Planz, RN, a clinical nurse in endoscopy; Brittany A. Donker, RN, a clinical nurse in endoscopy; Manisha Apte, MD, a gastroenterology and hepatology fellow; Nick Hanon, MD, a gastroenterology fellow; Sean D. Bears, MD, general surgeon; Brittany M. Page, CRNA, a nurse anesthetist, Mary D. Chamberlin, MD, oncology; and Prabhjot Kaur, MD, clinical pathology
From New London: Lisa A. Rubenberg, MSN, CRNA, a nurse anesthetist; and Peter Brite, RN
From Geisel: Emily H. Stitt, a medical student
About Dartmouth Health
Dartmouth Health, New Hampshire's only academic health system and the state's largest private employer, serves patients across northern New England. Dartmouth Health provides access to more than 2,000 providers in almost every area of medicine, delivering care at its flagship hospital, Dartmouth Hitchcock Medical Center (DHMC) in Lebanon, NH, as well as across its wide network of hospitals, clinics and care facilities. DHMC is consistently named the #1 hospital in New Hampshire by U.S. News & World Report, and recognized for high performance in numerous clinical specialties and procedures. Dartmouth Health includes Dartmouth Cancer Center, one of only 56 National Cancer Institute-designated Comprehensive Cancer Centers in the nation, and the only such center in northern New England; Dartmouth Health Children's, which includes Children's Hospital at Dartmouth Hitchcock Medical Center, the state's only children's hospital, and multiple clinic locations around the region; member hospitals in Lebanon, Keene and New London, NH, and Bennington and Windsor, VT; Visiting Nurse and Hospice for Vermont and New Hampshire; and more than 24 clinics that provide ambulatory services across New Hampshire and Vermont. Through its historical partnership with Dartmouth and the Geisel School of Medicine, Dartmouth Health trains nearly 400 medical residents and fellows annually, and performs cutting-edge research and clinical trials recognized across the globe with Geisel and the White River Junction VA Medical Center in White River Junction, VT. Dartmouth Health and its more than 13,000 employees are deeply committed to serving the healthcare needs of everyone in our communities, and to providing each of our patients with exceptional, personal care.