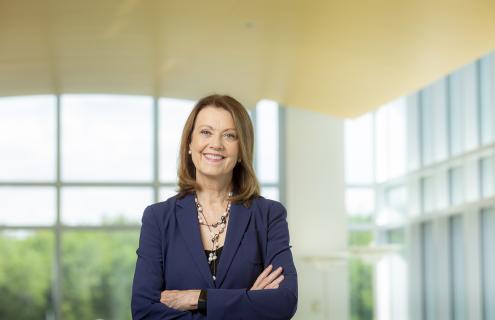 "Her Story," Think Medium's podcast telling stories of female leaders changing the world, dropped its season 4 premiere episode on Wednesday, August 24, with an important discussion on combatting Islamophobia—prejudice against Islam and Muslim people—in medicine, media and society. The episode, hosted by Joanne M. Conroy, MD, CEO and president of Dartmouth Health, features Suzanne Barakat, MD, an assistant professor in the Department of Family & Community Medicine at the University of California, San Francisco, where she serves as the executive director of the Health and Human Rights Initiative.
"Dr. Barakat's story appeals to a wide audience of listeners. Many young women that are interested in starting their careers on the right foot and some experienced women that are just interested about learning about other people's struggles," said Conroy, who serves on the advisory council for "Her Story." "This podcast is a great opportunity for us to interview women leaders and actually share everything they've learned with the entire audience."
As a Muslim, Barakat is no stranger to Islamophobia through tragedies in her own family. Her brother, his wife, and her sister-in-law's sister were murdered in their North Carolina home by a white supremacist for being Muslim, and two of her relatives were assassinated for their political activism and journalism, presumably by the regime of Syrian President Bashar al-Assad. Neither case received much media attention, and Barakat fought for media coverage and a full investigation.
"I carried the burden of representing a billion Muslims on my shoulders—an unwanted burden," Barakat told Conroy. "I became this reluctant activist on the side of also still being a trainee. And when I graduated residency, I was doing a mix of my clinical work, full spectrum family medicine with underserved patient populations and refugee health, but also doing this activism work. And so when I joined UCSF, this position as the executive director for the Health and Human Rights Initiative has really allowed the combination of the clinical work with the policy making and the advocacy for human rights violations."
Subscribe to "HerStory" wherever you get your podcasts.
About Dartmouth Health
Dartmouth Health, New Hampshire's only academic health system and the state's largest private employer, serves patients across northern New England. Dartmouth Health provides access to more than 2,000 providers in almost every area of medicine, delivering care at its flagship hospital, Dartmouth Hitchcock Medical Center (DHMC) in Lebanon, NH, as well as across its wide network of hospitals, clinics and care facilities. DHMC is consistently named the #1 hospital in New Hampshire by U.S. News & World Report, and recognized for high performance in numerous clinical specialties and procedures. Dartmouth Health includes Dartmouth Cancer Center, one of only 56 National Cancer Institute-designated Comprehensive Cancer Centers in the nation, and the only such center in northern New England; Dartmouth Health Children's, which includes Children's Hospital at Dartmouth Hitchcock Medical Center, the state's only children's hospital, and multiple clinic locations around the region; member hospitals in Lebanon, Keene and New London, NH, and Bennington and Windsor, VT; Visiting Nurse and Hospice for Vermont and New Hampshire; and more than 24 clinics that provide ambulatory services across New Hampshire and Vermont. Through its historical partnership with Dartmouth and the Geisel School of Medicine, Dartmouth Health trains nearly 400 medical residents and fellows annually, and performs cutting-edge research and clinical trials recognized across the globe with Geisel and the White River Junction VA Medical Center in White River Junction, VT. Dartmouth Health and its more than 13,000 employees are deeply committed to serving the healthcare needs of everyone in our communities, and to providing each of our patients with exceptional, personal care.