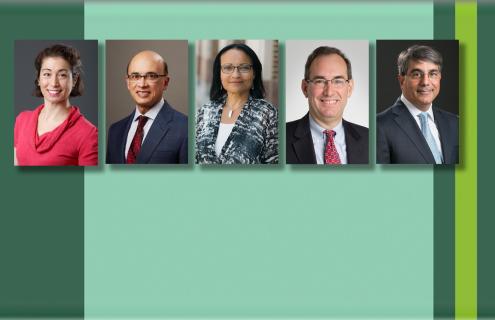 The Dartmouth Hitchcock Board of Trustees elected four new public trustees and one new physician trustee to the Board of Trustees during the Board's December 2022 meeting. Their terms were effective on January 1, 2023.
The new members are: Laura M. Chiang, MD, Assistant Professor of Anesthesiology and Critical Care, Vice Chair for Education for Department of Anesthesiology and Co-Medical Director for the Surgical Intensive Care Unit at Dartmouth Hitchcock Medical Center (DHMC); Gary V. Desir, MD, Paul B. Beeson Professor of Medicine and Chair of Internal Medicine at Yale School of Medicine and Yale New Haven Hospital, and Vice Provost for Faculty Development and Diversity at Yale University; Tina M. Dooley-Jones, PhD, a retired Senior Foreign Service Officer; Mark S. Speers, MBA, Co-founder and Senior Advisor of Health Advances, LLC; and Paul A. Taheri, MD, MBA, clinical partner at Welsh Carson Anderson and Stowe.
Chiang previously served as DHMC's Director of Obstetric Anesthesia and is currently the Co-Medical Director of the Surgical Care Unit. Her clinical interests include critical care, management of complex patients in the OR, and quality improvement within perioperative critical care. She thrives on teaching applied physiology as it pertains to anesthesia and critical care. She earned her bachelor's degree at Princeton University and her medical degree at Harvard Medical School.
As a physician-scientist, Desir discovered a novel protein, which he named renalase, which plays a critical role in cell injury, inflammation, and cancer. He is a named inventor on several United States and international patents related to the discovery and use of the renalase protein, and the development of drugs for cancer. Desir is the scientific founder of two biotechnology companies. He earned a bachelor's degree in biology from New York University and his medical degree from the Yale School of Medicine.
Dooley-Jones spent more than 30 years in international development as a researcher, private consultant, and with the U.S. Agency for International Development (USAID). She maintains expertise and in-depth knowledge of the role and potential of international assistance to catalyze inclusive democracies, economies and social systems and services that address the needs and aspirations of individuals, households, communities, countries and regions. Prior to joining USAID, Dooley-Jones worked as an architect in Philadelphia and for a number of non-profit organizations in Harare, Zimbabwe. Dooley-Jones received a bachelor's degree from Dartmouth College, a master's in architecture at the University of Pennsylvania (Penn), and a PhD in city and regional planning at Penn.
Speers has been advising senior life sciences executives for 40 years. He co-founded Health Advances in 1992 after gaining 10 years of strategy consulting experience in the healthcare industry as a partner at Bain & Company, an international management consulting firm. Speers is an advisor to clients evaluating commercial potential and developing go-to-market strategies for new medical technologies and service businesses. He often offers expertise in mergers and acquisitions for strategic and financial buyers, having now supported more than $95 billion in client transactions. Speers earned his bachelor's degree at Dartmouth in engineering sciences and his MBA at the Stanford Graduate School of Business.
In his current role, Taheri focuses on physician governance, leadership development, quality of care and clinical delivery optimization across his organization's various portfolio companies. Previously, he served as Chief Executive Officer of Yale Medicine—the faculty practice plan for Yale University—and a Deputy Dean for Clinical Affairs at the Yale School of Medicine. He joined Yale Medicine from the University of Vermont (UVM), where he was President and CEO of the UVM Medical Group and Senior Associate Dean for Clinical Affairs, as well as a professor of surgery. Prior to UVM, he was Division Chief of Trauma, Burn and Critical Care, and Vice Chair of Surgery at University of Michigan. Taheri earned his bachelor's degree at St. Lawrence University, majoring in biology and chemistry, his MD at the New York University School of Medicine, and his MBA at the Ross School of Business at the University of Michigan.
About Dartmouth Health
Dartmouth Health, New Hampshire's only academic health system and the state's largest private employer, serves patients across northern New England. Dartmouth Health provides access to more than 2,000 providers in almost every area of medicine, delivering care at its flagship hospital, Dartmouth Hitchcock Medical Center (DHMC) in Lebanon, NH, as well as across its wide network of hospitals, clinics and care facilities. DHMC is consistently named the #1 hospital in New Hampshire by U.S. News & World Report, and recognized for high performance in numerous clinical specialties and procedures. Dartmouth Health includes Dartmouth Cancer Center, one of only 56 National Cancer Institute-designated Comprehensive Cancer Centers in the nation, and the only such center in northern New England; Dartmouth Health Children's, which includes Children's Hospital at Dartmouth Hitchcock Medical Center, the state's only children's hospital, and multiple clinic locations around the region; member hospitals in Lebanon, Keene and New London, NH, and Bennington and Windsor, VT; Visiting Nurse and Hospice for Vermont and New Hampshire; and more than 24 clinics that provide ambulatory services across New Hampshire and Vermont. Through its historical partnership with Dartmouth and the Geisel School of Medicine, Dartmouth Health trains nearly 400 medical residents and fellows annually, and performs cutting-edge research and clinical trials recognized across the globe with Geisel and the White River Junction VA Medical Center in White River Junction, VT. Dartmouth Health and its more than 13,000 employees are deeply committed to serving the healthcare needs of everyone in our communities, and to providing each of our patients with exceptional, personal care.