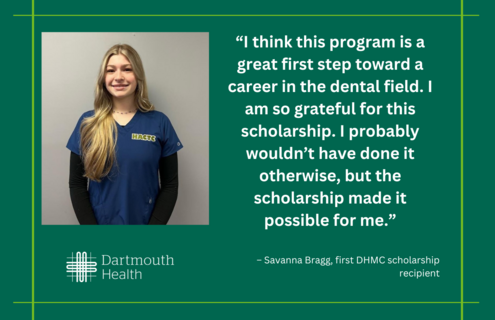 A 2022 Community Health Needs Assessment completed by Dartmouth Health's Dartmouth Hitchcock Medical Center (DHMC) revealed that improving access to dental health is among the top 10 community health concerns in the region. In response to this need, DHMC is partnering with the Hartford Area Career and Technology Center (HACTC) located in White River Junction, VT, to fund two full scholarships for students to participate in a new dental assisting program. The HACTC adult education program is aimed at increasing the local workforce in the dental field.
"We know that poor oral healthcare can lead to serious medical conditions, and unfortunately the dental field, like other healthcare fields, continues to experience workforce shortages due to the pandemic," said Barbara Farnsworth, director of community health partnerships at Dartmouth Hitchcock Medical Center. "We are excited to partner with HACTC as they launch this program by providing scholarships for two students who will go on to bolster our local dental health workforce as dental assistants – a role that is in high demand in our area."
The HACTC Dental Assisting Program is a new online certificate program offered in partnership with the Vermont Adult Career and Technical Education Association in collaboration with the Vermont State Dental Society. Students can also receive paid hands-on work experience as dental assistant trainees with participating dental offices.
The first student to enroll in the program – and the first DHMC scholarship recipient – Savanna Bragg of Sharon, VT, began the online program in May 2023, while completing her senior year at Hartford High School. Bragg has also begun working as a dental assistant trainee at Schell Family Dental Care in Lebanon, NH, where she previously shadowed and participated in an internship.
"I think this program is a great first step toward a career in the dental field," Bragg said. "I like the flexibility of the online program, and that I can also get clinical experience at the same time, while also being paid. I am so grateful for this scholarship. I probably wouldn't have done it otherwise, but the scholarship made it possible for me."
Students in the program may take up to one year to complete the program, and must complete approximately one-third of the online component before they may apply for clinical training. The program curriculum covers topics such as dental health and disease, anatomy and physiology, radiology, dental materials, dental office management, and assisting in a specialty practice, among others. Students who wish to participate must be 18 years of age and have a high school diploma or have passed the General Education Development (GED) test.
"We have offered adult education for some time, but this is the first dental program we've offered," Aron Tomlinson, assistant director of adult education at HACTC, said. "This program is truly a collaborative effort, and will make a positive contribution to our community by providing much-needed help to our dental health providers. And we appreciate DHMC's support in helping us launch the program by supporting our first two students."
"Improving the health and wellness of people living in the communities we serve is integral to Dartmouth Health's mission," said Sally Kraft, MD, MPH, Dartmouth Health Population Health Officer. "Collaborating with community partners such as HACTC to address a serious community health need, such as better access to dental care, while bolstering the dental assisting workforce in our region, is a worthy investment for Dartmouth Health and a win for everyone involved."
For information about HACTC's Dental Assisting Program, visit the Adult Education at HACTC website or contact Aron Tomlinson, assistant director of adult education, at 802-359-4752 or tomlinsona@hartfordschools.net.
About Dartmouth Health
Dartmouth Health, New Hampshire's only academic health system and the state's largest private employer, serves patients across northern New England. Dartmouth Health provides access to more than 2,000 providers in almost every area of medicine, delivering care at its flagship hospital, Dartmouth Hitchcock Medical Center (DHMC) in Lebanon, NH, as well as across its wide network of hospitals, clinics and care facilities. DHMC is consistently named the #1 hospital in New Hampshire by U.S. News & World Report, and recognized for high performance in numerous clinical specialties and procedures. Dartmouth Health includes Dartmouth Cancer Center, one of only 54 National Cancer Institute-designated Comprehensive Cancer Centers in the nation, and the only such center in northern New England; Dartmouth Health Children's, which includes Children's Hospital at Dartmouth Hitchcock Medical Center, the state's only children's hospital, and multiple clinic locations around the region; member hospitals in Lebanon, Keene and New London, NH, and Bennington and Windsor, VT; Visiting Nurse and Hospice for Vermont and New Hampshire; and more than 24 clinics that provide ambulatory services across New Hampshire and Vermont. Through its historical partnership with Dartmouth and the Geisel School of Medicine, Dartmouth Health trains nearly 400 medical residents and fellows annually, and performs cutting-edge research and clinical trials recognized across the globe with Geisel and the White River Junction VA Medical Center in White River Junction, VT. Dartmouth Health and its more than 13,000 employees are deeply committed to serving the healthcare needs of everyone in our communities, and to providing each of our patients with exceptional, personal care.