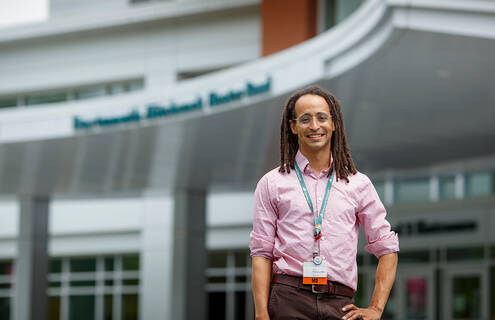 Matthew B. Mackwood, MD, MPH, a family medicine physician at Dartmouth Hitchcock Clinics Heater Road in Lebanon, was selected to participate in the Harold Amos Medical Faculty Development Program, funded by the Robert Wood Johnson Foundation.
This prestigious career development award supports junior faculty from historically disadvantaged backgrounds. With this award, Mackwood will work under the mentorship of Elliott S. Fisher, MD, MPH, a professor of medicine and health policy at The Dartmouth Institute and the Geisel School of Medicine at Dartmouth, and Jonathan Skinner, PhD, a research professor in the department of economics at Dartmouth College, on a study identifying best practices for leveraging telehealth in primary care to address inequities in access to care, focusing on rural populations across the United States. He will then conduct a prospective study implementing these best practices in our local and regional context in partnership with the Northern New England CO-OP Practice and Community Based Research Network.
In addition to his research and clinical work at Heater Road Primary Care, where he has worked since 2018, Mackwood is co-director of the "Patients & Populations" course at Geisel.
Since the COVID-19 pandemic's onset, Mackwood has been been involved in telehealth operations and increasingly in telehealth research, with an emphasis on outpatient telehealth. His research interests primarily focus on how telehealth is being used in primary care and the ways telehealth positively or negatively affects health disparities in accessing care. Recently, Mackwood's research has been focused on a variety of national and regional health services research questions around how telehealth and similar technology can be used to enhance the accessibility and quality of care for populations that have historically struggled to access high quality primary care.
The Harold Amos Medical Faculty Development Program was created to increase the number of faculty from historically disadvantaged backgrounds who can achieve senior rank in academic medicine, dentistry, or nursing and who will encourage and foster the development of succeeding classes of such physicians, dentists, and nurse-scientists. Four-year postdoctoral research awards are offered to physicians, dentists, and nurses who are committed to developing careers in academic medicine and to serving as role models for students and faculty of similar background.
About Dartmouth Health
Dartmouth Health, New Hampshire's only academic health system and the state's largest private employer, serves patients across northern New England. Dartmouth Health provides access to more than 2,000 providers in almost every area of medicine, delivering care at its flagship hospital, Dartmouth Hitchcock Medical Center (DHMC) in Lebanon, NH, as well as across its wide network of hospitals, clinics and care facilities. DHMC is consistently named the #1 hospital in New Hampshire by U.S. News & World Report, and recognized for high performance in numerous clinical specialties and procedures. Dartmouth Health includes Dartmouth Cancer Center, one of only 54 National Cancer Institute-designated Comprehensive Cancer Centers in the nation, and the only such center in northern New England; Dartmouth Health Children's, which includes Children's Hospital at Dartmouth Hitchcock Medical Center, the state's only children's hospital, and multiple clinic locations around the region; member hospitals in Lebanon, Keene and New London, NH, and Bennington and Windsor, VT; Visiting Nurse and Hospice for Vermont and New Hampshire; and more than 24 clinics that provide ambulatory services across New Hampshire and Vermont. Through its historical partnership with Dartmouth and the Geisel School of Medicine, Dartmouth Health trains nearly 400 medical residents and fellows annually, and performs cutting-edge research and clinical trials recognized across the globe with Geisel and the White River Junction VA Medical Center in White River Junction, VT. Dartmouth Health and its more than 13,000 employees are deeply committed to serving the healthcare needs of everyone in our communities, and to providing each of our patients with exceptional, personal care.