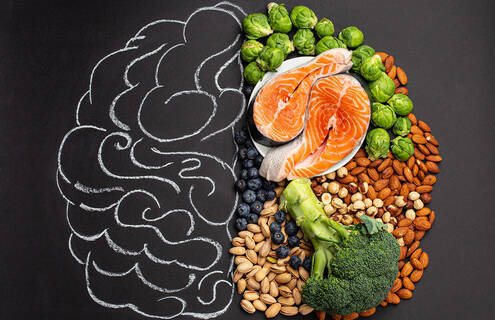 What we eat has a significant impact on the health of our brains as we age. According to the Dementia Society of America, people looking to prevent or control dementia symptoms should consider lowering consumption of sugary foods and drinks, processed foods, and carbohydrates, which can increase inflammation of brain cells.
"The onset of the symptoms of cognitive decline and dementia can be frightening for the patient and their families," said Aleksandra C. Stark, MD, a neurologist with the Neurology Memory Clinic at Dartmouth Health's Dartmouth Hitchcock Medical Center. "By incorporating education on diet into a patient's care plan, we empower them with tools to hopefully slow the decline in in their condition, and help them feel more in control of their situation. Research suggests that diets rich in foods like a plant-based diet, incorporating whole grains, fish, vegetables, legumes, fruits, nuts and seeds supports brain health, so these are easy steps our patients can take to improve their quality of life."
The diet Stark describes is often referred to the "Mediterranean diet." Adopting this diet while also cutting back on ingredients like vegetable oil blends and sugar-based sweeteners (even "natural" ones like honey and agave) are important steps dementia patients can take to improve their brain health and cognition, said Shawn Richardson, director of Nutrition Services and Environmental Services at Dartmouth Health's Alice Peck Day Memorial Hospital.
Richardson offers the following simple tips for dementia patients to implement these diet changes:
Have a blueberry yogurt smoothie every day. Throw in some chia seeds or flaxseed for bonus Omega-3 fatty acids, which support brain health.
Eat a handful (14 halves) of walnuts as a snack.
Eat salmon twice a week.
Opt for olive oil instead of vegetable oil when cooking or baking.
Making these changes doesn't mean totally giving up other snacks, Richardson said, as long as they don't form the basis of your diet—and healthy brain foods do.
"It's about balance," he said. "It's important not to think of treats as cheats. It's okay to treat yourself. Moderation is key."
About Dartmouth Health
Dartmouth Health, New Hampshire's only academic health system and the state's largest private employer, serves patients across northern New England. Dartmouth Health provides access to more than 2,000 providers in almost every area of medicine, delivering care at its flagship hospital, Dartmouth Hitchcock Medical Center (DHMC) in Lebanon, NH, as well as across its wide network of hospitals, clinics and care facilities. DHMC is consistently named the #1 hospital in New Hampshire by U.S. News & World Report, and recognized for high performance in numerous clinical specialties and procedures. Dartmouth Health includes Dartmouth Cancer Center, one of only 54 National Cancer Institute-designated Comprehensive Cancer Centers in the nation, and the only such center in northern New England; Dartmouth Health Children's, which includes Children's Hospital at Dartmouth Hitchcock Medical Center, the state's only children's hospital, and multiple clinic locations around the region; member hospitals in Lebanon, Keene and New London, NH, and Bennington and Windsor, VT; Visiting Nurse and Hospice for Vermont and New Hampshire; and more than 24 clinics that provide ambulatory services across New Hampshire and Vermont. Through its historical partnership with Dartmouth and the Geisel School of Medicine, Dartmouth Health trains nearly 400 medical residents and fellows annually, and performs cutting-edge research and clinical trials recognized across the globe with Geisel and the White River Junction VA Medical Center in White River Junction, VT. Dartmouth Health and its more than 13,000 employees are deeply committed to serving the healthcare needs of everyone in our communities, and to providing each of our patients with exceptional, personal care.