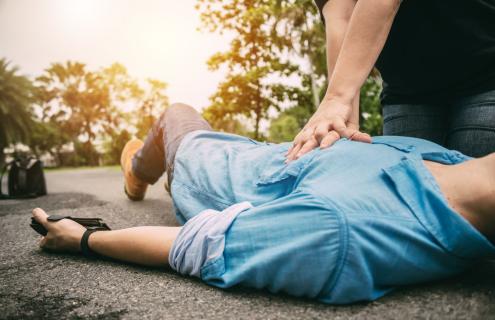 Less than two weeks after Buffalo Bills safety Damar Hamlin suffered cardiac arrest during an NFL game, Lisa Marie Presley, daughter of Elvis and Priscilla Presley and a successful singer and songwriter in her own right, also fell victim to cardiac arrest. While Hamlin continues to recover, Presley was not as fortunate and died on January 12 at the age of 54.
With increased public attention currently being paid to cardiac arrest, Dartmouth Health, New Hampshire's only academic medical system, and the American Heart Association wish to share helpful information about this condition, especially the importance of CPR and automated external defibrillator (AED) being administered as soon as possible.
"These events involving high-profile individuals underscore how quickly and without warning cardiac arrest can occur," said Mark A. Creager, MD, director of the Heart & Vascular Center at Dartmouth Health's Dartmouth Hitchcock Medical Center. "By learning bystander CPR and how to use an AED, anyone can be a hero."
An estimated 350,000 people in the United States experience cardiac arrest outside a hospital annually; however, the rate of bystander CPR in North America is estimated at only 39-44 percent, and only about one in 10 people survive an out-of-hospital cardiac arrest, according to the American Heart Association.
"Recognizing a cardiac arrest, calling 911 immediately, performing CPR and using an AED as soon as it is available are critical for survival," said Mariell Jessup, MD, FAHA, chief science and medical officer of the American Heart Association. "Statistically speaking, it is likely that the person will need to be helped by a family member or a friend in order to survive."
There are numerous avenues for individuals to become proficient in CPR and AED, including courses offered by community institutions and hospitals, and content available on the internet. The American Heart Association has produced an instructional video on Hands-Only CPR that can be viewed here.
If you find yourself in a situation where you think a person may be suffering cardiac arrest, the American Heart Association offers the following advice:
Yell for help: Tell someone nearby to call 911 or your emergency response number. Ask that person or another bystander to bring you an AED (automated external defibrillator), if there's one on hand. Tell them to hurry—time is of the essence. If you're alone with an adult who has signs of cardiac arrest, call 911 and get an AED (if one is available).
Check breathing: If the person isn't breathing or is only gasping, administer CPR.
Give CPR: Push down hard and fast at least two inches at a rate of 100 to 120 pushes a minute in the center of the chest, allowing the chest to come back up to its normal position after each push.
Use an AED: Use the AED as soon as it arrives. Turn it on and follow the prompts.
Keep pushing: Continue administering CPR until the person starts to breathe or move, or until someone with more advanced training takes over, such as an EMS provider
"Our goal is to have at least one person in every household learn how to perform Hands-Only CPR, as three out of four cardiac arrests happen at home," said Brenda Vitali, marketing and communications director for the American Heart Association of Northern New England. "By learning this simple yet very effective technique, you could save the life of a loved one. We encourage everyone to take a few minutes to visit HandsOnlyCPR.org to learn more."
About Dartmouth Health
Dartmouth Health, New Hampshire's only academic health system and the state's largest private employer, serves patients across northern New England. Dartmouth Health provides access to more than 2,000 providers in almost every area of medicine, delivering care at its flagship hospital, Dartmouth Hitchcock Medical Center (DHMC) in Lebanon, NH, as well as across its wide network of hospitals, clinics and care facilities. DHMC is consistently named the #1 hospital in New Hampshire by U.S. News & World Report, and recognized for high performance in numerous clinical specialties and procedures. Dartmouth Health includes Dartmouth Cancer Center, one of only 56 National Cancer Institute-designated Comprehensive Cancer Centers in the nation, and the only such center in northern New England; Dartmouth Health Children's, which includes Children's Hospital at Dartmouth Hitchcock Medical Center, the state's only children's hospital, and multiple clinic locations around the region; member hospitals in Lebanon, Keene and New London, NH, and Bennington and Windsor, VT; Visiting Nurse and Hospice for Vermont and New Hampshire; and more than 24 clinics that provide ambulatory services across New Hampshire and Vermont. Through its historical partnership with Dartmouth and the Geisel School of Medicine, Dartmouth Health trains nearly 400 medical residents and fellows annually, and performs cutting-edge research and clinical trials recognized across the globe with Geisel and the White River Junction VA Medical Center in White River Junction, VT. Dartmouth Health and its more than 13,000 employees are deeply committed to serving the healthcare needs of everyone in our communities, and to providing each of our patients with exceptional, personal care.