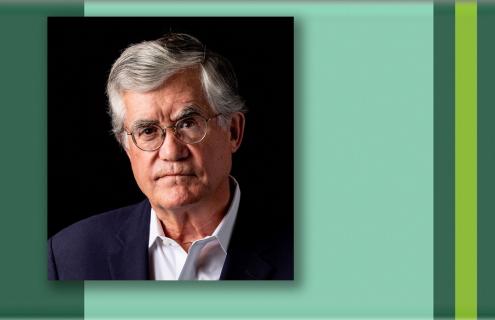 Dartmouth Health announces the publication of Back Roads and Highways: My Journey to Discovery on Mental Health, written by John T. Broderick Jr., senior director of external affairs at Dartmouth Health and former chief justice of the New Hampshire Supreme Court. Broderick will discuss his book, his personal journey to discovery on mental health and his efforts to reduce the stigma around mental illness at The Bookery, 844 Elm St., Manchester, NH, on Saturday, December 10, from 2 to 4 pm.
In his book, Broderick details his family's experience with mental health and his personal mission to educate young people and their families about the warning signs of mental health issues and impending crises. Broderick has shared his story and insights with tens of thousands of students and adults throughout New England and beyond over the past several years through Dartmouth Health's REACT Campaign, in an effort to change the conversation and end the stigma around mental health. His work has inspired additional Dartmouth Health mental health initiatives, including its popular "Heads Up" informational webinar series, which has become a year-long integrated awareness campaign in collaboration with the New Hampshire Union Leader and Seacoast Media Group, along with numerous community partners.
Broderick calls the REACT campaign and his advocacy on mental health "the most important and rewarding work of my life."
The Bookery presentation is the first of Broderick's planned events at independent bookstores throughout the region over the next several months. Signed copies of Back Roads and Highways will be available at the events. The book is also available on Amazon.com. The net proceeds from the sale of the book will benefit the Broderick fund to support psychiatric services at Dartmouth Health, along with community education and advocacy efforts to overcome the stigma of mental illness.
Broderick's December 10 presentation at the The Bookery is free and open to the public, but preregistration is required. Register online.
To learn more about REACT, Heads Up, and Dartmouth Health's mental health initiatives and resources, visit our Mental Health website.
About Dartmouth Health
Dartmouth Health, New Hampshire's only academic health system and the state's largest private employer, serves patients across northern New England. Dartmouth Health provides access to more than 2,000 providers in almost every area of medicine, delivering care at its flagship hospital, Dartmouth Hitchcock Medical Center (DHMC) in Lebanon, NH, as well as across its wide network of hospitals, clinics and care facilities. DHMC is consistently named the #1 hospital in New Hampshire by U.S. News & World Report, and recognized for high performance in numerous clinical specialties and procedures. Dartmouth Health includes Dartmouth Cancer Center, one of only 56 National Cancer Institute-designated Comprehensive Cancer Centers in the nation, and the only such center in northern New England; Dartmouth Health Children's, which includes Children's Hospital at Dartmouth Hitchcock Medical Center, the state's only children's hospital, and multiple clinic locations around the region; member hospitals in Lebanon, Keene and New London, NH, and Bennington and Windsor, VT; Visiting Nurse and Hospice for Vermont and New Hampshire; and more than 24 clinics that provide ambulatory services across New Hampshire and Vermont. Through its historical partnership with Dartmouth and the Geisel School of Medicine, Dartmouth Health trains nearly 400 medical residents and fellows annually, and performs cutting-edge research and clinical trials recognized across the globe with Geisel and the White River Junction VA Medical Center in White River Junction, VT. Dartmouth Health and its more than 13,000 employees are deeply committed to serving the healthcare needs of everyone in our communities, and to providing each of our patients with exceptional, personal care.