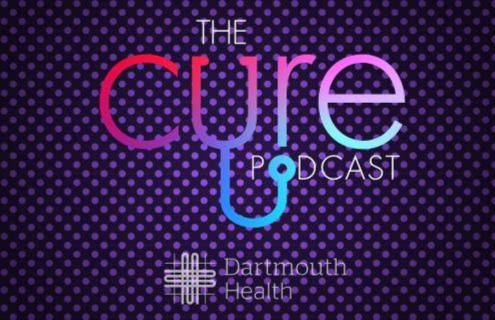 Since its launch in December 2020, Dartmouth Health's "The Cure Podcast" has brought together experts from across the Dartmouth Health academic medical system to tackle head-on what was then the emerging COVID-19 pandemic. In two years, the podcast has addressed vaccination, treatments for COVID, multiple variants, the phenomenon of "long COVID," and how we continue to move forward in a world where, despite major progress, COVID isn't going anywhere.
As the third year of the pandemic draws to a close, "The Cure" introduces a new series hosted by Michael S. Calderwood, MD, MPH, chief quality officer at Dartmouth Health's Dartmouth Hitchcock Medical Center. In the inaugural episode of "Calderwood Considers," Calderwood and co-host Jessica L. Swain, director of infection prevention and control for Dartmouth Health, discuss occupational burnout in healthcare, especially as it relates to the pandemic. According to the World Health Organization, occupational burnout is a syndrome resulting from chronic work-related stress, with symptoms characterized by feelings of energy depletion or exhaustion; increased mental distance from one's job, or feelings of negativity or cynicism related to one's job; and reduced effectiveness.
Listen to episode 1 of "The Cure: Calderwood Considers"
"We work in a high-risk and often high-stress environment," Calderwood said. "Stress will always be there, but as the stress increases, you begin to move into periods of fatigue and exhaustion, and eventually, you can push yourself into anxiety, panic, anger, or even breakdown, and each of these leads to more and more diminishment in performance. We know that burnout itself is linked to issues of risk about patient safety, reduced quality of care, reduced patient satisfaction, and we need to understand how we re-engage a beleaguered workforce. We've been working on staff engagement and its link to our safety culture and the care that we provide."
Subscribe to "The Cure" wherever you get your podcasts. Visit "The Cure" webpage for all episodes.
About Dartmouth Health
Dartmouth Health, New Hampshire's only academic health system and the state's largest private employer, serves patients across northern New England. Dartmouth Health provides access to more than 2,000 providers in almost every area of medicine, delivering care at its flagship hospital, Dartmouth Hitchcock Medical Center (DHMC) in Lebanon, NH, as well as across its wide network of hospitals, clinics and care facilities. DHMC is consistently named the #1 hospital in New Hampshire by U.S. News & World Report, and recognized for high performance in numerous clinical specialties and procedures. Dartmouth Health includes Dartmouth Cancer Center, one of only 54 National Cancer Institute-designated Comprehensive Cancer Centers in the nation, and the only such center in northern New England; Dartmouth Health Children's, which includes Children's Hospital at Dartmouth Hitchcock Medical Center, the state's only children's hospital, and multiple clinic locations around the region; member hospitals in Lebanon, Keene and New London, NH, and Bennington and Windsor, VT; Visiting Nurse and Hospice for Vermont and New Hampshire; and more than 24 clinics that provide ambulatory services across New Hampshire and Vermont. Through its historical partnership with Dartmouth and the Geisel School of Medicine, Dartmouth Health trains nearly 400 medical residents and fellows annually, and performs cutting-edge research and clinical trials recognized across the globe with Geisel and the White River Junction VA Medical Center in White River Junction, VT. Dartmouth Health and its more than 13,000 employees are deeply committed to serving the healthcare needs of everyone in our communities, and to providing each of our patients with exceptional, personal care.